New York police officers who rescued a malnourished pit bull out of a filthy Brooklyn basement back in April are once again trying to give the 4-year-old dog a better life — by finding her a wonderful home.
Jamie was dangerously skinny, and covered in urine and feces, at the time of her rescue. She was examined by a veterinarian with the American Society for the Prevention of Cruelty to Animals, who found that her nails were so long, they were beginning to curl around her feet. Jamie's previous owner, Jahmil Barrett, was arrested and charged with animal cruelty; his case is active with the Brooklyn District Attorney's office.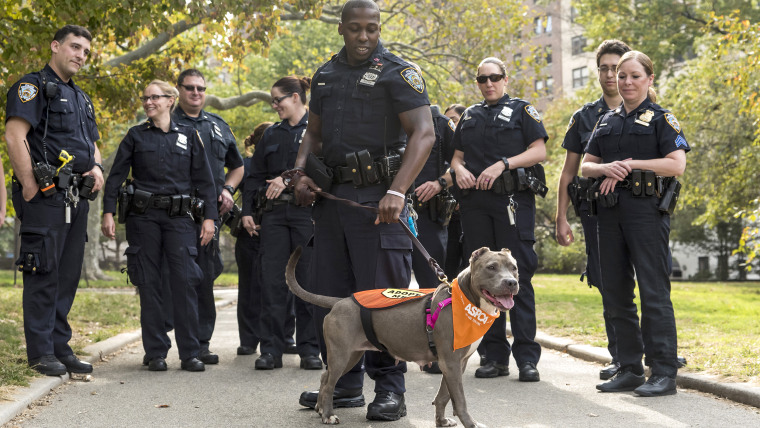 For the last six months, Jamie has been recuperating with the ASPCA — first at their animal hospital, then in their Canine Annex for Recovery and Enrichment, a facility where dogs seized in animal cruelty cases are given training and love, until they can be adopted.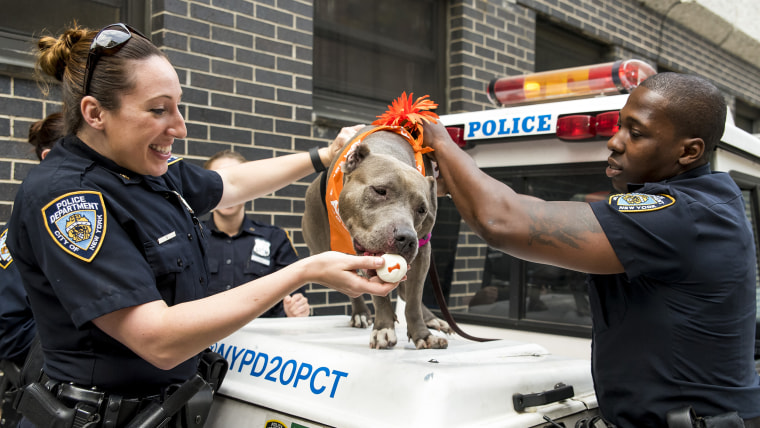 RELATED: Abandoned dog waited a month for owners to return — until this man stepped in
Which is now! She is up for adoption. (Zaza, another pit bull who was rescued alongside Jamie, is happily already spoken for.)
Jamie is at the ASPCA's Adoption Center in New York City, where she's shown herself to be "a total social butterfly," senior manager of behavior and training Victoria Wells told TODAY in an email.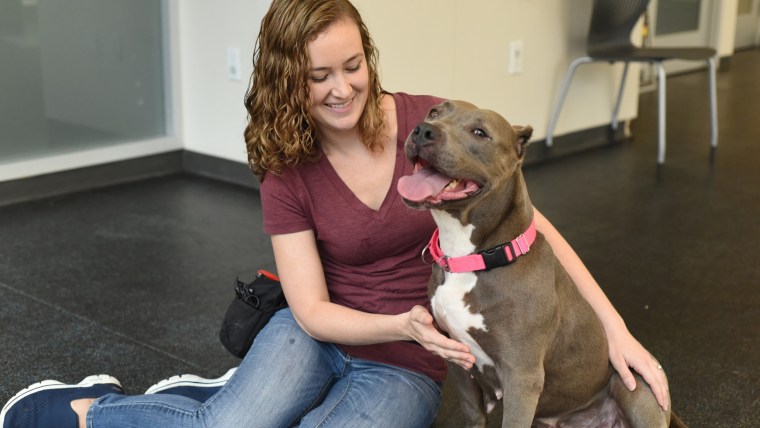 "She is happiest when she's out and about meeting new people and experiencing new things," said Wells. "She does enjoy going for a run now and again, but she's more likely to flop down for a belly rub or snuggle up for a nap."
RELATED: Veteran and surfing dog form life-changing bond: 'She gave me freedom'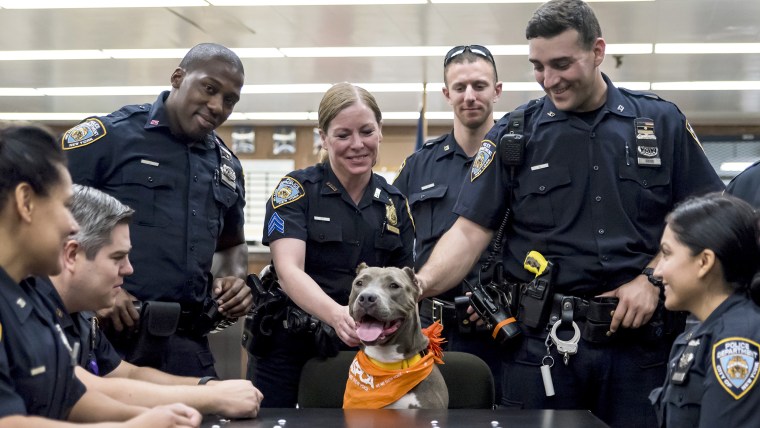 To try and give this girl an extra boost in the publicity department, some New York police officers recently took her out for a day of fun and adventure. Jamie went to a dog park, rode in a police van, got lots of belly rubs, and was treated to some delicious pup-cakes.
RELATED: Town rallies to give sick dog a day full of love and treats
Jamie got picked for this special dog's day out because she has such a delightful personality, and because she's been in the shelter for a long time now. Even short breaks from a shelter environment can give a pup like Jamie a real lift — and the extra exposure can also help draw out someone who might want to take her home for good.
The outing served another purpose as well — to make visible a three-year-old partnership between the ASPCA and the NYPD.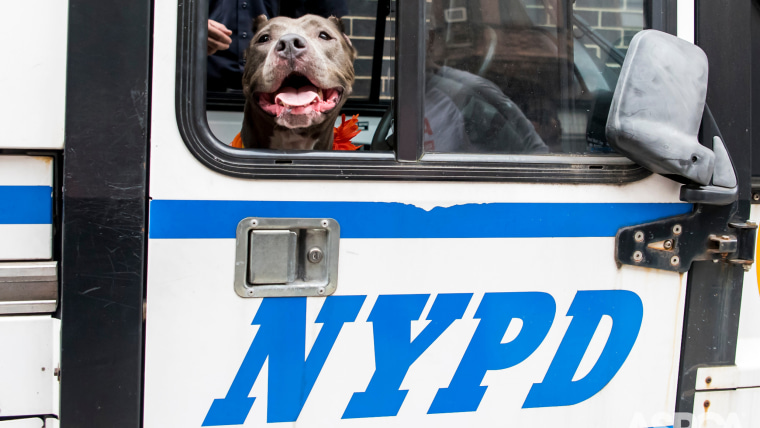 RELATED: Stray puppies find homes after being found near bachelor party
"Through this first-of-its-kind program, the NYPD takes the lead role in responding to all animal cruelty complaints in New York City, while the ASPCA provides direct care for animal cruelty victims through critical support including forensic evaluations, medical treatment, behavior assessments, housing and placement, as well as backup legal support and training," explained ASPCA Humane Law Enforcement vice president Howard Lawrence.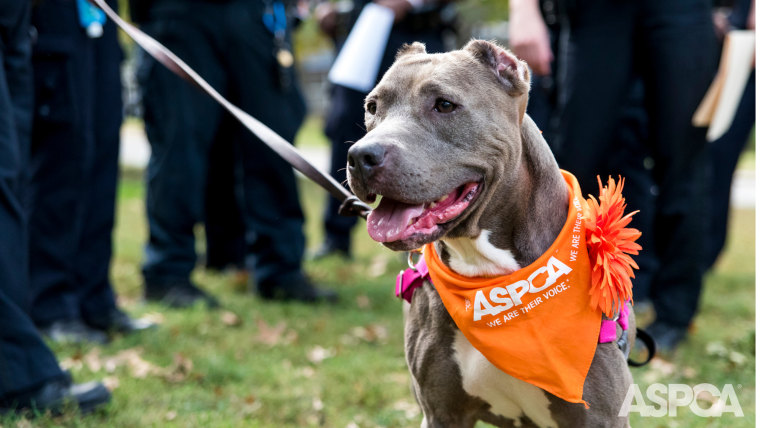 Lawrence said this partnership has led to "triple-digit increases in arrests and animals treated," with more than 850 animals of various species having been treated by the ASPCA so far this year. That includes Jamie, who — after all she's endured — could really use this second chance.
RELATED: After rescue from abuse, a drooly pooch named Hooch is 2016 American Hero Dog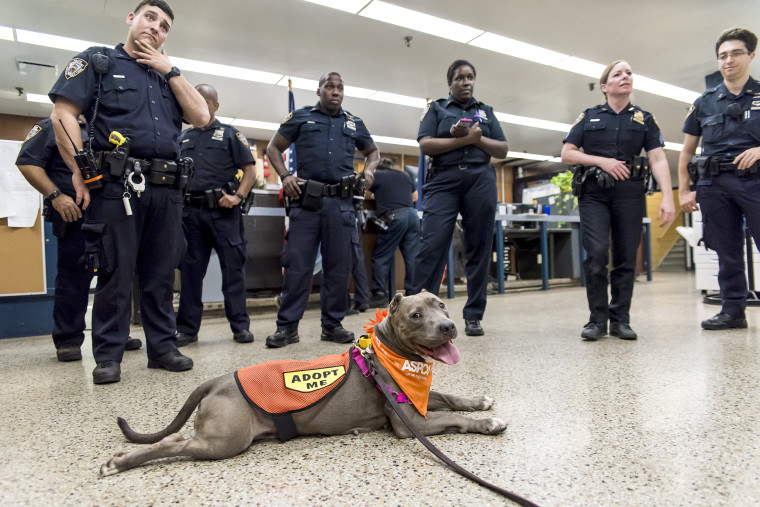 "Victims of animal cruelty have incredible capacities to overcome past abuse and become loving companions. We are fortunate to see examples of this every day at the ASPCA," said Lawrence. "It's important for people to understand that dogs who've suffered, like Jamie, make great pets and are certainly just as deserving of safe, loving homes as any other adoptable animal."
Here's Jamie's adoption listing. She can be adopted out of state, though you'll first have to stop by the ASPCA's Adoption Center in New York to meet her in person.