Kera Cantrell often wraps her puppy in blankets. She dresses River in fuzzy coats and cozy onesies.
Cantrell, who has been a police officer in Daytona Beach, Florida, for 21 years, swears that after what this tiny pit bull has been through, "she's never going to be freezing again."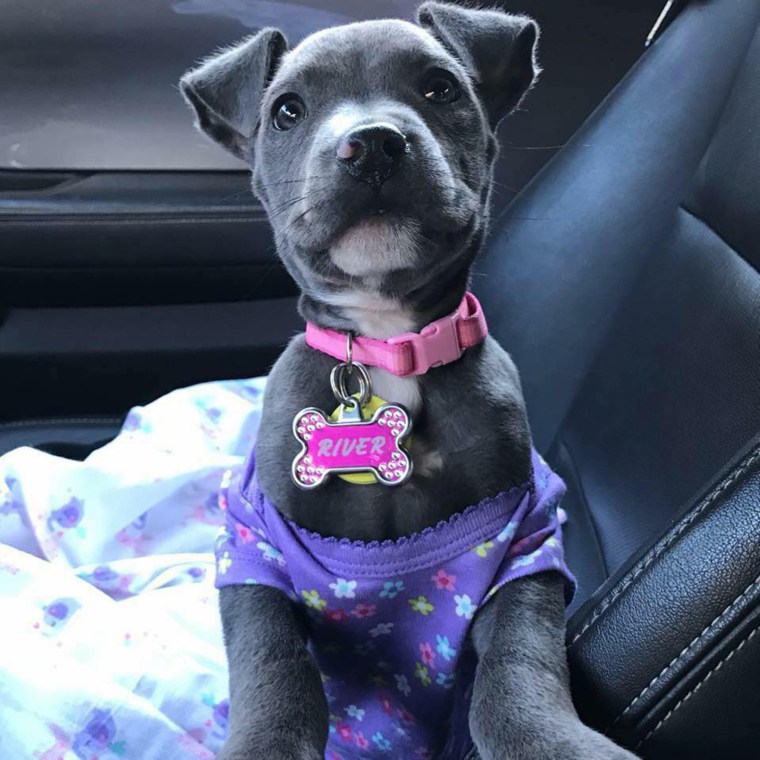 In mid-January, an anonymous tipster told police in Daytona Beach that a puppy had been abandoned underneath a bridge.
It was an unusually cold spell for Florida. On that day, temperatures dipped below freezing.
Animal control officers rescued the tiny girl. "She was found wedged between two rocks. She was soaking wet," said police spokesperson Lyda Longa.
The puppy was so chilled to the bone, she couldn't stop shaking. The officers did their best to warm her with their car heater, and with their own bodies, before bringing her to the local shelter.
"She was basically freezing to death," said Barry KuKes, community outreach director for the Halifax Humane Society.
Cantrell, who is 46 years old, prides herself on having a way with dogs. On her lunch break Jan. 21, she went to the Halifax Humane Society to check on a dog with a serious injury whom she'd recently picked up.
That dog, Cantrell learned, had already been adopted. Then a shelter staff member asked if she wanted to meet the puppy.
River, as she'd been named, was in her kennel crying. Cantrell picked her up, and "I put her to my chest," she said. "She snuggled up to me and went to sleep."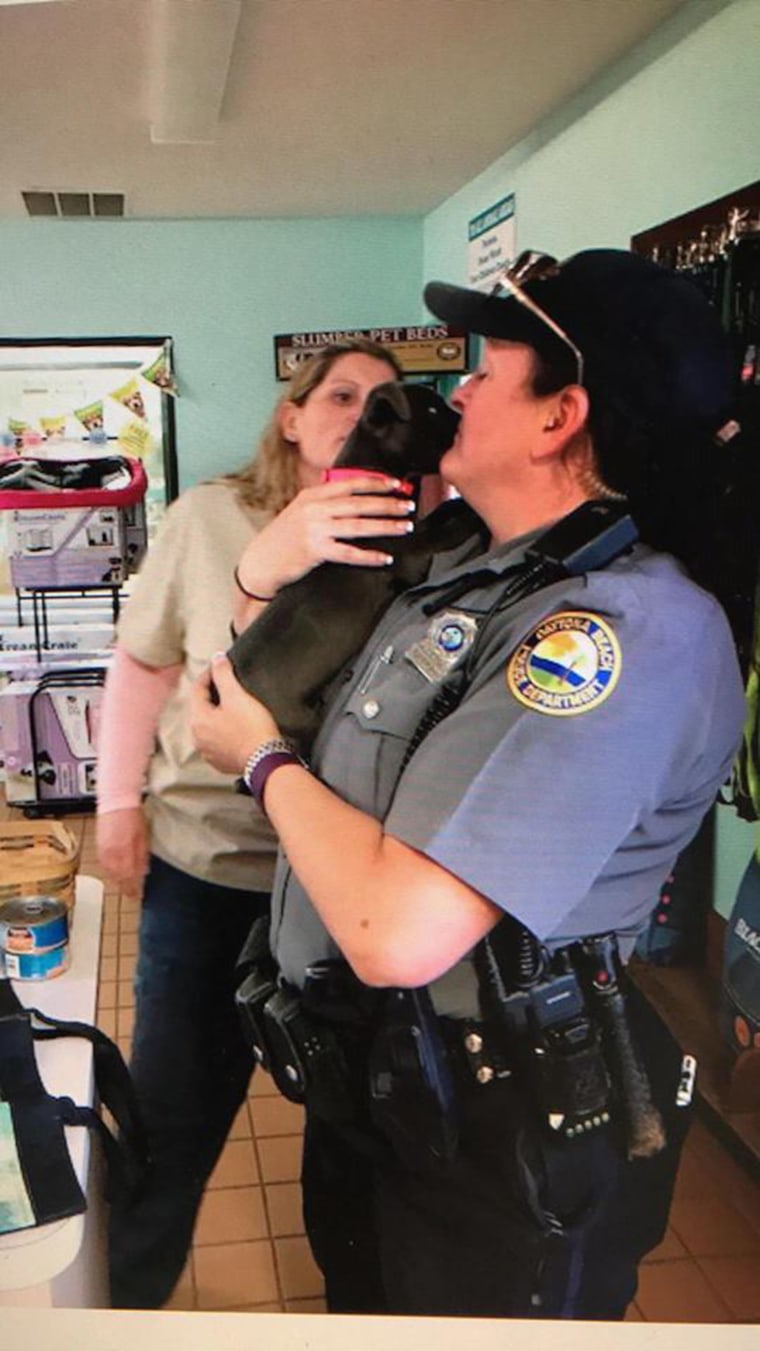 Cantrell cried when she heard the story of River's rescue. It hits her especially hard when the most vulnerable members of society — animals, kids and the elderly — are harmed.
She felt absolutely certain she should adopt the tiny dog, who was still so young that she was still being bottle-fed.
"I said, 'She's mine,'" Cantrell said. "I knew."
But Cantrell couldn't take River home right away. The shelter was holding on to River for a little longer, until she could be weaned. Cantrell would go in regularly to check on her during that time.
Then on Feb. 2, she got the call. The dog could go home. When Cantrell went to collect River from the shelter, the pup would not stop licking her face.
"She was so excited, like she knew," Cantrell said.
Cantrell proudly describes her now very full household.
"I have four dogs now, all rescues," she said.
Mojo, Duck and Goose have all welcomed the new puppy into the home. Goose, especially, has taken on the role of tolerant, indulgent big brother.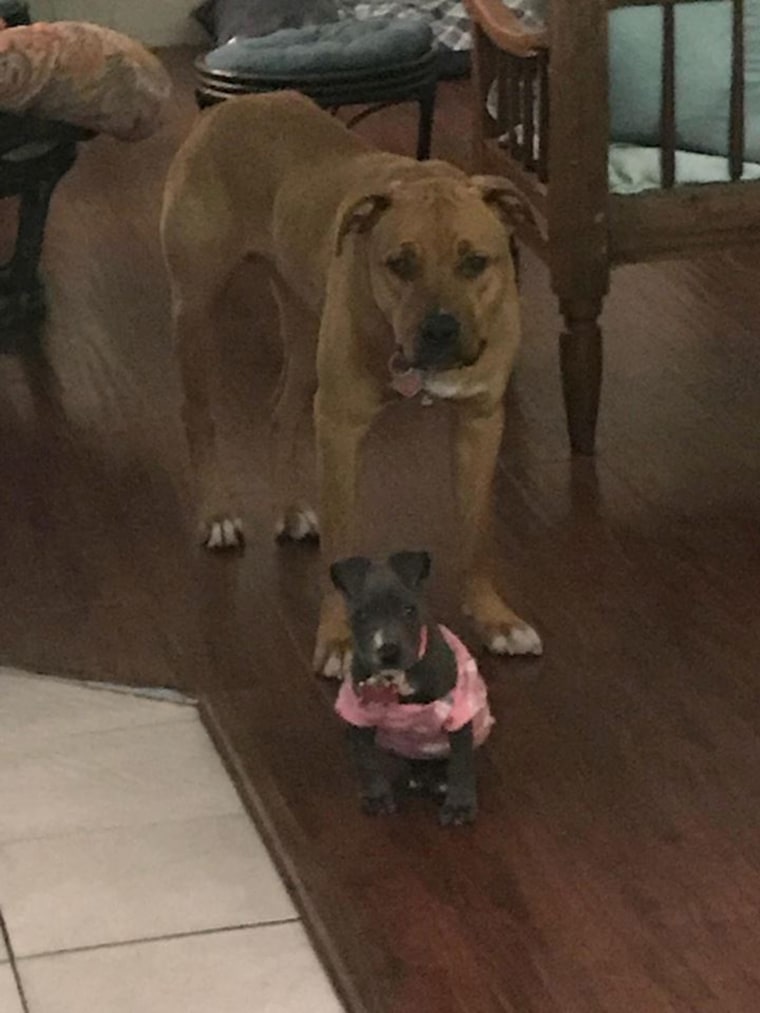 Longa, spokesperson for the police department, emphasizes that anyone who cannot care for a pet should reach out for help instead of abandoning them.
"If someone does not have transportation, they can still call 911 and say that they have an animal to surrender and police will assist," she said.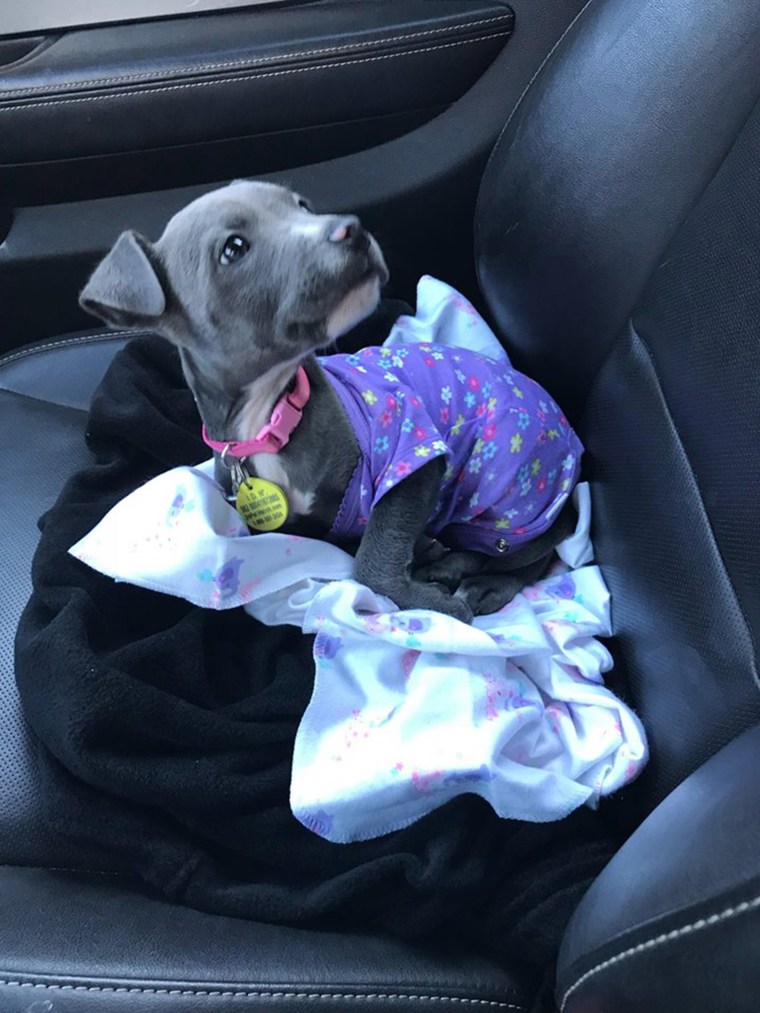 Cantrell said investigations into who abandoned River haven't been fruitful, and "nothing has been found out."
In the meantime, River's story has spread far and wide. Cantrell is heartened by the huge public outpouring there's been for her little girl (who now has her own Facebook page).
And she's impressed every day with how sweet and trusting River is; she even seems empathetic. The other day, when Cantrell was feeling anxious, River came over and climbed into her lap.
"She always does," she said.
It's tremendously comforting and has given Cantrell the idea that River might make a good therapy dog, and that she should look into the certification process.
After what River went through, and how well she came out of it, she could provide real solace to people who are going through hard times themselves.
"She survived it. She's a fighter," Cantrell said. "She's an amazing little girl."