Sultan, a dog in the San Jacinto Police Department's K-9 unit, was always treated like a regular two-legged member of the force.
On Wednesday, his loss was mourned like one.
A crowd of approximately 1,200 people attended a memorial service in Riverside, California, for the Belgian Malinois-German shepherd mix, who had been with the department since 2013. The dog was shot in the neck and died on Jan. 21 after he followed the scent of wanted felon Todd Hodge, 36, into a crawl space under a house where Hodge was hiding from authorities. After shooting Sultan, Hodge emerged following a nine-hour stand-off and was shot and killed by deputies.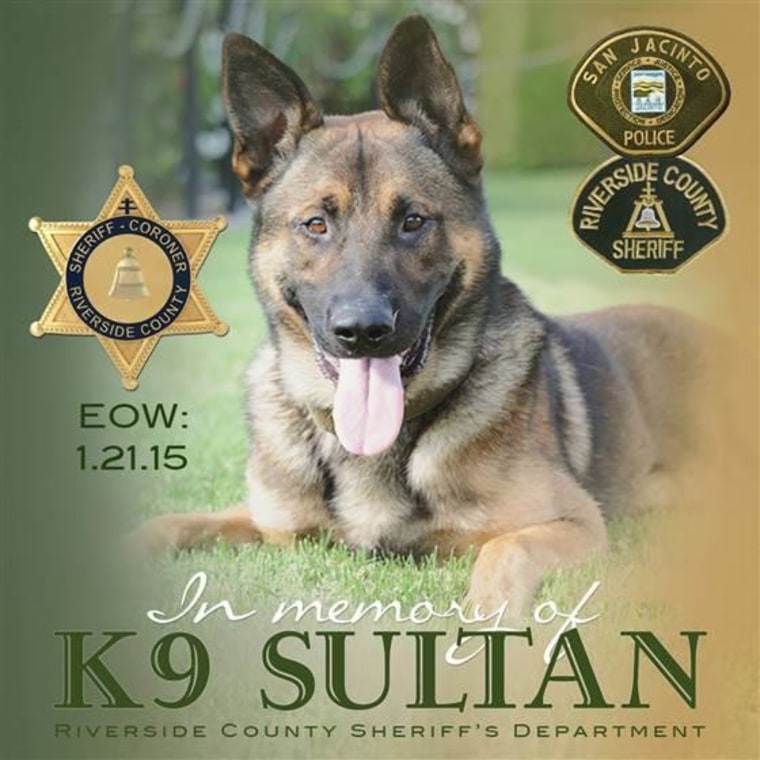 A deputy carried an urn of Sultan's ashes to a memorial site at the March Field Air Museum in Riverside on Wednesday as police dogs from numerous other departments lined the path.
"I know without a doubt that Sultan saved my life and several other officers' lives that day," Sultan's handler, deputy Mark Wallace, told the crowd during an emotional moment in the ceremony. "He died a hero."
"They say dogs are man's best friend,'' Wallace continued. "Sultan wasn't man's best friend. He was my best friend."
Follow TODAY.com writer Scott Stump on Twitter and Google+.
This article was originally published Feb. 12, 2015 at 4:10 p.m. ET.