For the first eight months of lioness Sirga's life, German-born animal conservationist Valentin Gruener slept beside her in an enclosure under the stars. Now approaching 2 years old, Sirga no longer needs a sleeping companion, but occasionally Gruener will break out his sleeping bag and rest beside her, just to keep her company.
Valentin Gruener, 26, and Mikkel Legarth, 30, met Sirga in February 2012 when she was just a 10-day-old, 4-and-half-pound cub living inside a lion camp at William De Graaffs' Grassland Safari Lodge in Botswana. She recently had become an orphan after her two siblings were killed and her mother stopped providing her with milk. But Sirga gained a new family of sorts in Gruener and Legarth, founders of the conservation-focused Modisa Wildlife Project, who stepped in to raise her by hand.
"She was extremely dehydrated but after a drip and a lot of hours of worrying about her, she started drinking and got healthy and stronger very quickly," Legarth, who is originally from Denmark, told TODAY.com in an email.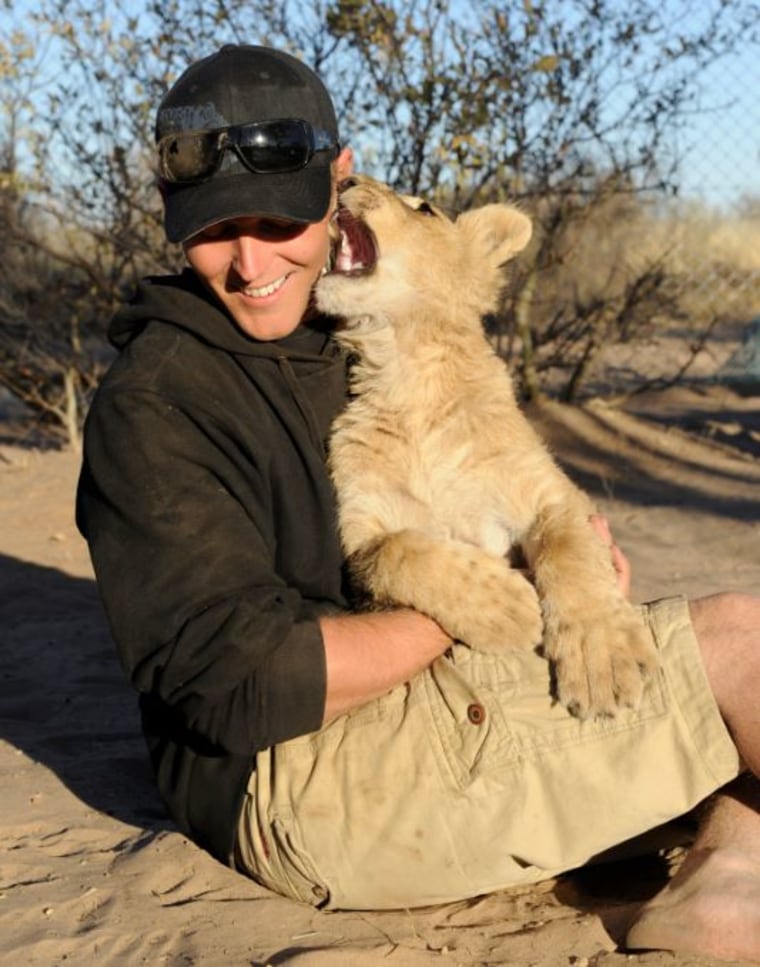 Since then, Gruener has kept in constant contact with Sirga, who now lives in an enclosure on the Safari Lodge grounds. Initially, Legarth didn't have as much a hand in the raising of Sirga, as he had to travel back and forth to Europe to secure funding for their wildlife conservation efforts. But he now lives full-time in Botswana with Gruener and is "getting more used to her day by day." They take Sirga for long walks across the savannah and even assist her with hunting.
"With Valentin there seem to be no boundaries with Sirga so far and she is extremely friendly around us," Legarth said. "When we take her for walks in the bush she started making her first kills and Valentin is able to help her hold the animal and show her how to kill it."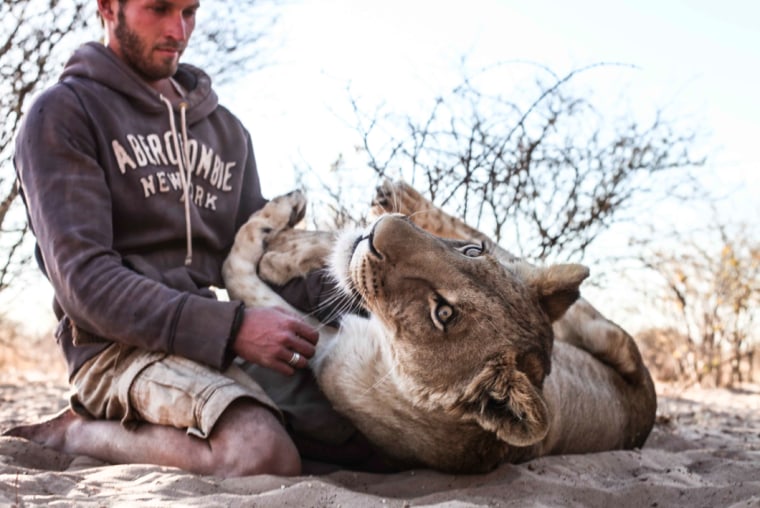 Sirga lives alone in her enclosure because the introduction of another lion could pose a threat to her life, Legarth says. They hope to one day raise enough funding to create a small park for her.
They've certainly received some attention: Amazing photos of the trio have been making the rounds online, calling to mind other special lion-human relationships the public has become fascinated by, like Christian, a lion cub who recognized his former human-owners a year after being returned to the wild.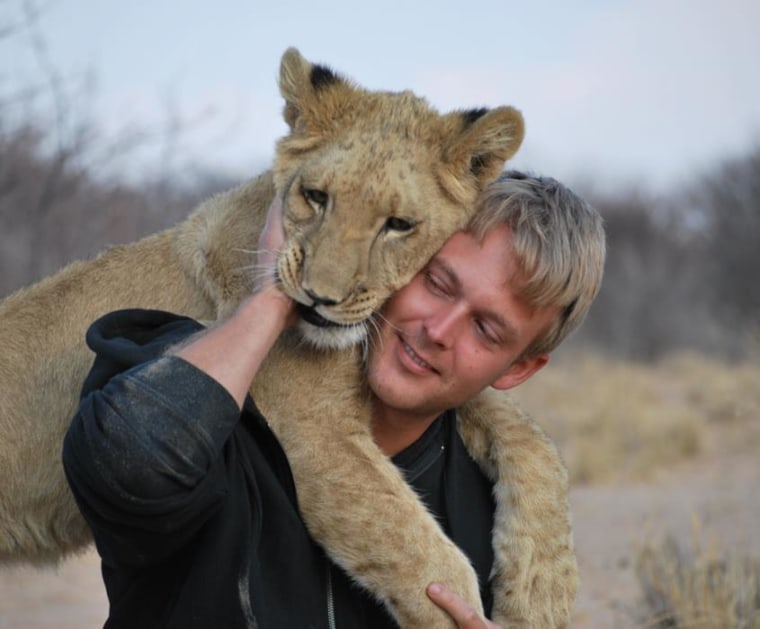 Legarth and Gruener aren't worried about getting so close to Sirga, but they do recognize the possible danger involved in interacting with such a large animal.
"We are not afraid to get too close to her, but of course you can never forget that it is a very strong and potentially dangerous animal and you have to treat it with respect," Legarth said.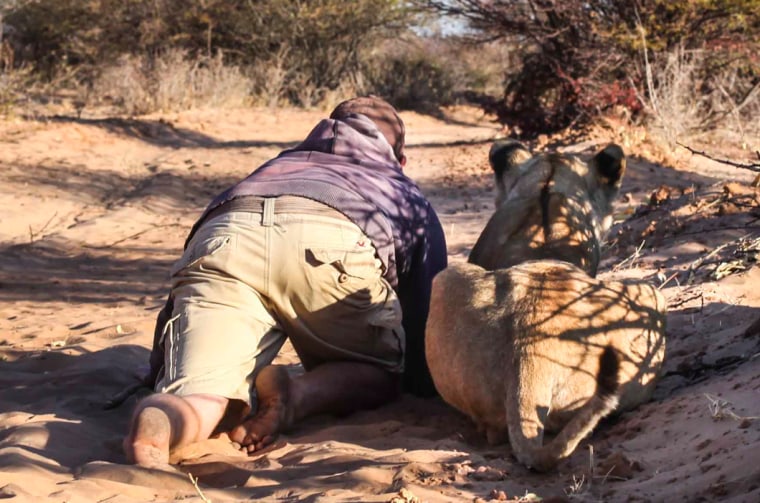 Sirga isn't the only lion Legarth and Gruener work with. They set up a camp on William De Graaffs' property, where they care for previously rescued lions that could have been killed by local cattle farmers who do not want them preying on their livestock. They're also educating the public on lion conservation efforts in Africa.
"We believe that the decline in the lion populations in Africa is due to lack of proper education and awareness in local as well as in international communities," Legarth said. "As a tourist who travels to Africa you automatically support wildlife but it is up to you where you are going and in what way you will be supporting it."
Working with lions was a calling for Legarth and Gruener. They met as volunteers on a wildlife farm and shared a fascination for "large predators and the beauty of the natural environment in Africa." Alarmed by the rate at which certain animals were dwindling in Africa, they decided to start the Modisa Wildlife Project to get involved.
"The feeling to work with lions close like that is amazing and very hard to compare to anything we have done before," Legarth told TODAY.com. "It also becomes part of our daily life and when we sit in our tents and realize what a life we are actually living it is very overwhelming."