People who adopt pets from several animal shelters across the country this month will find adoption fees waived, thanks to Katherine Schwarzenegger, Best Friends Animal Society, Bounty Paper Towels and a rescue dog named Maverick.
Maverick and his littermates were about 3 weeks old when rescued from under a freeway overpass in downtown Los Angeles back in 2013. Schwarzenegger had just graduated from college and was living with her mom, Maria Shriver, when she and her sister agreed to foster the pups — in their mom's garage.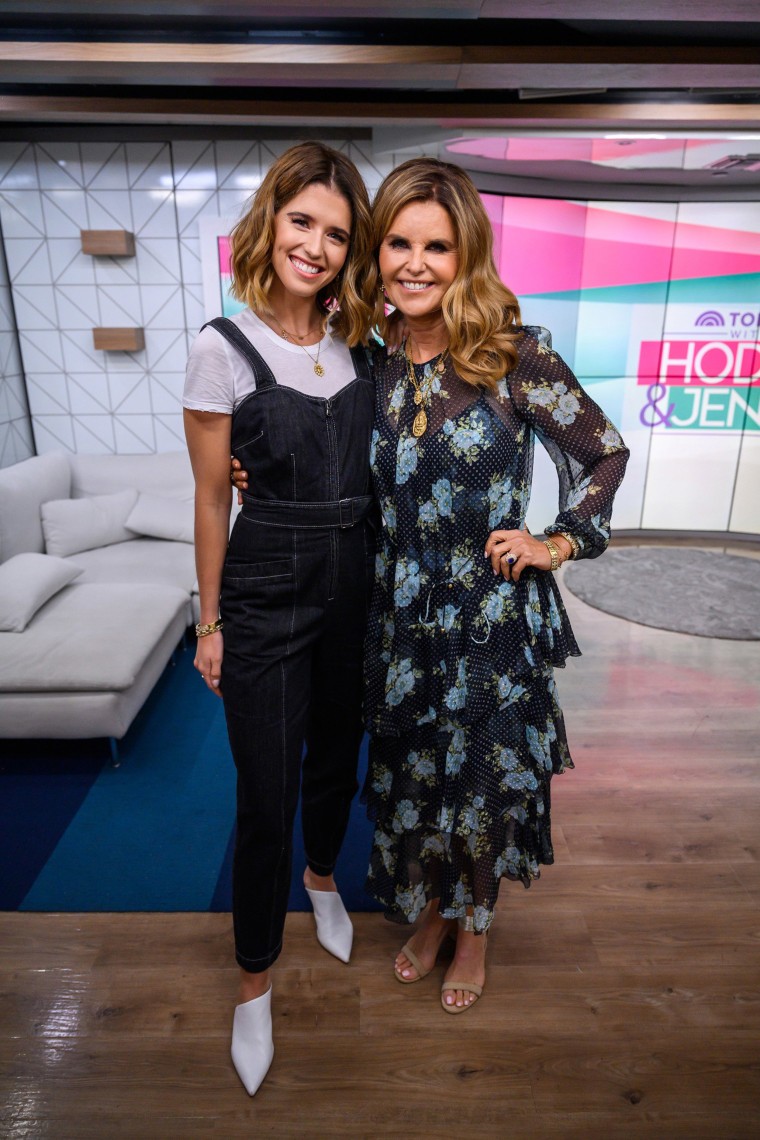 "We had eight different puppies at different times over a four-month period," Schwarzenegger told TODAY. "It was such a rewarding experience to be able to get these little puppies, nurse them back to health and find them loving forever homes."
Maverick pulled at her heartstrings because he was sick and required extra time and care, like feeding him through a syringe.
"I became very attached to him and just could not imagine having him be adopted by anybody else. I just fell in love with him," she said. "That introduced me to the whole world of animal rescue and all of the amazing work that organizations like Best Friends Animal Society do."
Now Maverick — who inspired Schwarzenegger to write the children's book "Maverick and Me" — is an important part of Schwarzenegger's family, which includes her husband, Chris Pratt, and their 1-year-old daughter, Lyla Maria. (Baby No. 2 is on the way.)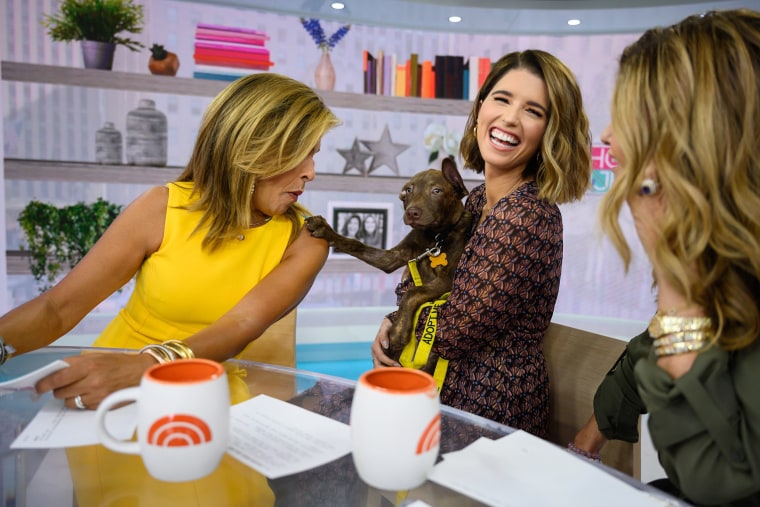 Though the mixed-breed dog ("My mom was like, 'Why don't you just call him a 'California blend'?") can be protective of her, he's also a loving guy who has adapted well to change over the years.
Schwarzenegger said that early on, a trainer helped her understand the importance of paying attention to her dog's needs, like letting him exit a situation when he wants to.
I feel like homes are not complete unless there is some sort of an animal in the home. Being able to teach kids from an early age about responsibility and unconditional love is such a huge gift.
Katherine Schwarzenegger
"I had Maverick years before I met Chris and he had always been a little bit more shy or kind of cautious around men," she said. "So I was very nervous about that part of the blending of families, but that went over really well, luckily. … He's been really incredible with my daughter, which I'm so grateful for because that's something that's nerve-wracking as a pet parent before becoming a human parent."
She feels pets "bring everything" to a family. Her own parents are animal lovers who allowed their kids to bring home pets as long as they took care of them, which included ducks and a pig. ("My brother and I unfortunately named her Bacon," she admitted sheepishly.)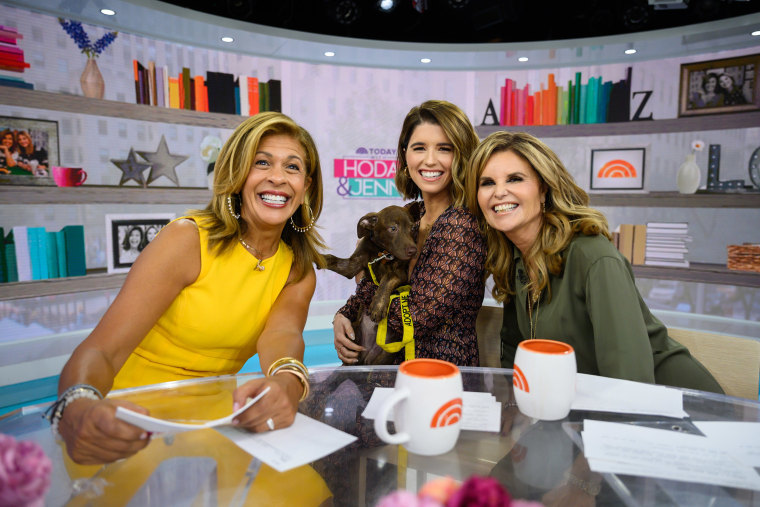 "I feel like homes are not complete unless there is some sort of an animal in the home," she said. "Being able to teach kids from an early age about responsibility and unconditional love is such a huge gift. I think pets bring countless gifts: of love, of affection, of coming home and not having anybody care what you look like or how you feel, but just being there for you. I love them."
Schwarzenegger said fostering dogs and cats can be a wonderful way to learn how much goes into caring for pets, to test whether a family is ready for the responsibility and to find what kind of animal works best for everyone. Plus, it can be fun.
"It was a great bonding experience for my sister and I — who were already close — but it was a fun thing to do together," she shared.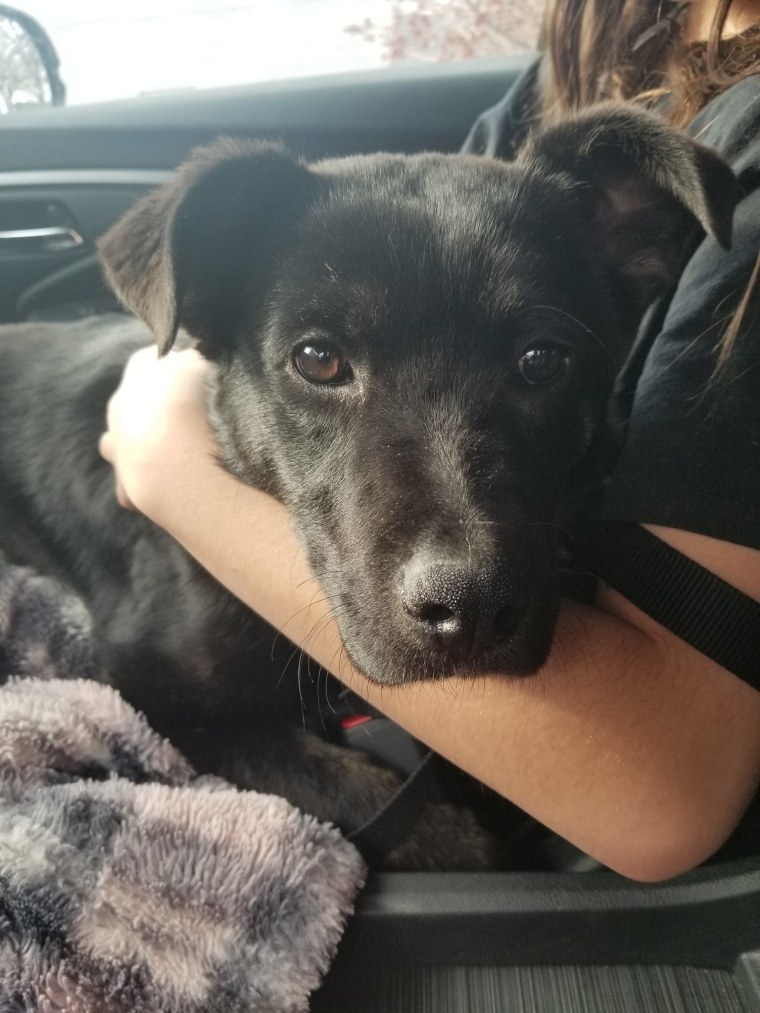 As an ambassador for Best Friends Animal Society, she's excited that Bounty is picking up adoption fees for pets at Best Friends Animal Sanctuary and the organization's Lifesaving Centers during May in honor of National Pet Month.
Approximately 374,000 pets are euthanized in U.S. shelters each year, according to the organization, so Best Friends has the goal of making America "no kill" by 2025, says Best Friends CEO Julie Castle — who is understandably delighted that adoptions will be free in May.
"Waiving adoption fees helps get pets adopted by lowering the costs it takes to bring home a new best friend," Castle told TODAY in an email. "All of our pets are fixed, vaccinated and microchipped, so this allows new adopters to use funds to purchase pet supplies like collars, leashes, litter and food instead, as well as potentially create a savings for future veterinary visits."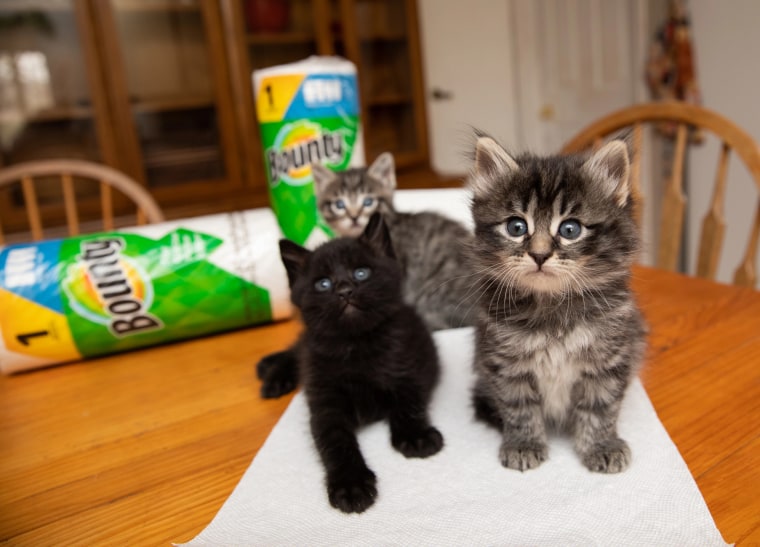 Hundreds of pets will be available for free adoption through the program at the nonprofit's sanctuary in Kanab, Utah, as well as in Los Angeles, New York, Salt Lake City, Houston and Atlanta. 
"Most of these dogs and cats were part of a family once and just want a second chance at a new life. Best Friends is very grateful that Bounty is picking up adoption fees this May to help make that happen and bringing us one step closer to our goal of ending pet homelessness by 2025," Castle said. "We look forward to hearing the many happy adoption stories that this promotion will create."