An enlightened dog named Buddha loves spending his days parading around a Colorado animal sanctuary with his new BFF: a 4-week-old lamb named Cheerio.
The mixed-breed dog spent his first two years of life chained outside in the hot sun, but now he's living the good life befriending baby animals when they arrive at Luvin Arms Animal Sanctuary in Erie, Colorado.
"Buddha has this way with all of our new rescues," Shartrina White, the sanctuary's executive director, told TODAY. "The cutest thing in the world is watching Cheerio get all excited and do these little hops and jumps and run after Buddha to follow him and play with him."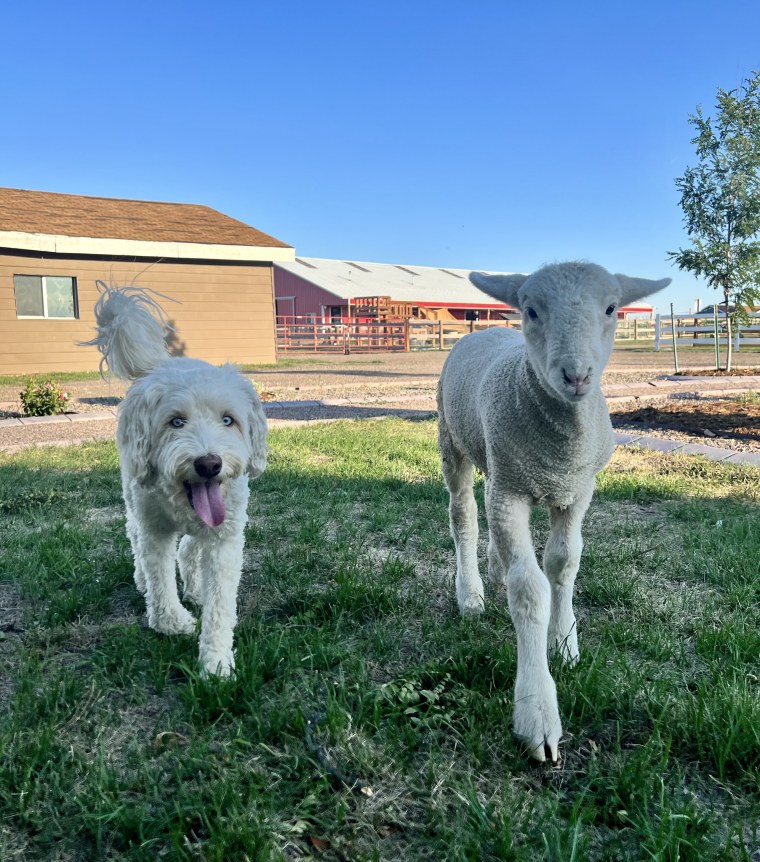 When animals first arrive at Luvin Arms, they must be temporarily quarantined to avoid spreading any potential diseases to sanctuary residents. So human members of the team like White often spend the night with the babies to make sure they aren't alone and afraid.
White was sleeping each night in an enclosure with a 5-week-old calf named Marley when Buddha came to stay at Luvin Arms in 2020. The young cow was desperate for attention, and Buddha was a sweet dog, so she introduced them in the hope they'd get along.
Sure enough, cow and canine captivated one another, often cuddling after cavorting.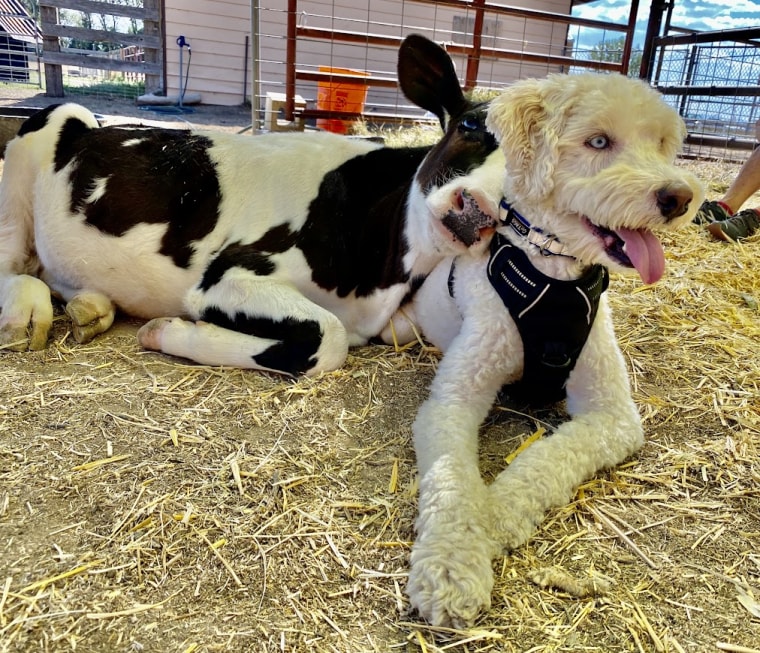 Nearly two years later, Marley weighs over 1,200 pounds, so it's no longer safe for them to play together — "Cows like to play with their heads," White noted — but they always greet one another like fast friends.
"Still to this day when Marley sees Buddha, she starts hopping and jumping and they greet each other and kiss each other through the fence," she said.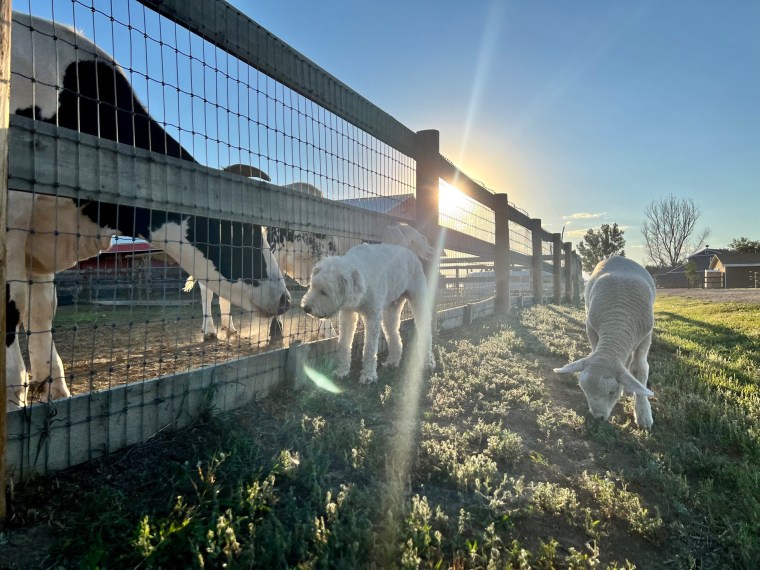 Buddha isn't the only sanctuary resident befriending members of other species. After being found in a box with a chick named Koda, a duckling named Kenai felt so bonded that he follows the chicken everywhere. In fact, to get Koda to swim, volunteers and staff had to sit in a pond — gently holding the non-swimming chicken — to encourage the duck to waddle into the water.
"The duck literally thinks he's a chicken," White said with a laugh. "Those two are really cute."
They recently befriended a sassy turkey named Walter who didn't seem to enjoy the company of other birds before he met the feathered friends. Now they all live together.
"It's a unique friendship between an older turkey and the chicken and the duck," she said. "It warms my heart every time I see them together."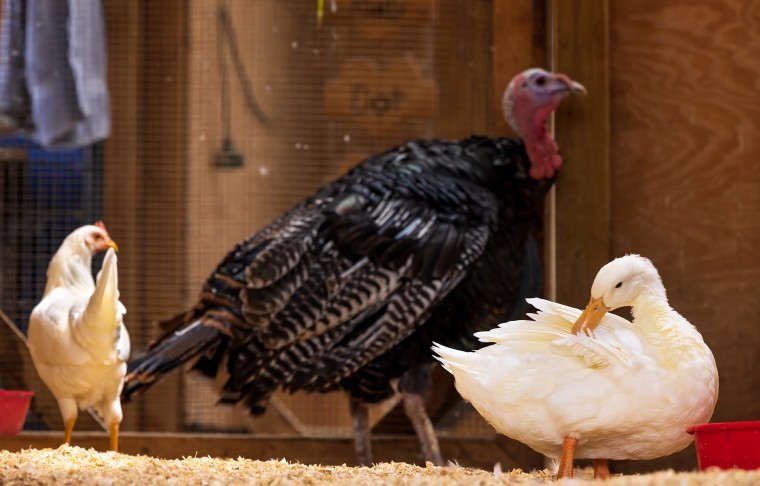 Relationships do form within the same species, of course. In fact, Buddha's first BFF, Marley, became besties with a cow named Samantha. While nothing could pull such close girlfriends apart, Samantha did develop a crush on a new cow named Lucky when he came to the sanctuary.
Fortunately for everyone involved, it wasn't unrequited love.
"I had never seen two cows fall in love before," White said. "It was like love at first sight."
After surviving a wolf attack that killed his mother on a ranch, Lucky lived alone before coming to Luvin Arms. He was starved for attention and would cry out when he was alone, according to White. The team took turns sleeping with him and spending time with him for a few weeks before he moved into the area right next to Samantha last year.
"When she saw him, she started jumping up and down, kicking her back legs, acting so excited," White said. "You could tell she was smitten with him. Sammy was very flirtatious."
A week later when the team found Lucky and Samantha wrapped in a head embrace over the fence, they knew better than to separate the new couple. Lucky moved in with all the other cows.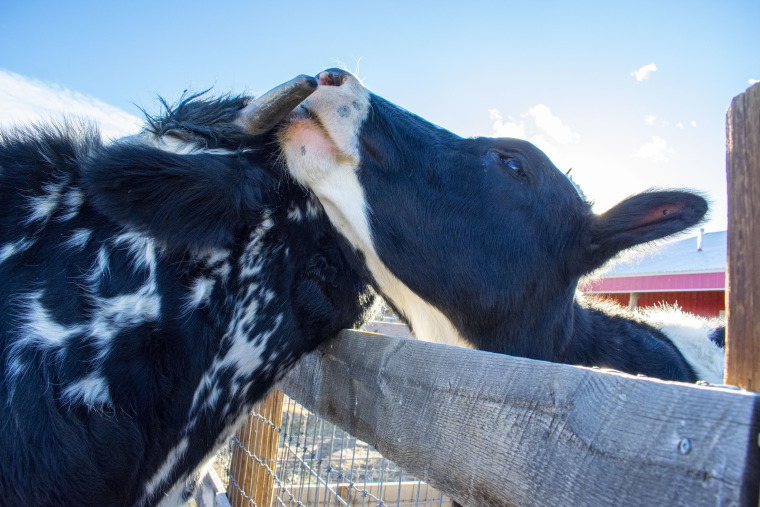 While White is moved by all of the inter- and intraspecies relationships at Luvin Arms, she's not surprised by them. The sanctuary's founders, Shaleen and Shilpi Shah, are Jains raised in India who value nonviolence and compassion.
So their like-minded staff works to meet the physical and emotional needs of all animals on the property — which White feels creates opportunities for special connections, from the ones her dog Buddha develops with baby animals to the love shared by birds and cows.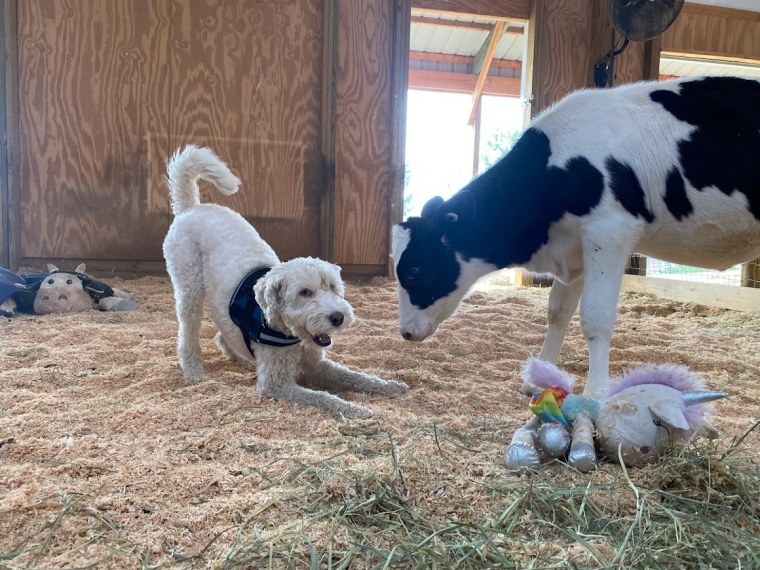 "They have choices in their friends. It's not something that you can force," she said. "Being here at the sanctuary watching them live out their lives and watching the friendships is so incredibly special."