When Atlanta resident Ray Keith started training a mixed-breed puppy named Rio, the former stray didn't even know the cue "sit."
But Keith, 25, used positive reinforcement techniques like treat rewards to teach Rio not just "sit" but loose-leash walking and skills like "stay," "come," "wait," "down," "watch me" and "crate."
Thanks to that training, Rio got adopted into a loving forever home.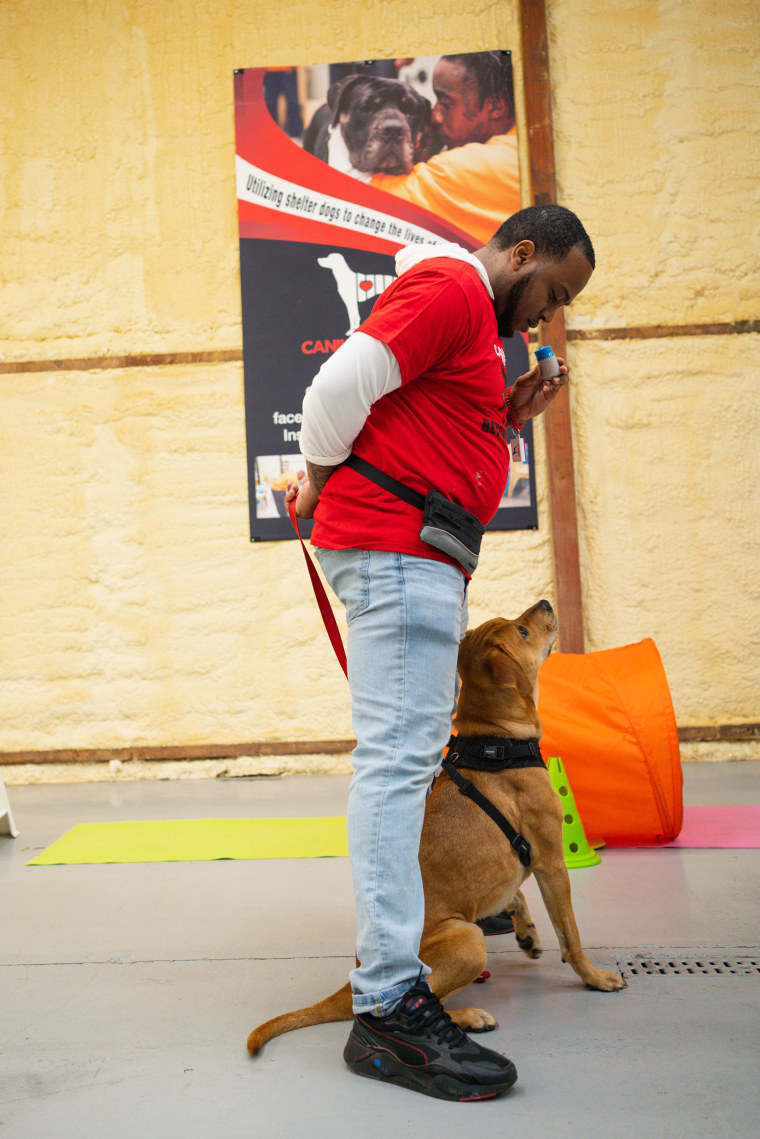 "I was kind of sad to see him go, but I was proud," Keith told TODAY. "I'd been working with him every day for 90 days, so that was my buddy. I'm happy for him."
Keith participates in Beyond the Bars, a new rehabilitative program from Canine CellMates. Since 2013, the nonprofit has invited inmates at Fulton County Jail to learn to train shelter dogs for adoption in a 10-week program. The dogs get 24/7 socialization and training from the men in a special dormitory for trainers, who can learn valuable life skills as well.
Last year the nonprofit created the Beyond the Bars program: a sentencing alternative that keeps men out of jail. Instead of being incarcerated or proceeding further through the legal system, participants commit to training shelter dogs for a year at a new Canine CellMates facility, leased with a grant from the nonprofit Best Friends Animal Society.
Keith was one of seven men to graduate on Dec. 16, 2021, from phase one of the first class of Beyond the Bars. After a year of participating in Beyond the Bars, his criminal record will be wiped clean. In the meantime, Canine CellMates helped him find a job as a "bark ranger" at a dog park with a popular bar.
"Coming from where I'm from, it helped me get a second chance at life," he said. "The program is definitely giving me a second chance and also giving the dogs a second chance."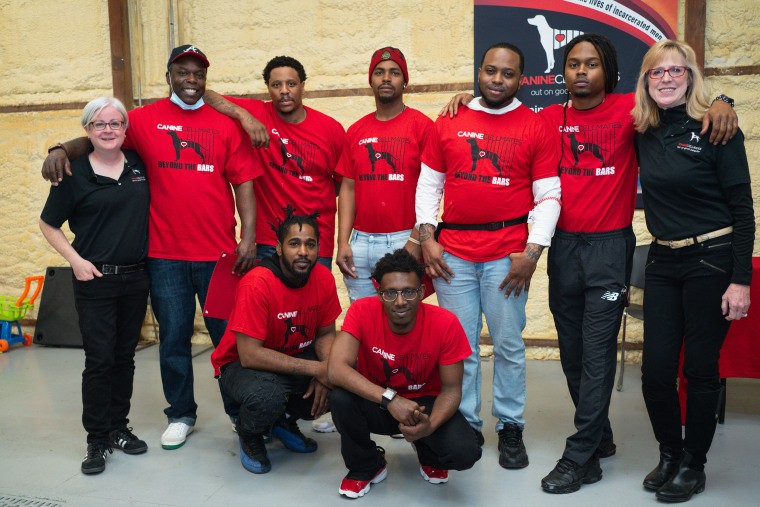 More than 400 men have worked with Canine CellMates and more than 150 shelter dogs have been adopted, according to Susan Jacobs-Meadows, the nonprofit's founder. The goal is to offer repeat offenders a chance for personal growth.
"Once somebody's in the system once, it's bad. But once they're there for the second or third time, their opportunity to get out of and stay out of the system is small," she told TODAY. "There are almost no resources for those men. Society is done with them. … So they're the ones who really have my heart."
So do the dogs, who are typically pulled from Fulton County Animal Services, an open-intake — and often overcrowded — municipal shelter.
"The magic of our program is the dogs," she said. "The dogs are what starts the process for positive change."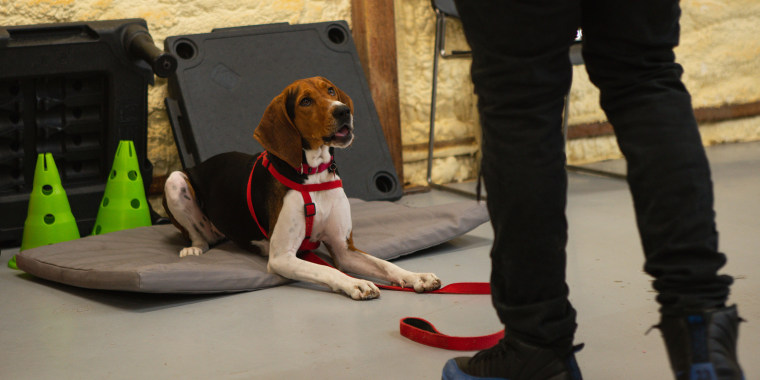 The dogs also change lives once they're adopted. Jacobs-Meadows fondly recalls a brown pit bull named Aaliyah who found a perfect home with a family that includes a young girl with a degenerative muscle disease. When they came to meet Aaliyah, the daughter asked to be lifted out of her wheelchair to sit on the floor to meet the dog.
"Aaliyah excitedly greeted everyone. But within two minutes, she walked over to this little girl and she gently lowered herself down into this little girl's lap and then just laid there. It was beautiful," Jacobs-Meadows said. "It took your breath away because dogs are incredibly intuitive."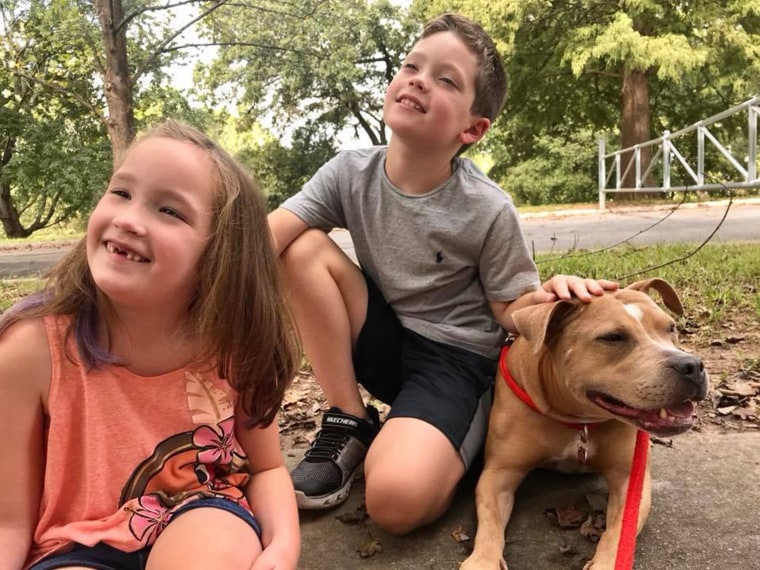 Just as the Canine CellMates team offers long-term support to adopters, the organization supports graduates of its programs.
Jacobs-Meadows stays in touch with over half of the men, who befriend her on Facebook, call or drop by the dog-training facility. Often they have recovered from drug and alcohol addiction, and work jobs, volunteer and reconnect with estranged loved ones.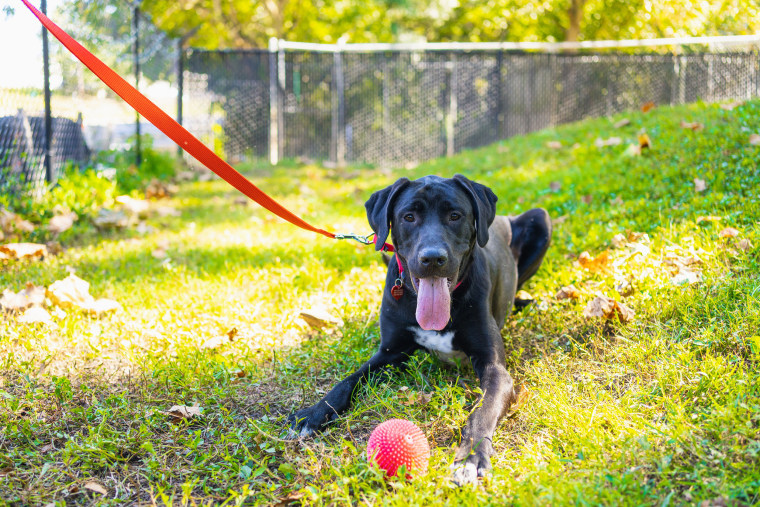 Numerous studies have shown the positive impact of dog-training programs in correctional facilities, according to the database maintained by the nonprofit Human Animal Bond Research Institute.
For instance, a Kansas study found improvements in participants' moods and a sense of being connected to a community with training as an act of service. In Washington, participants experienced less anxiety than nonparticipants, and infraction rates improved.
Florida studies found a significant reduction in recidivism within the first year, and that prison dog programs can save taxpayer money. A cost-benefit analysis projected that for every criminal justice system dollar spent on dog-training programs, it saved $2,877-$5,353.
Still, it's impossible to quantify the unique experience of each participant through studies or figures.
Doug Phillips, 40, trained dogs with Canine CellMates in 2018 when incarcerated at Fulton County Jail and working through its drug and alcohol recovery program.
"I was in a point in my life that I just wanted something different," he told TODAY.
As Phillips learned about positive reinforcement training methods to use with his dog — an Ibizan hound mix named Taffy — he realized using rewards instead of punishment could be applied to parenting, too.
"The overlapping philosophy of positive reinforcement was so key," he said.
Now Phillips helps others make better choices in his job as a certified addiction recovery empowerment specialist with the nonprofit Back on My Feet. He discovered a love of running and competed in his first marathon. He reconciled with his wife and is close with their two sons, who are 12 years old and 7 months old.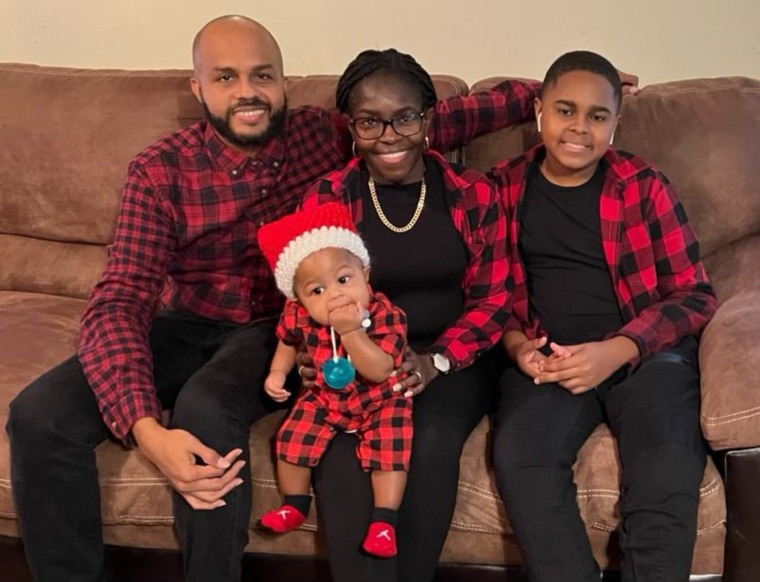 The family's Shih Tzu, Sparky, is a sweet, smart dog who helps the family bond by caring for him. Pets also teach kids responsibility and — in the case of his youngest — provide motivation to walk and crawl to get to the dog, according to Phillips.
"Of course I have a dog," he said. "Canine CellMates has afforded me just a whole different respect and an admiration for just what a dog does in the household."
Phillips is grateful to Canine CellMates for giving him an appreciation for dogs and a chance to help change his life for the better. He attended the first graduation ceremony of Beyond the Bars to learn more and was impressed. He hopes other communities will develop similar "transformational" programs.
"Programs like these are so needed, and it's just a win-win situation: for the dogs in a pound to the inmates that just need some type of positive reinforcement to get them on the right track," he said. "Now Susan is taking it to another level with Beyond the Bars."
---
Expanding dog-training programs
In addition to awarding a grant to Canine CellMates to start the Beyond the Bars program, the nonprofit Best Friends Animal Society awarded a grant to New Leash of Life USA for a 12-week training program with the Philadelphia Department of Prisons — which resulted in the rescue, rehabilitation and training of 23 dogs.
Holly Sizemore, chief mission officer of Best Friends Animal Society, said it's amazing to see something as straightforward as dog training programs be a catalyst for teaching "the power of positivity, patience, persistence and love." 
"The vision of Best Friends is 'a better world through kindness to animals,' and programs like these are a great demonstration of that vision," she told TODAY in an email. "To see how dogs and people can help heal and rehabilitate one another is profound."