As Ukrainian soldiers and everyday citizens defend their country against the Russian invasion that began on Feb. 24, millions of Ukrainians have fled to other countries — mainly women, children and the elderly.
Many have also found ways to bring cherished members of the family: their pets.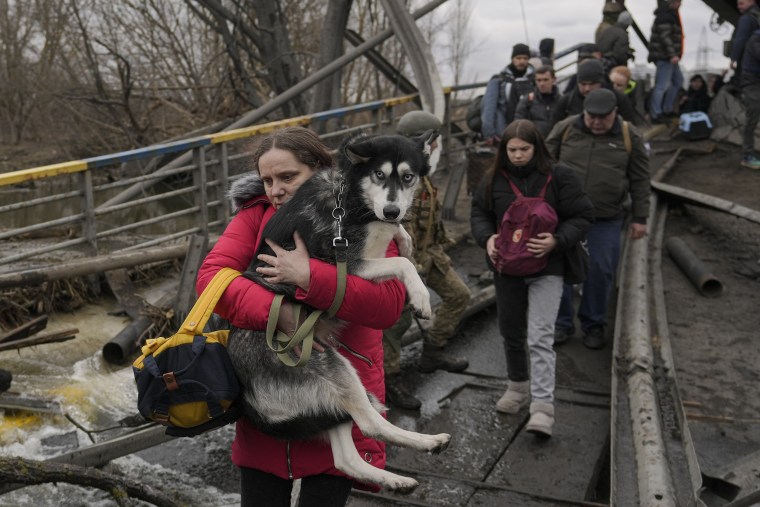 Estonia is welcoming refugees and their cats, dogs and even a few parrots, according to Hellika Landsmann, Tallinn City Government Chief Specialist, whose job involves supporting the local animal shelter. She also volunteers for the nonprofit Estonian Society for the Protection of Animals and has fostered more than 100 dogs and cats over the years.
"When the animals get here, they are really hungry and they haven't had water in days because people don't know how long a time they have to travel," she told TODAY. "At the moment, all our hotels and all refugee apartments are ready to help. … We understand that it's not easy and the best way to help is to keep the family together as much as they can."
Landsmann is grateful that a black cat named Salem adopted by a Ukrainian university student while studying in Estonia made it out of Ukraine and back into Estonia with the adopter. But she's concerned about all the animals who weren't so lucky — either because they were separated from their families and remain in Ukraine, or because they cannot be evacuated from shelters and face bombing by the Russian military.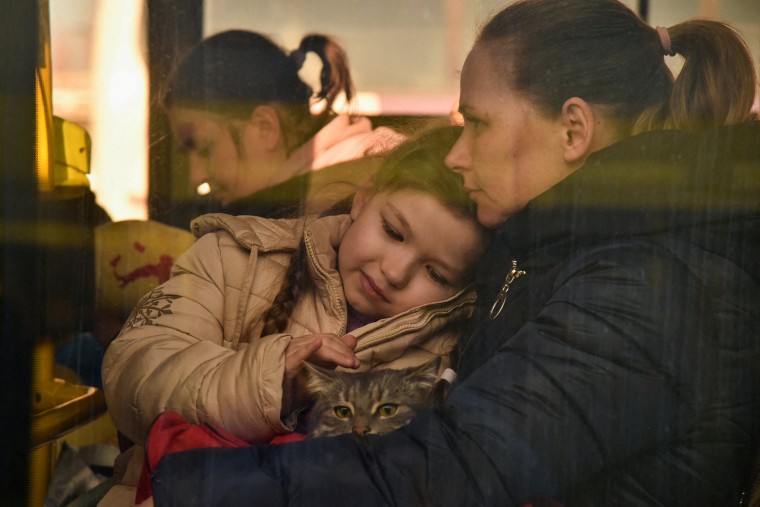 Staff at some Ukrainian animal shelters — like Sirius, where more than 3,000 animals are trapped near the capital of Kyiv — are calling for a "green corridor," which is essentially a safe passageway to transport pets out of the country. However, Landsmann said they don't work.
"Every time when Russia is saying, 'Yeah, we will let you leave,' it's bullets and nobody's going anywhere," she said.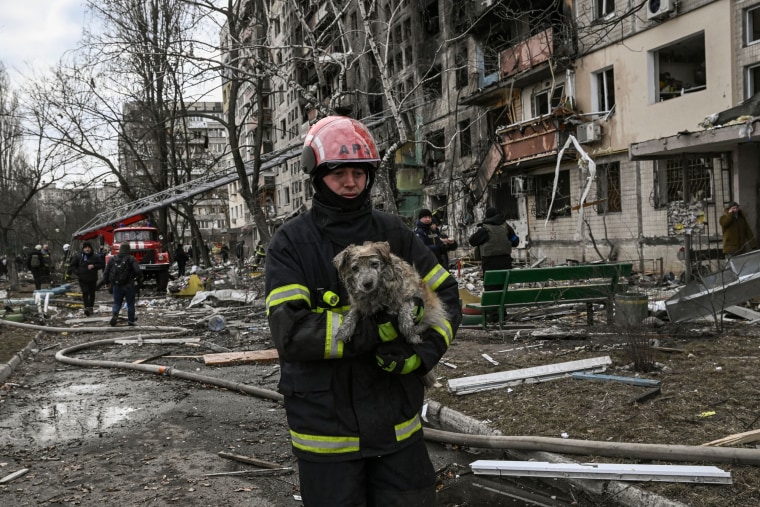 It's also challenging getting food and supplies to shelters in distress. Larger organizations are coordinating support for local animal shelters, but it's dangerous work. For instance, 26-year-old Anastasiia Yalanskaya and two other volunteers were shot and killed by Russian troops after delivering food to a shelter in Bucha, which is less than 20 miles outside of Kyiv. The shelter had been without supplies for three days.
"I know at least a few animal helpers or shelter volunteers who got shot because they want to visit shelter animals and wanted to bring some food to them," Landsmann said. "And they were just shot. … The war is not over and it's getting worse every day."
According to the United Nations refugee agency, more than 3 million Ukrainians are now refugees — a number that continues to climb.
Here are some organizations working to help displaced pets and shelter animals.
UAnimals
Ukrainian nonprofit UAnimals works to get food to local shelters and zoos. Landsmann supports the efforts of this Ukrainian organization so much that she commended their work to Mike Arms, CEO of the Helen Woodward Animal Center in Rancho Santa Fe, California. Now the nonprofit is pledging to donate $50,000 to animal welfare organizations like UAnimals — and is calling for animal lovers to match the pledge.
"Like the people, they're innocent. Those bombs — you know how sensitive dogs' ears and cats' ears are and what they must be going through."
Mike Arms, CEO of the Helen Woodward Animal Center
So far, over $48,000 has been matched in the special fund — and Arms hopes to raise even more money for animals in Ukraine. He's concerned by the urgent need for blankets, beds and other supplies for displaced pets, as well as the well-being of pets who remain in Ukraine.
"Like the people, they're innocent. Those bombs — you know how sensitive dogs' ears and cats' ears are and what they must be going through," he told TODAY. "We want people to open their hearts and their wallets to help others that really need it right now."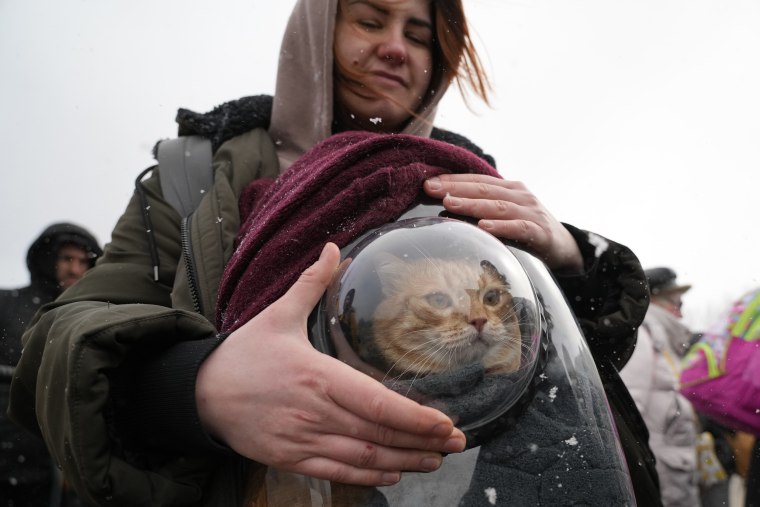 Humane Society International
Yesterday, the nonprofit Humane Society International announced an agreement with the Romanian Red Cross to transport pet food into Ukraine to care for animals in shelters, homes and on the streets. The first ton of food will be delivered in the next few days — the first time the Romanian Red Cross will add supplies for pets to one of its humanitarian aid transports.
HSI is also working with local animal welfare organizations in Germany, Poland and Italy to provide emergency pet supplies like food, blankets and veterinary care at refugee reception points.
"We have heard from refugees we're helping in Berlin that the loyal companionship of their pets has kept them and their families going on the arduous journey to safety," said Sylvie Kremerskothen Gleason, HIS's Germany director, in a statement. "For children especially, their pets are an enormous source of comfort to help them cope with the trauma of war. These refugees are frightened and exhausted, so being able to help them care for their pets means they have one less thing to worry about at a time when they need help the most."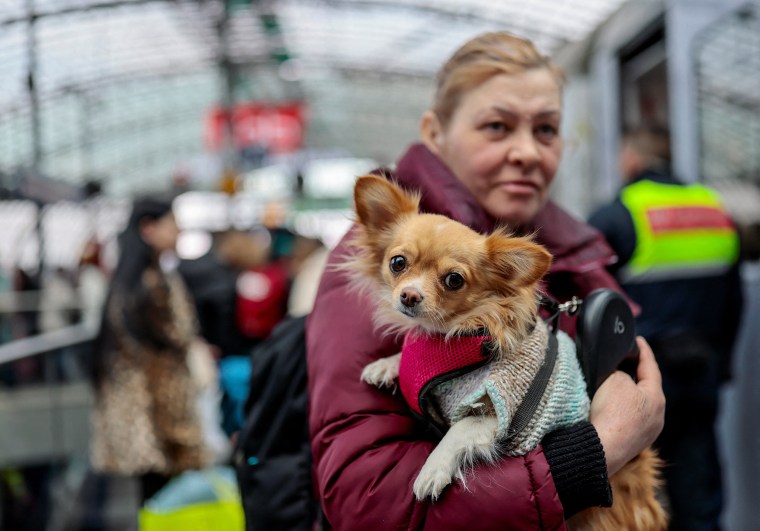 International Fund for Animal Welfare
The IFAW is working with local partners to get supplies to wildlife sanctuaries and animal shelters in Ukraine, as well as groups supporting refugees in surrounding countries.
The organization also maintains a verified list of resources — in both Ukrainian and English — for Ukrainians escaping with their pets regarding entry requirements in nearby countries.
The nonprofit American Humane — America's first national humane organization — recently authorized a $10,000 emergency grant to IFAW.
"War creates treacherous situations for both people and animals. Broken glass, debris and sharp objects can harm animals lost in the confusion, and starvation is a very real danger for those who escape the missiles, bombs and bullets," Robin Ganzert, CEO of American Humane, told TODAY in an email. "We must also remember the many invaluable animals housed in zoos and sanctuaries who are at risk, as well as the 20 endangered species who live in Ukraine and who are being threatened by this disaster."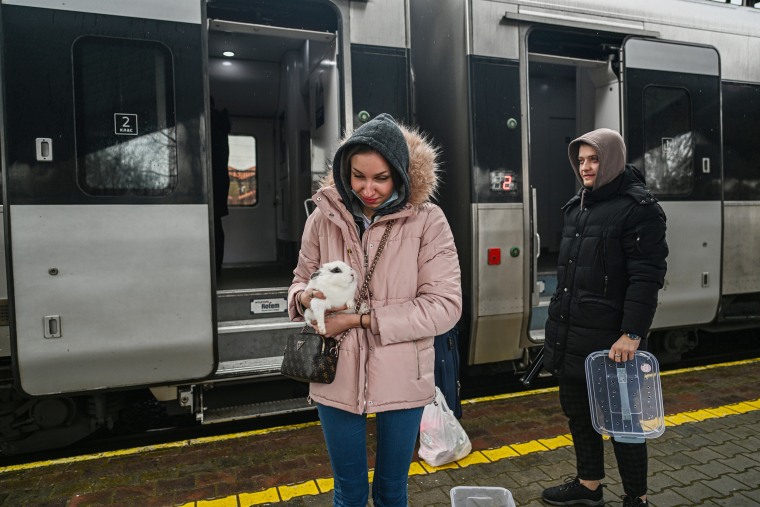 Network for Animals
The international nonprofit Network for Animals, which has offices in the United Kingdom and the United States, quickly partnered with local groups to evacuate nearly 1,000 dogs and cats from Ukraine since the Russian invasion. Yesterday, the group finalized paperwork for a third ambulance, which will help a veterinarian transport even more animals out of Ukraine.
David Barritt, executive director of Network for Animals, said the ambulances ferry food and medical supplies into Ukraine and return with dogs who were left behind.
"We focused immediately on getting the animals out because a lot of people, when they fled, could not take their animals with them or, very sadly, they thought that they would be returning quickly and left their animals locked up in apartments," he told TODAY.
"(Dogs) love human beings. They may have been shot at by a human being five minutes earlier, but they love us ... they see salvation in our faces."
David Barritt, executive director of Network for Animals
A Polish refugee camp that opened yesterday quickly filled with 400 refugees and 45 "traumatized" pets, he said. So the group is rushing to provide veterinary care and food in conjunction with the Canadian group Veterinarians Without Borders.
One dog found on a bombed airfield with 12 puppies is so traumatized that when she first arrived, she couldn't stop shaking — but managed to stand and stare at the wall while her puppies nursed. Now she's in a warm environment and getting the care she needs.
"What's remarkable — it always gets me — is dogs love us. They love human beings," Barritt said. "They may have been shot at by a human being five minutes earlier, but they love us ... they see salvation in our faces."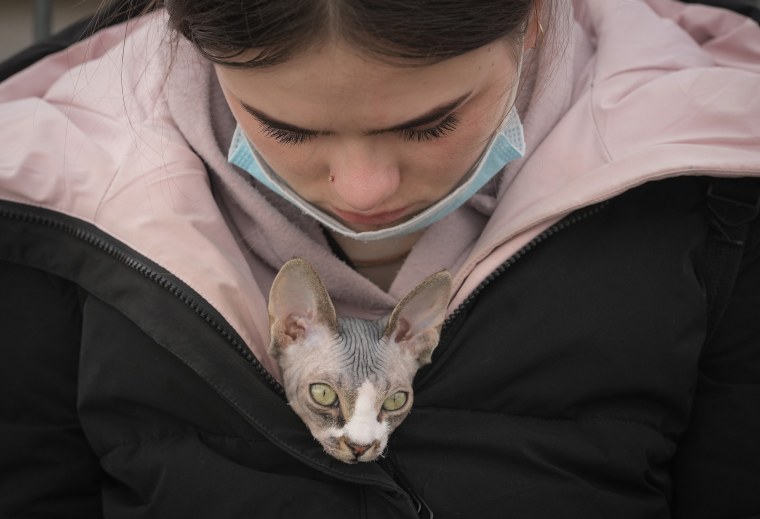 Happy Paw
Ukrainian charitable organization Happy Paw is helping 60 shelters in Ukraine and shares compelling photos and stories of food deliveries and successful evacuations on its Facebook page.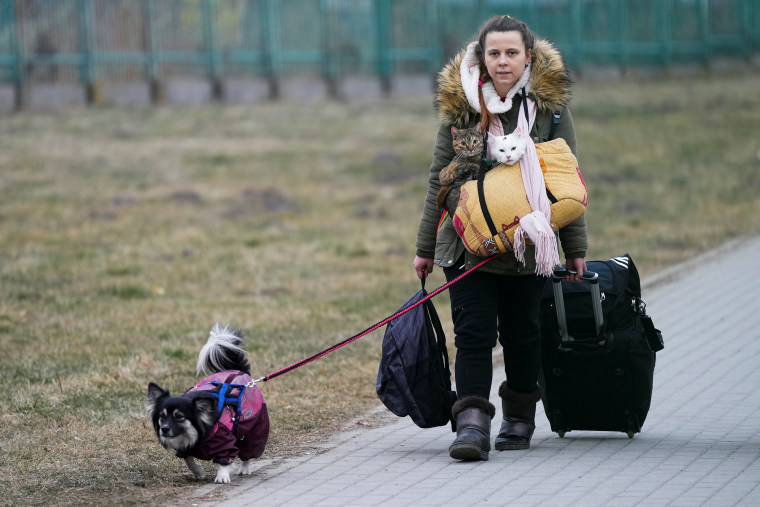 This is by no means an exhaustive list. For instance, Eurogroup for Animals maintains a list of reputable organizations working to help pets impacted by the Russian invasion of Ukraine, and you can find TODAY's roundup of humanitarian groups helping Ukrainians here.
You can also make donations to support emergency needs and recovery efforts in Ukraine during checkout at Petco locations through March 20, according to Lisa Lane Cardin, director of marketing and development for the nonprofit Petco Love.
Of course, the best way to help people and pets affected by the crisis in Ukraine is to end the war, according to Estonia's Landsmann.
"The honest truth is that even if we give our maximum or more, we still don't have the possibilities to help all of them. The war is there. They have a lot of bombings every day and sometimes in every half an hour. So even if the shelter is OK in one hour, all the animals can be killed in the next hour," she said. "If we don't stop Putin, it will get worse. We have to act now."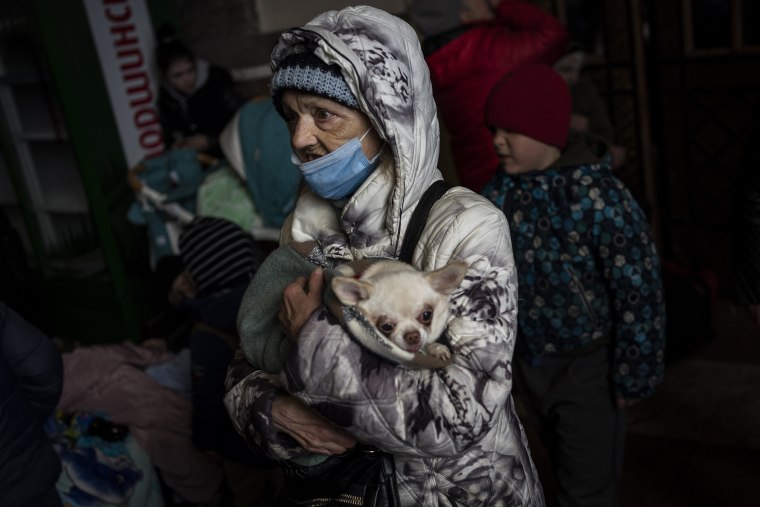 —Photo editing by Mish Coffey.