It was an exciting day for Charlie, who finally met the veteran he's been working so tirelessly to assist!
Meet Stacy Pearsall, a former staff sergeant and aerial combat photojournalist for the United States Air Force. After three combat tours, she's now disabled and retired from military service.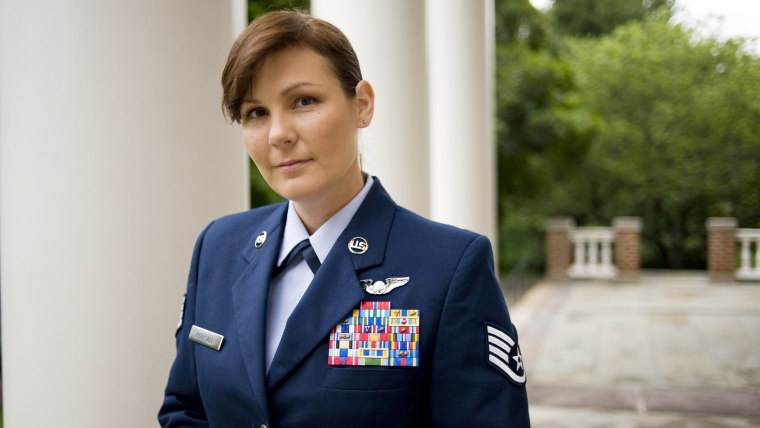 Dog and veteran met in person on the TODAY plaza Thursday morning and immediately had a joyous connection, touching noses in greeting. Pearsall even had a special shirt on that read "Charlie," so she was prepared!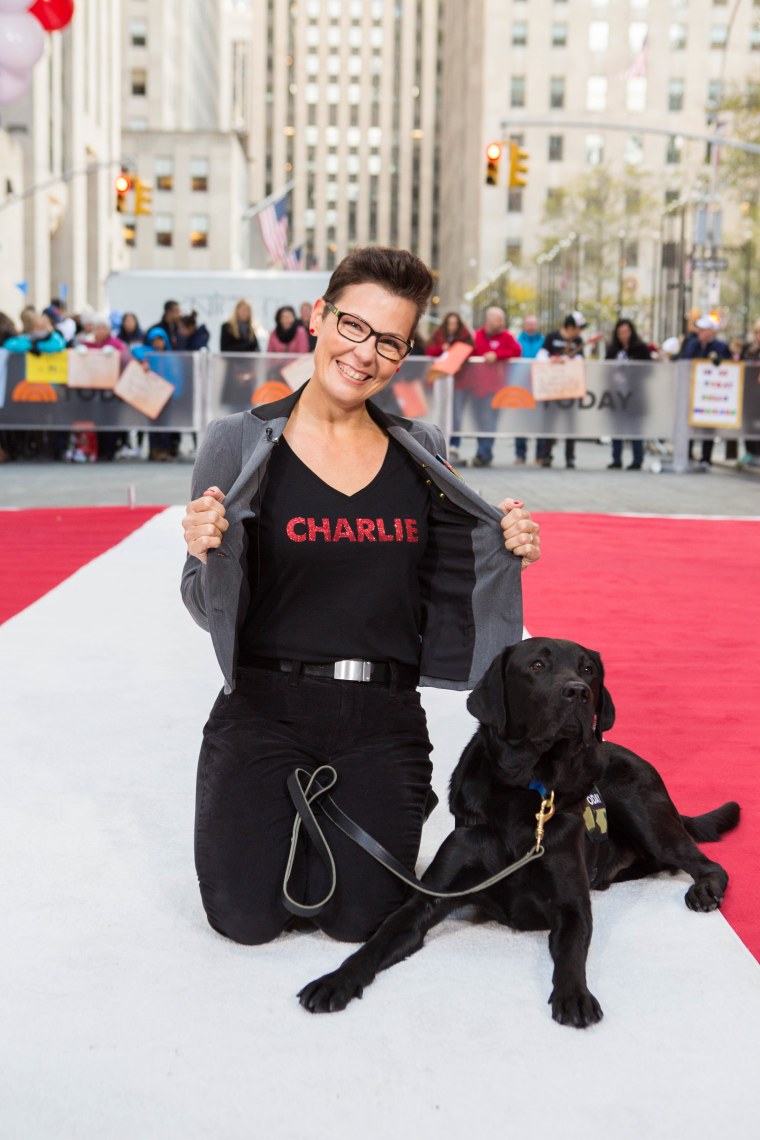 Or ... maybe not: After all, it was an emotional moment and Pearsall couldn't help getting teary (like a lot of us). "I have no words," she said while choking up.
Later on, TODAY's Carson Daly posted this lovely tweet celebrating the pair:
In 2008, the photographer founded the Veterans Portrait Project, where she aims to honor men and women for their service.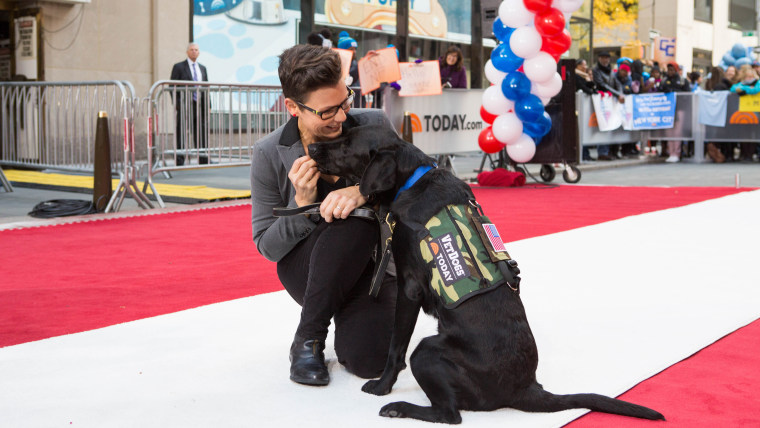 Her work has earned her numerous awards, but most notably, she was awarded the Bronze Star Medal and Air Force Commendation with Valor for combat actions in Iraq.
Pearsall suffers from seizure activity, a cervical spine trauma and traumatic brain injury. So having Charlie will make a huge difference during long hours on the job.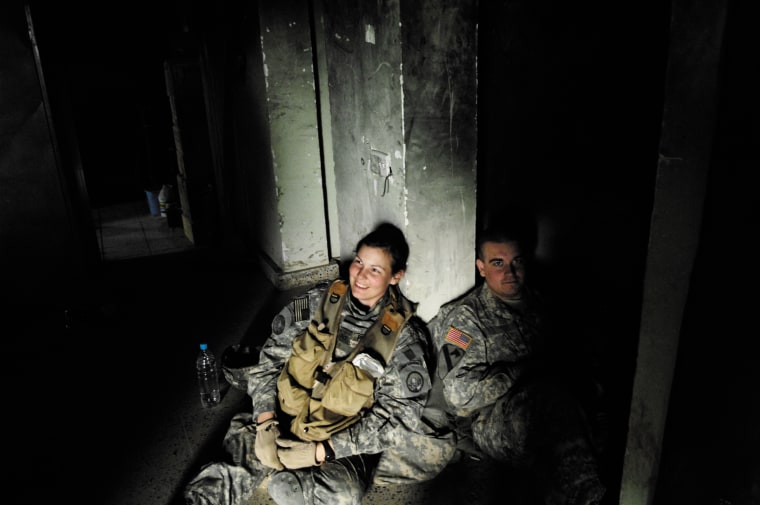 The Charleston, South Carolina, native joined the Air Force at 17 and never turned back. It was a family tradition and she had been inspired by her sister, who became the first active-duty female crew chief.
But what didn't come as naturally? How she ended up pursuing a career in photography.
"When I enlisted, I knew I wanted to do something in the arts ... and (my uncle) said I could be a graphics designer, a photographer or a videographer. And being young, 17, and impatient, I said, 'I'll take whichever one opens up first.' Photography was it," she told TODAY.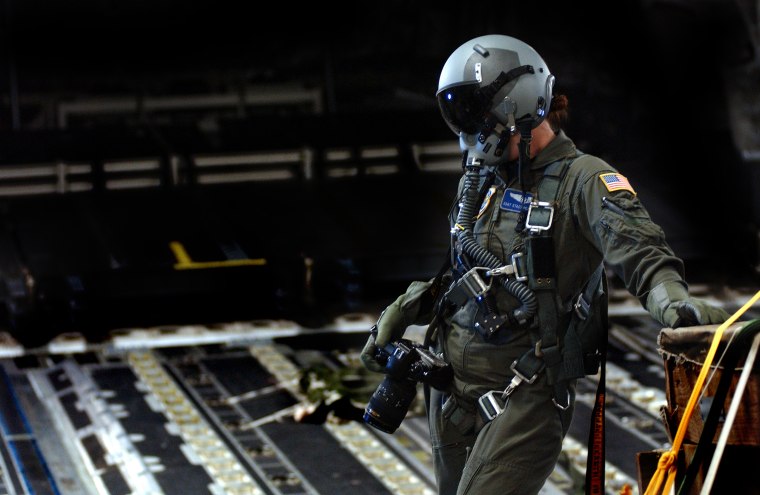 Luckily for Pearsall, she couldn't have made a better decision!
"Being a military photographer is a wonderful opportunity to document America's fighting men and women in uniform, and to be able to share the stories of what they're doing globally with the folks back in the U.S. and, most importantly, their loved ones."
Retiring from the military was simply devastating for her.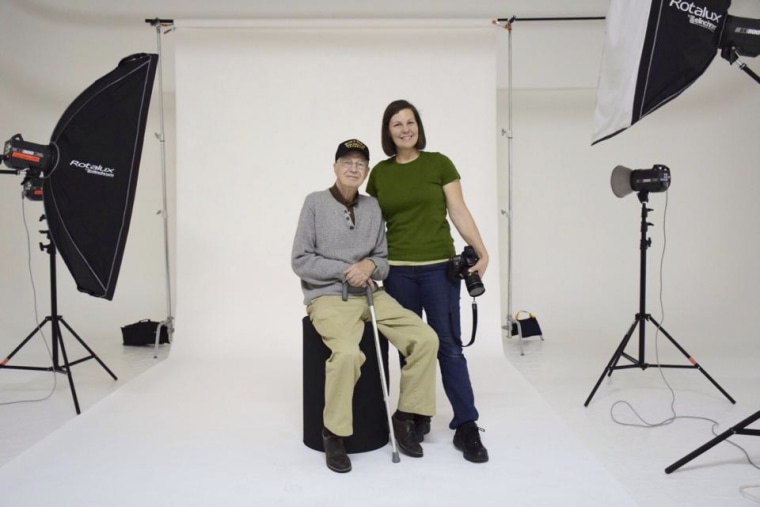 "I came home on my own two feet. I was proud of myself for that. But having such an invisible set of injuries, people looked at me like, 'Well, what's wrong with her?' And I didn't want to tell them. I didn't feel like I was ready to talk about it — all the things that I experienced. Even now, it's tough," she said.
Her primary focus since has been the Veterans Portrait Project. Just a few years ago, she was at the VFW convention taking photos when she suffered her first grand mal seizure. In the midst of feeling extremely defeated, she met Joe Worley, who sat in for a portrait.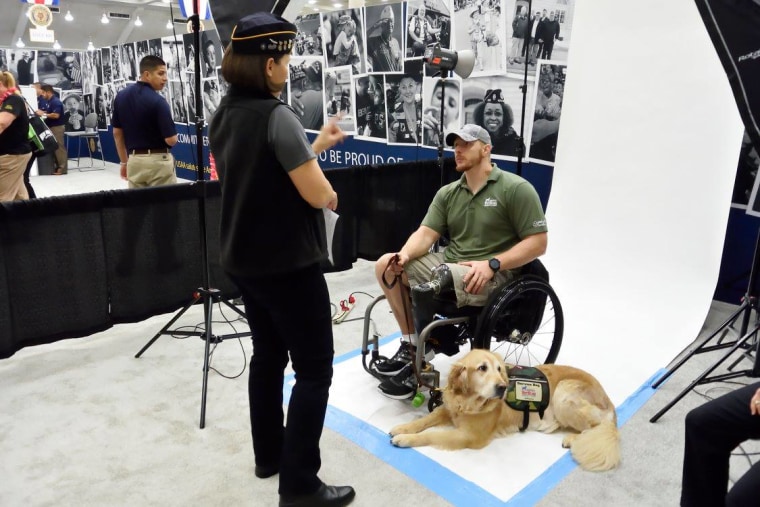 "I was immediately enamored of Benjamin (Worley's service dog) and his relationship with his handler, and thinking, 'Wow, that's really dynamic, and I could really benefit from that.'"
But she questioned herself.
"I had doubts. 'Am I worthy of it?' or, 'Maybe there's somebody who needs it more.' And I think that's a real sort of military mentality about downplaying our needs," she said.
With a little bit of encouragement from Worley, she applied with America's VetDogs and was approved.
Let's just say she was a little surprised that, some time later, AVD was calling her to say she had been matched with Charlie.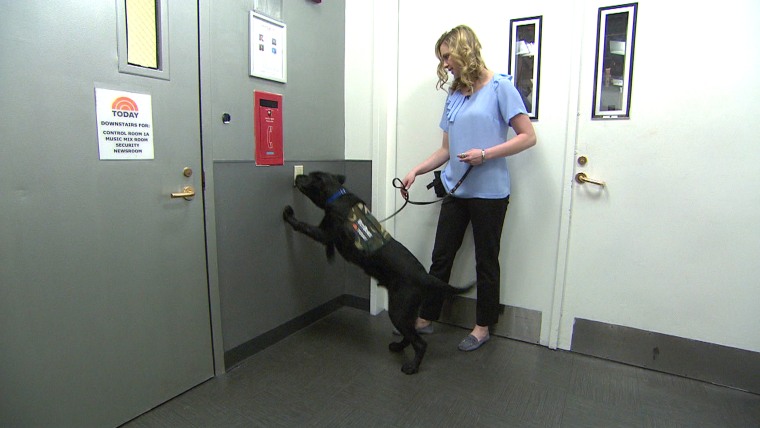 "Charlie is going to be right there alongside me, keeping watch and offering solace, not just to me, but to all those veterans who, like me, struggle every day. And I'm just really excited to see where we go together, and thankful to have this opportunity."
Though we write this with tears in our eyes, we're incredibly excited to see this dynamic duo take on the world!