A video posted to social media this weekend is now going viral, and to be quite honest, we're not sure if we should be amazed or terrified.
The video, which has 1.5 million views on YouTube and 13 million views on Facebook, follows two cyclists and one runner — all of whom seem to be excellent athletes. Not quite hearing the terrifying part yet?
The lone runner is a very large, very fast ostrich, and he's impressively chasing down the cyclists on the open road in South Africa.
The caption on the YouTube video explains that the cyclists were in South Africa for the Cape Argus Tour — now known as the Cape Town Cycle Tour, which took place on March 6 this year. On a pre-race ride, according to the caption, the cyclists chose the spot captured on video because "the road by the ocean side was quiet and a (little) deserted."
RELATED: T. rex Tuesdays: Meet the DINO-mite duo behind the Internet sensation
Not deserted enough, apparently!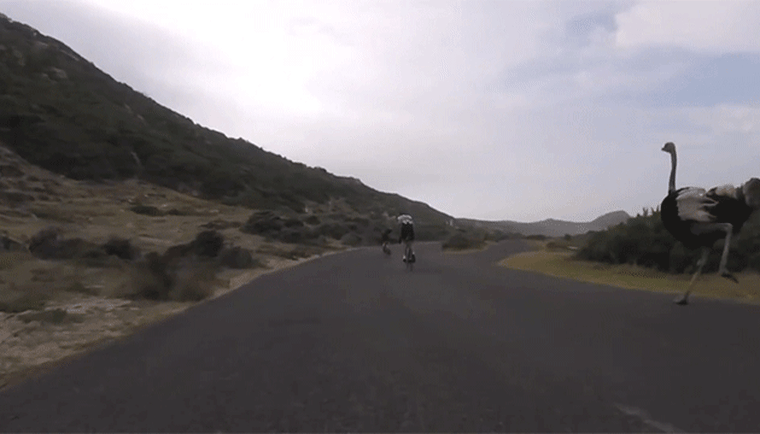 About one minute into the a video of the chase there's a car pulled up on the side of the road. We can only imagine what the driver must have been thinking while watching this ostrich keep perfect pace with the cyclists.
RELATED: Love! Shelter dogs serve as ball boys at Brazil Open event
Eventually, the ostrich seems to grow tired of the chase, and veers left off the paved road, and the two cyclists (and the cameraman) pedal past the animal.
More than 155,000 people commented on the video on Unilad's Facebook page, and many users tried to guess what exactly the ostrich was up to. According to the caption, the cyclists were going a bit faster than 30 mph. Ostriches can run about 10 miles steadily at that speed, according to the National Wildlife Foundation, and can reach a top speed of 40 mph.
"That Ostrich is like NOPE your (sic) not exercising without me man!! I need to tone these legs!! Wait up!! Why are you guys not letting me catch up!" one user wrote.
Another thought we should all give the big feathered animal a break: "I hate people judging ostriches, he was running alongside the cyclists, I think we need more details before we pass judgment."
Most people agreed that the chase was, overall, hilarious. One person aptly concluded, "I think I'd laugh if I was cycling and get caught!" Indeed, the cameraman does appear to be stifling some laughter throughout the video, and the caption points out: "It was a little scary at first, but then I thought I gonna fell of my bike from laughter."
RELATED: Shedd Aquarium's rescued sea otter makes extraordinary (and adorable) progress
We're in awe that the ostrich was that fast, but like many commenters, we have one question: What exactly was the ostrich planning to do once it caught up with the cyclists?