The Alaska Zoo welcomed a new resident to its facility last week: an adorable orphaned polar bear cub named "Kali."
"It's the native word for the village at Point Lay," the zoo's executive director, Patrick Lampi, told TODAY.com. "The closest village to the spot where the cub was found."
After two hunters shot the cub's mother (subsistence hunting is permitted in Alaska), they noticed she was lactating and followed her tracks. At the end of the trail, they found an 18-pound cub.
The hunters immediately reached out to U.S. Fish and Wildlife Service officials who, in turn, got in touch with Lampi and his team at the Anchorage-based zoo.
Lampi drove out to meet Kali at the airport that night, then brought him back to the zoo's infirmary — already prepared for the little one's arrival — and spent the evening nursing him.
"I've been doing what I've been doing for 27 years for moments like that," Lampi reflected.
And how is Kali doing after a week in the zoo's care?
"They seem to adjust pretty darn quickly," Lampi laughed. "He eats, sleeps and plays just like any baby of any species."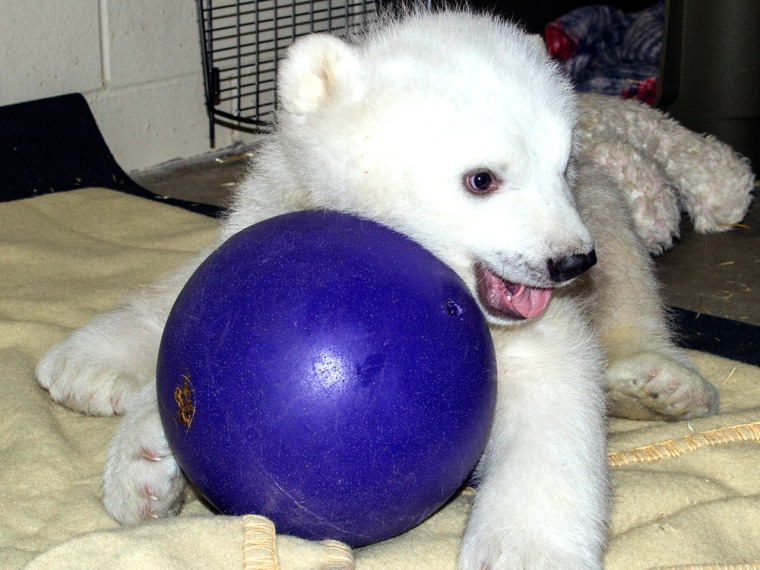 With two adult polar bears already on site, the Alaska Zoo doesn't have the space for a third. But the staff is happy to help until the wildlife service and Zoological Association of America can find a permanent home for Kali.