It's safe to say that the ruff times are over for one middle-aged pug who was recently adopted by the manager of a local hotel.
Parker, a 5-year-old pug who happens to be missing an eye, can't seem to shake the overwhelming amount of pupparazi that has visited in the past 3 1/2 weeks of her new residency at the Park Hyatt Chicago.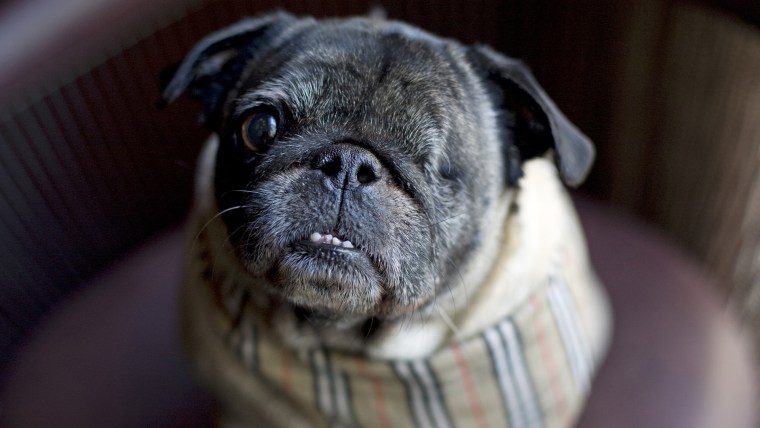 The dog was identified to Walter Brindell, the hotel's manager, as an animal who may have a hard time finding a traditional home, and that's when he knew she would be the perfect fit.
"For me, its really about family and purpose. And this dog has been an unbelievable addition, more than I imagined," Brindell told TODAY. "That's really what I wanted to bring into this hotel."
RELATED: Tinder goes to the dogs with adopt-a-puppy profiles
Brindell, who has had dogs for as long as he can remember, also sits on the Paws' Chicago development board, a nonprofit organization that cares for injured animals, and aids in adoption.
Paws has played a critical role in nursing Parker back to health. In November, she joined the program after spending time at a rural shelter in Tennessee. The dog's medical needs were "extensive," according to Paws Chicago founder Paula Fasseas.
"She was found with painful, oozing skin tags, an irreparably damaged eye and a delicate respiratory pattern," Fasseas told TODAY in an email.
The team was able to remove all skin tags and also performed a more invasive surgery which alleviated breathing concerns.
"In addition to her basic vaccinations, microchip and spay surgery, our veterinary team performed major dental surgery to remove rotten, infected teeth, an ultrasound, blood work and treatment for urinary tract infection," she added.
RELATED: Hesitant to adopt a dog? Here's how I learned rescuing is a no-brainer
It's likely that Parker would have been euthanized because of her intense medical needs had she ended up at a different shelter.
The pug lived in two different foster homes before landing at the hotel, her now permanent home.
"It was love at first sight," Brindell said. "When she came out, it was just complete pleasure. We were looking for a dog that was not high energy and a dog that was going to be very child- and pet-friendly."
And they've come to find she's incredibly friendly. Parker's presence has immensely changed the hotel vibe.
"She's just been this warmth that brings this residential home feeling into the hotel, and that's the message I'm getting back from so many of the guests," added Brindell.
That alone has been so beneficial to the staff. And they've all taken part in caring for her. Brindell says there are more than enough volunteers who have offered to walk, feed and medicate the dog.
RELATED: 'Hugging' dogs saved from kill shelter are still up for adoption
"She's just this wonderful little pug. I don't know what her life was like before, but it's going to be much better moving forward," he said.