A parade of police officers gathered in New Jersey last week to pay their final respects to one of their most beloved colleagues: a hardworking K-9 named Judge.
Officers from multiple departments, many with K-9s, lined the street and sidewalks leading up to the animal hospital where Judge, who served the West Deptford Police Department for seven years, was euthanized on Friday. It was a heartwarming show of support for a dog the department considered a hero.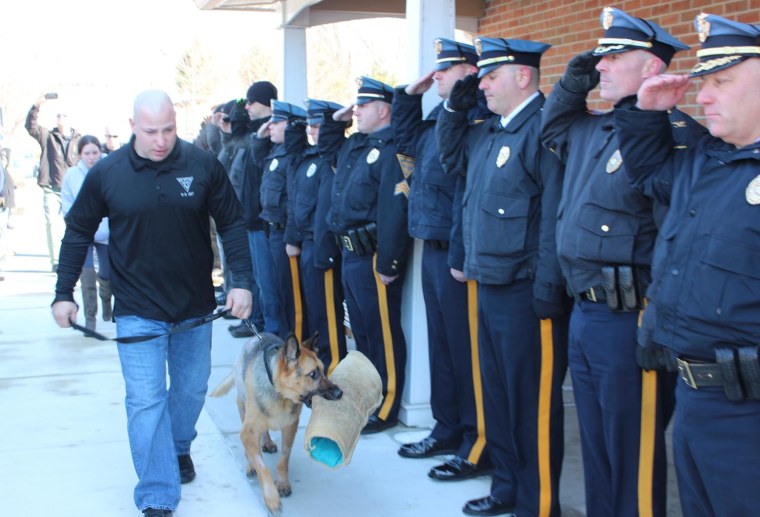 "Any time you have a police dog that, at 2 or 3 in the morning, is willing to just go into a dark building where there is maybe a possibility of someone inside hiding — and this dog goes in at the command of his handler, and doesn't think twice," Police Chief Samuel DiSimone told TODAY.com.
Judge was "fearless" and deployed nearly 300 times, helping police seize drugs and track down suspects, the department said in a statement.
"There are so many calls that he went out on, and he brought in like $47,000 in forfeiture funds and drugs," DiSimone added. "When it was time to work, he worked. When he didn't, you could go up to him and pet him. He was just a great dog."
Health problems forced Judge to retire in 2013. He went from partner to pet for his handler, Cpl. Michael Franks. His medical complications continued to worsen. A vet found two tumors and last year Judge was diagnosed with Cushing's disease, which causes hormone overproduction by the adrenal glands and a weakened immune system.
Days before he was put down, Judge was lethargic and could barely move.
"It's been tough," Franks said. "He's like my son. He was part of the family. My wife was very attached to him. The kids loved him."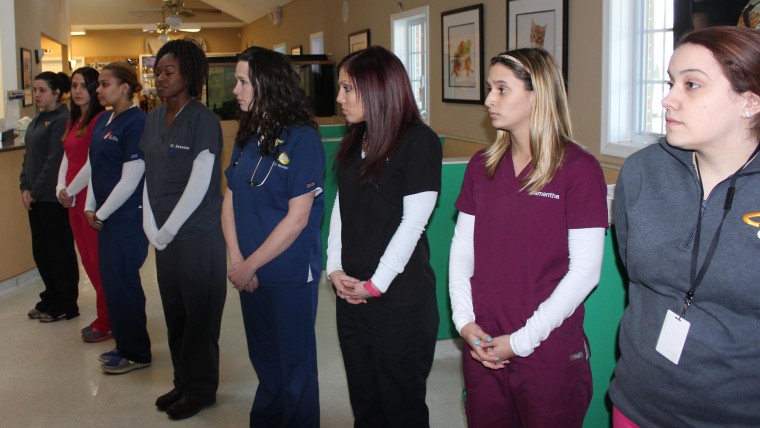 Franks walked Judge into the Saint Francis Veterinary Center in Woolwich Township on Friday as rows of fellow officers saluted. Inside the clinic, even the hospital staff stood out of respect.
"Obviously, it was a very emotional day," Franks said. "It was overwhelming, the support we received not only from my own department, but from units from multiple counties in the area, that came to Judge's last walk in there."
Franks thinks Judge appreciated the gesture.
"He was a very intelligent dog, a very excellent partner," he said. "I believe he did know that the people were there for him, to show support."