Dinner is served! To tiny animals, on poker chips.
In the latest "Tiny Hamster" video, a hamster is seen hosting a raucous Fourth of July party (with the help of a relatively giant human). It's the eighth episode in a YouTube series chronicling the eating habits of tiny animals.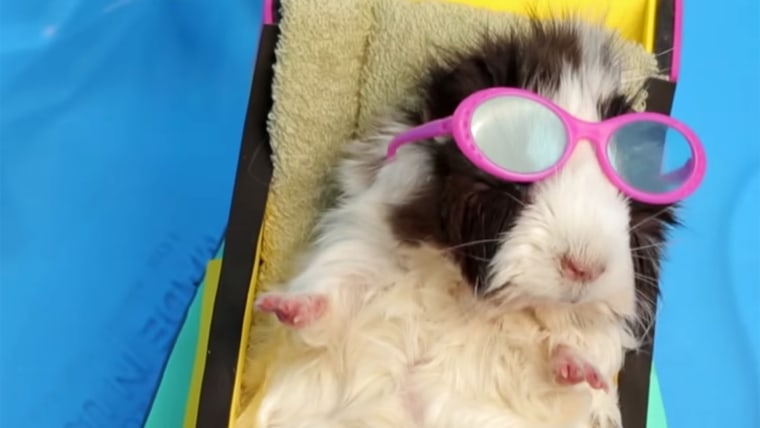 In the video, the tiny hamster is joined by his hedgehog, bunny and guinea pig friends, enjoying tiny burgers and baby corn on the cob cooked on a tiny grill.
"What I like most about making the videos is kind of pushing the boundaries of what tiny hamster can eat and do next with his friends," said Joe Matsushima, co-founder of the YouTube channel HelloDenizen, which creates the "Tiny Hamster" series. "For the barbecue episode, I was extremely excited about throwing a hedgehog in a kiddie pool, and I was really passionate about having a guinea pig lying back in the water with sunglasses."
Joel Jensen, co-founder of the series, said he is drawn to making more videos (besides the fact that the animals are adorable) they're fun, and surprisingly educational.
"On one hand, we just like making happy stuff that people like to share with each other in order to make each other feel happier," he said. "On the other hand, each of these videos provides it own riddle or puzzle given these animals and how they behave."
Matsushima said that although he and Jensen have been having a lot of fun with the videos and getting a lot of positive feedback, the past couple of months have been very busy.
"It's been crazy for us because typically we go every other month with tiny hamster and recently it has been every month back to back," he recalled. "We feel like tiny hamster has been a little tired, so we feel like it may be time for him to take a vacation. A tiny vacation, or a big vacation."