Pit bulls in Montreal no longer need to be muzzled. And shelters can resume adopting out blocky-headed dogs to city residents.
As of Wednesday, a controversial bylaw targeting pit bulls is no longer in effect.
"We're very happy," Alanna Devine, the Montreal Society for the Prevention of Cruelty to Animals' director of animal advocacy, told TODAY. "It's certainly a huge victory."
A little over a year ago, Montreal enacted its anti-pit bull bylaw in the wake of a fatal dog attack. Pit bull owners living in the city at the time of the law going into effect had to muzzle their dogs in public, pass a criminal background check and purchase a special permit. No new pits were permitted in the city. Law enforcement could seize dogs believed to be out of compliance; the law initially allowed those dogs to be euthanized but the Montreal SPCA successfully sued to strike down that provision.
The law applied to Staffordshire bull terriers, American pit bull terriers, American Staffordshire terriers, mixed-breed dogs and "any dog that presents characteristics of one of those breeds."
Then-Mayor Denis Coderre pushed for the measure, over the objections of animal advocates and others who argued that so-called breed-specific legislation like this is ineffective at promoting public safety while inflicting tremendous hardship on dogs, families, animal shelters and government agencies charged with enforcement, among others.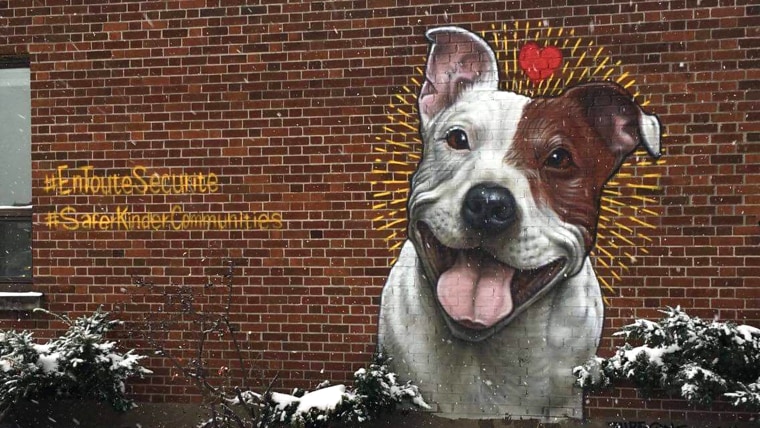 As the ban was being debated and protested, then enacted, Montreal artist Jean Labourdette created two murals showing his love for pitties, and his disapproval of the law. One of those murals was painted on the wall of the Montreal SPCA.
"There is a huge proportion of pit bull type dogs who are just good dogs and millions and millions of them who haven't hurt someone and never will," Labourdette told Global News.
Many Montrealers with good dogs of their own struggled with the new regime, not in small part because the city's implementation of the bylaw was widely seen as confusing and clumsy.
The Montreal SPCA stopped adopting out medium- and large-sized dogs to families in the city; instead, dogs 10 kilograms — around 22 pounds — or larger were available for adoption just to those living outside Montreal and to rescue groups and other shelters in other areas.
Shelter spokesperson Anita Kapuscinska told TODAY by email that even this resulted in a measurable negative effect for the shelter and its animals.
"In 2016, the average length of stay for all dogs was 8.2 days, whereas in 2017 it was 12 days — a clear increase," she said. "In 2017, the average length of stay for dogs over 10 kg or more — hence dogs who may be targeted by the ban — had an average length of stay of 16.5 days."
When Valérie Plante of Projet Montréal challenged Coderre in this year's mayoral election, part of her platform was scrapping the pit bull ban. Plante's vow to repeal the ban is seen as a factor leading to her Nov. 5 win.
"Montreal is a welcoming city for pet owners and will remain so," city councillor Craig Sauvé, who sits on the committee that works on animal control measures, said to CBC News.
Labourdette, the mural artist, told TODAY that he is feeling very inspired this week.
Being part of this advocacy movement, and seeing the pit bull ban finally gone, made him realize that protests and demonstrations and political movements can have a real effect. He said he's also grateful he had an artistic outlet to "turn hate into love."
"As an artist it made me discover a greater purpose I didn't know my art could serve, and I definitely want to keep contributing to the fight," he said, then added: "We don't have a dog currently. Our dogs died of old age. But we will definitely adopt very soon."
Devine tells TODAY she is hopeful that Plante's victory will send an important message to lawmakers in Quebec province, where Montreal is located, who have been considering a province-wide pit bull ban.
Montreal's city council is expected to introduce a new animal bylaw in 2018. Devine said she's eager to help lawmakers craft one that will be concerned with the behavior of owners and dogs — generally recognized as the things that do influence an animal's welfare and propensity to bite — instead of focusing on a dog's appearance or breed.
"It's been a very difficult year for the shelter and people and dogs of Montreal," said Devine. "Dogs are going to be able to walk outside, muzzle-free, for the first time in a year."