When Perry Martin received a phone call from his veterinarian on March 9 telling him that his missing cat was alive, he was shocked. Thomas Jr., or T2 for short, had been lost for 14 years.
They asked, "'What would you say if we told you that T2 was alive?' and I basically told them that I would say they were crazy because he had passed away a long time ago," Martin, a retired K-9 officer from Fort Pierce, Florida, told TODAY.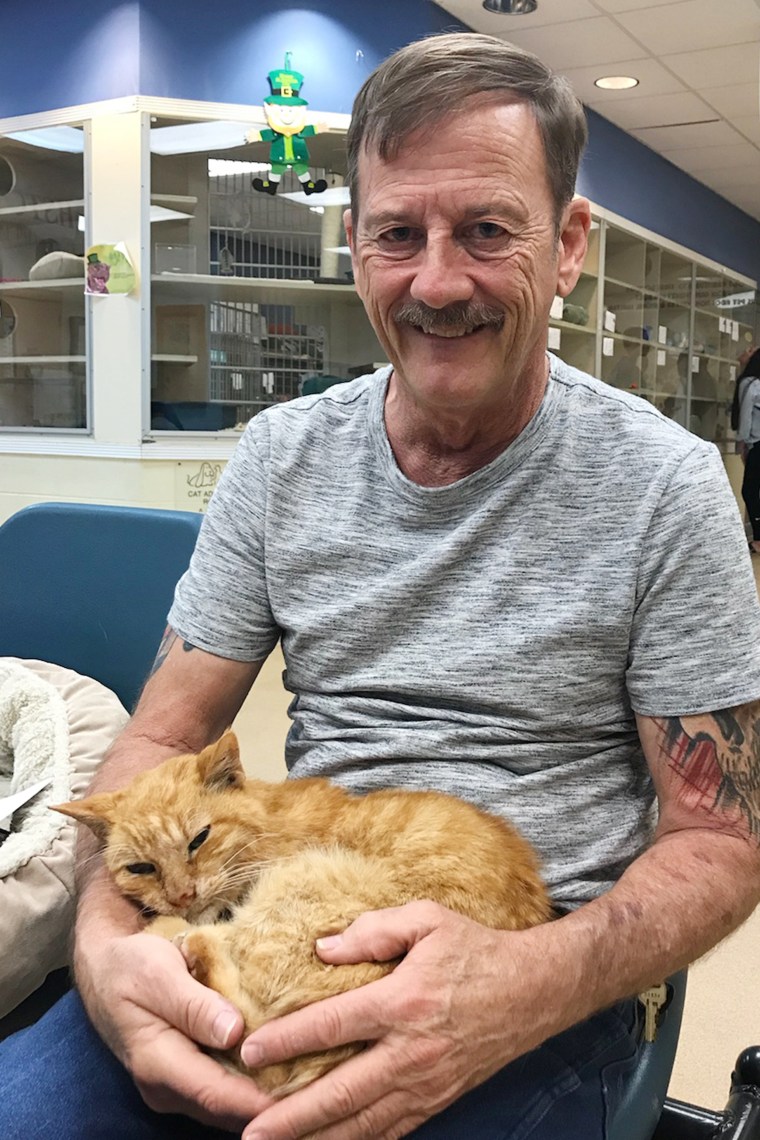 The now 18-year-old orange tabby had wandered off after Hurricane Jeanne struck in 2004. Martin and T2 had been staying with a friend in the nearby city of Stuart, about 20 miles south of Fort Pierce, after the hurricane ripped through their hometown. There, T2 managed to escape through an open window. Martin, his friend and the neighbors all looked for the cat for months, but after having no luck locating the animal, Martin assumed the worst: that he had been killed on the nearby highway.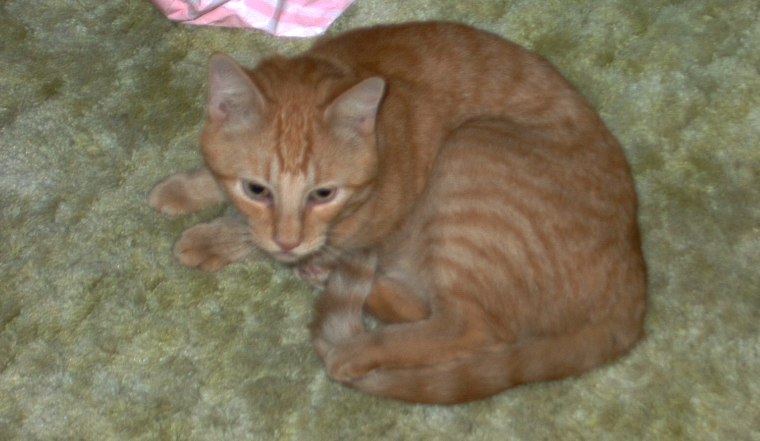 On March 5 of this year, T2 appeared in the Wadsworth family's front yard, in Stuart, covered in fleas and looking very thin and walking funny, according to Lisa Wadsworth. Wadsworth and her two kids, Lauren, 13, and Quin, 11, could tell right away that he was meant to be an indoor cat from the way he kept trying to get into the house. He just wanted human affection, Wadsworth, 47, recalled.
Almost immediately, Lauren and Quin fell in love with T2. The pair started leaving food out, spending whole afternoons outside playing with him and they even gave him a bath and picked the fleas out of his fur. "When (they) gave it a bath, it just sat there. It didn't fight or anything," Wadsworth told TODAY.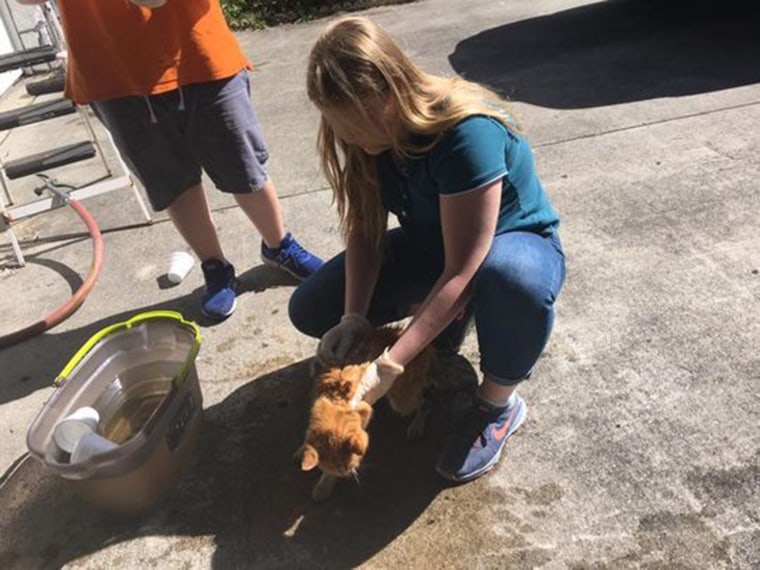 Unable to keep the cat because of their family dog, the elder Wadsworth wanted to bring T2 to the Humane Society, but Quin insisted that he see the family vet first — even offering to pay for it himself. Dr. Stanley Hopek scanned for a microchip, which allows vets and shelters to trace an animal back to his or her owner should they go missing, and was amazed to learn that the hardware was approximately 16 years old.
"I actually thought it was a kitten; I had no idea the cat was that old," said Wadsworth.
Hopek arranged for T2 to be transferred to the Humane Society of the Treasure Coast, where his owner could be located. Initially, the organization had trouble getting in contact with Martin because the information on the chip was more than a decade out-of-date. But they were finally able to track him down through the vet's office that originally implanted the chip.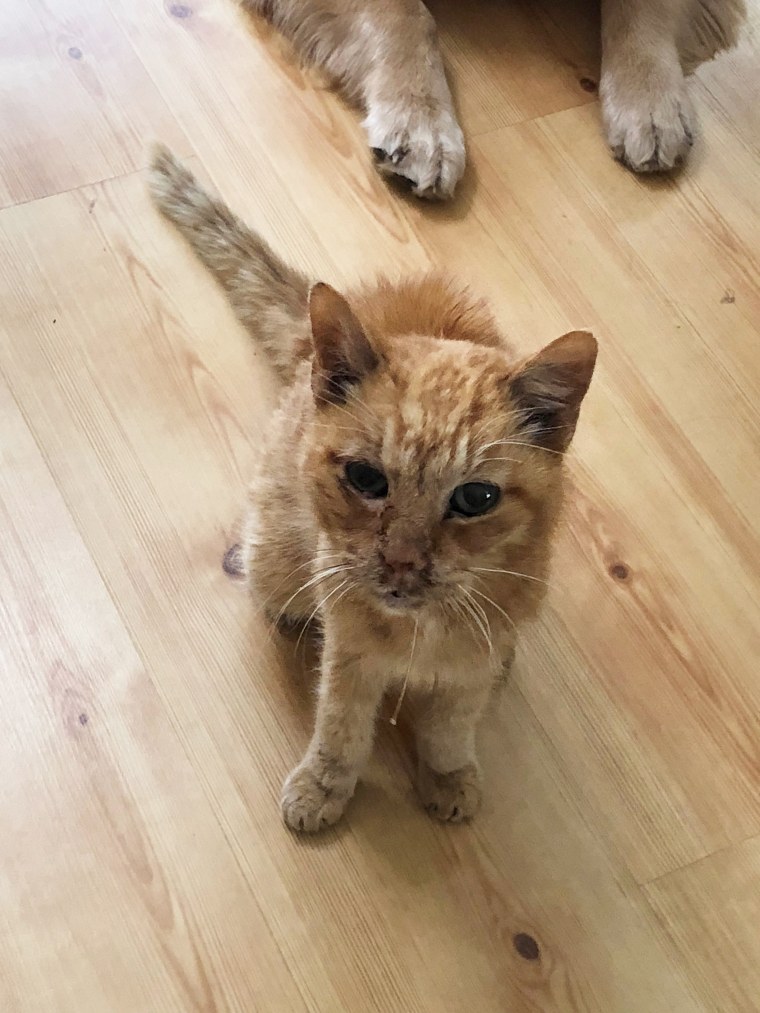 Three days later, Martin drove the 40 minutes down to the shelter to be reunited with his long-lost best friend.
"As soon as I came around the corner and saw him lying in that cage, I knew it was him," said Martin. "When I reached down there to pick him up it was like, oh, heaven … the bond was there and it just took that to bring us both back together again."
The Wadsworth family is thrilled that T2 finally got the "fairy tale ending that you would always wish for."
Martin and Deidre Huffman, the adoption manager at the Humane Society of the Treasure Coast, hope that T2's story inspires other pet owners to microchip their furry friends and keep the information up-to-date no matter how long the animal has been missing.
As for T2's mysterious whereabouts all these years? "I (like to) think he had a foster family," said Martin. "I really can't see a cat living out in the community for 14 years without being caught by a car or truck or animal control."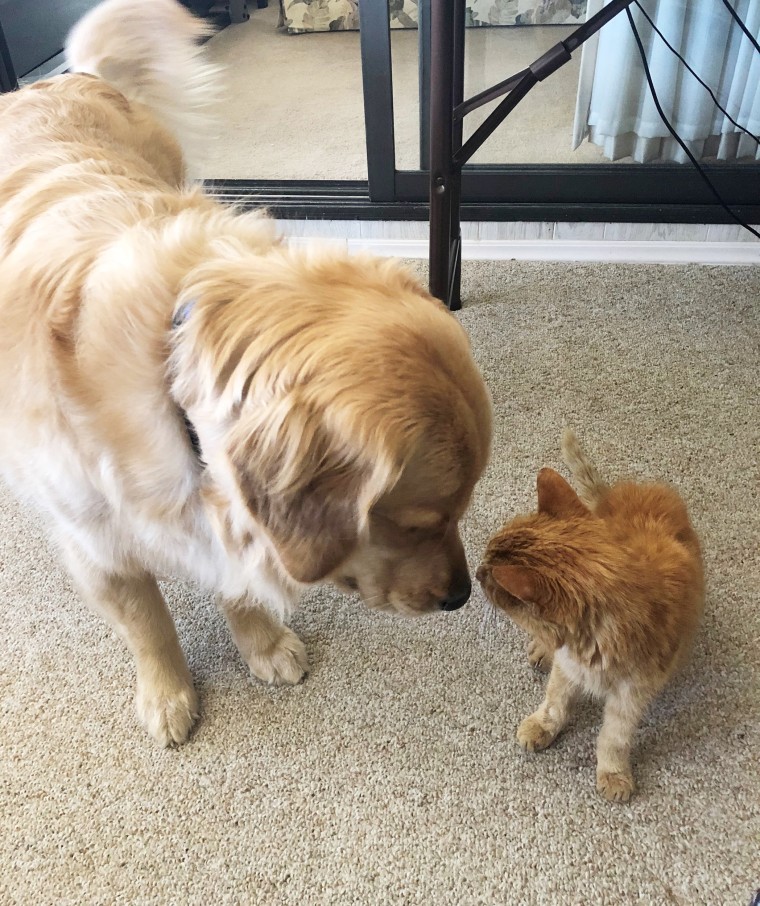 T2 will live out the rest of his days surrounded by his family, Martin and his 1-year-old golden retriever, Sassy.
Martin has already been cherishing his newfound time with T2. "I've been holding him in my lap, sitting in my easy chair, asking him to do nothing," he said.