Things click into place as Thea closes her eyes and a voice intones, "Take one more breath." She sits calmly, Zen-like, leading an online meditation as the soothing words continue to instruct her viewers.
"Be aware of your whole body as best you can. Take a breath, and then, when you're ready … you can open your eyes."
A gentle voice calls "Thea," and she opens her eyes on cue.
Not bad for a cat.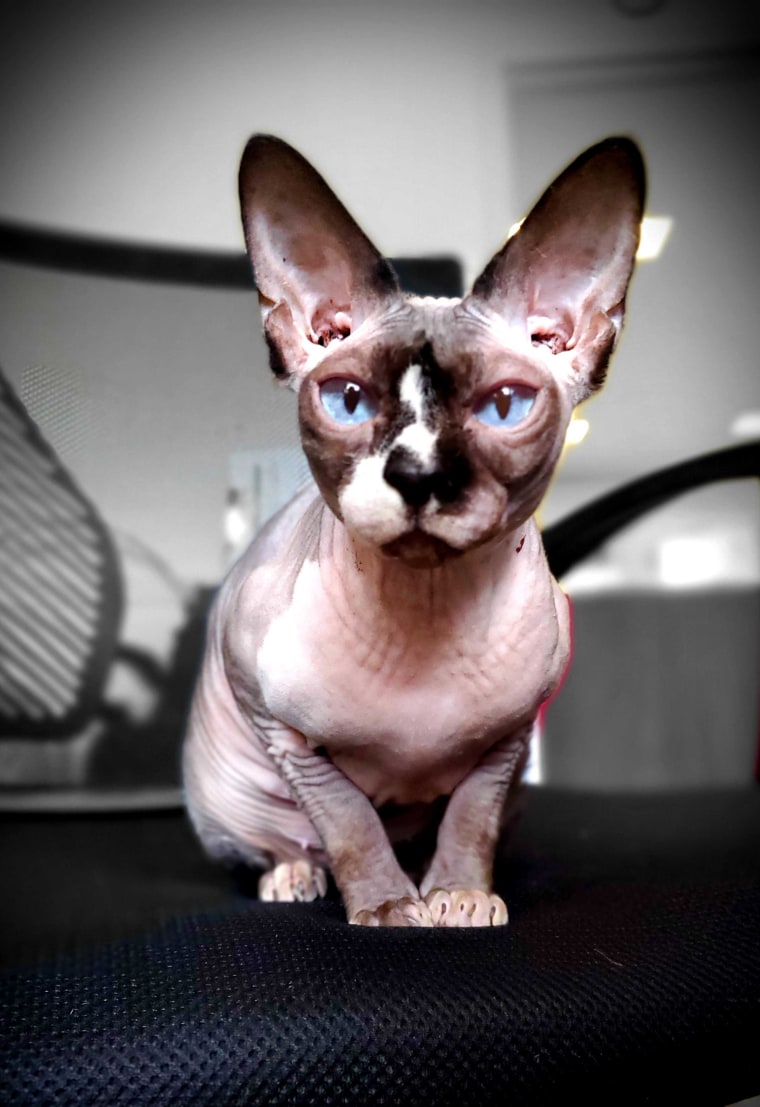 Thea is the only feline on the Paws for Empowerment team at the nonprofit Crisis Center North, a domestic violence counseling and educational resource center in Pittsburgh, Pennsylvania. The 4-year-old Sphynx cat typically works in counseling sessions for children aged 2-19, but during the pandemic, she's also been meeting virtually with clients who cannot come into the center and supporting the community at large.
Sydney Stephenson, CCN youth counselor and Thea's handler, said she and her cat primarily work with children who live in families where a parent is a victim of domestic violence, or who have experienced other types of trauma, such as assault.
"Kids come to me because they're in a difficult place — having a really hard time," Stephenson told TODAY. "And nobody likes to talk about difficult things. But having Thea in the sessions is just such a calming presence. It reassures them. It can help them bond with me faster because they see how much she trusts me."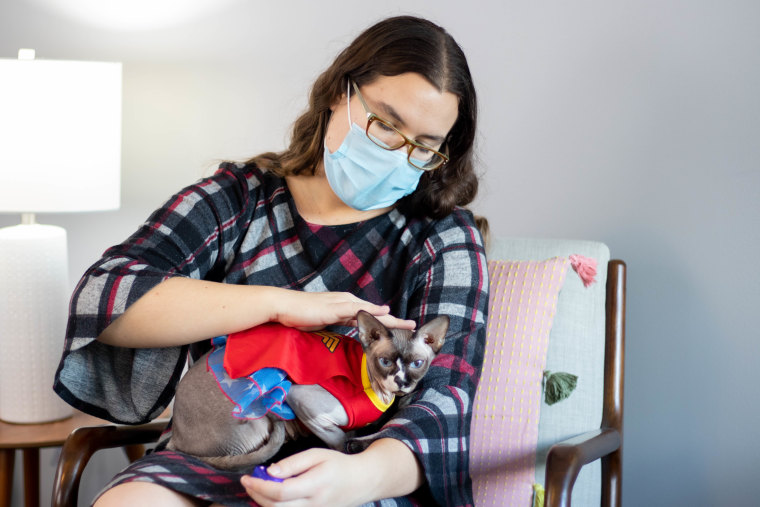 Using positive training methods, Stephenson has taught her cat to do an array of tricks, including down, follow, come, in (for her tunnel and cat tree), and up, which gets her to go from chair to chair for games of "the floor is lava" with clients.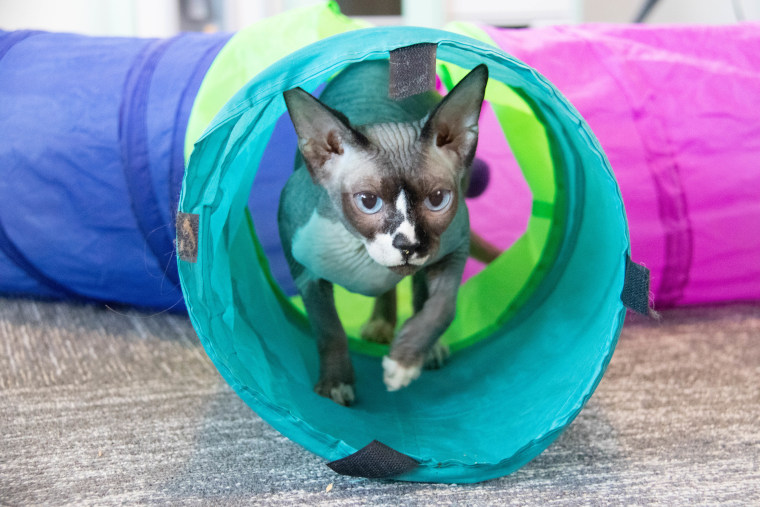 Thea will rub her chin on the outstretched hand of a child who suggests "kiss" and will leap onto Stephenson's shoulder at the cue "shoulder."
"Thea will ride on my shoulder and kids love to see that," she said.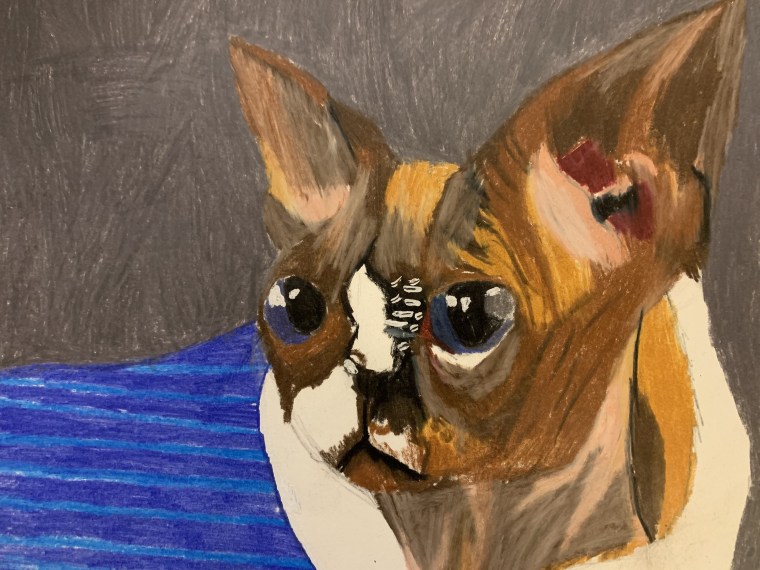 Stephenson used clicker training to teach Thea her skills. Because Sphynx cats don't have fur, they have high metabolisms to help generate body heat and are often hungry. Thea also loves affection almost as much as food. So she learned to associate the sound of a click with the reward of food or a scratch behind her ears.
"I think it took less than a session, really, for her to understand, 'Ooh, this noise means good things,'" Stephenson said. "You can train any cat. We sort of have this misperception of cats as standoffish, untrainable, stubborn, independent animals. But the reason for that usually is because they're misunderstood. They have very different learning styles and very different body language than dogs do. … It just involves getting to know the animal that you're working with and what motivates them, and what they like."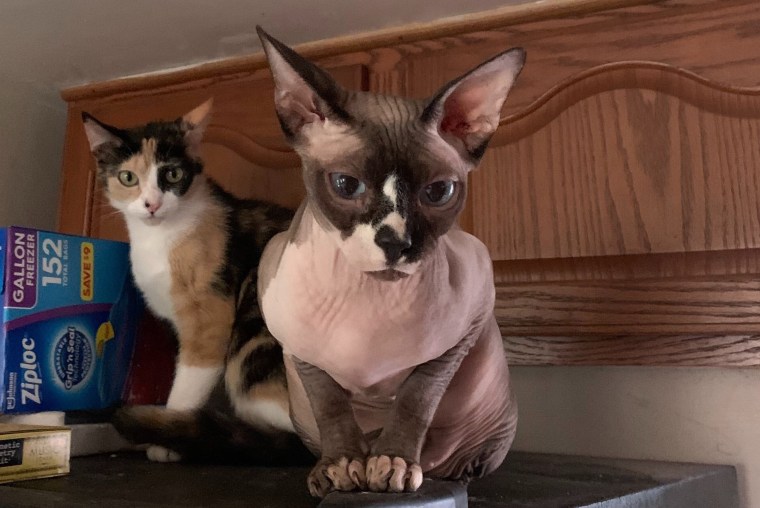 When Stephenson notices Thea exhibiting any desired behavior, she reinforces it with a click. For instance, she'd click whenever she noticed Thea starting to relax, which led to the cat's ability to appear to meditate.
Thea uses her learned skills as well as her intuition to support clients at CCN. One boy seemed completely shut down during his first session with Stephenson, who doesn't bring Thea to intake sessions in case clients are afraid of animals. During their second session, the child seemed initially resistant, crossing his arms and facing away from Stephenson.
Then Thea got involved.
"Thea just naturally jumped on his lap. I did not have to prompt her to do that. And he melted," Stephenson said. "It was just amazing. He started petting her and she started to purr, and he would answer my questions a little bit more and more. We were finally having a full back-and-forth discussion. It was such a natural process."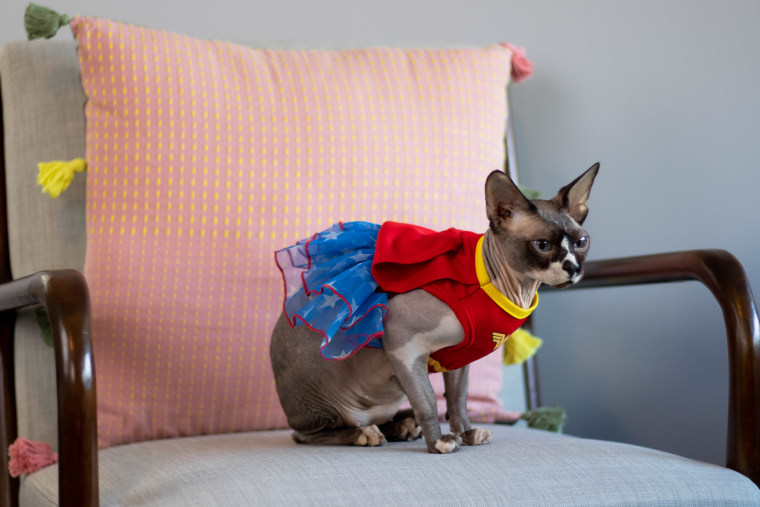 Grace Coleman, executive director of CCN, said Thea and the three dogs in the Paws for Empowerment program are proving to be an "invaluable tool" in addressing trauma and modeling nonviolent relationships. She noted that Stephenson also teaches kids how to use positive methods to train their own pets at home — and even use them as their personal therapy animals.
"By utilizing animals, we're teaching compassion and care and how to love appropriately without harming," she told TODAY. "The children can start developing a caretaking, loving relationship with animals."
NEED HELP?
If you are in a life-threatening emergency, call 911.
National Domestic Violence Hotline: 1-800-799-SAFE (7233) or chat live at www.thehotline.org
Crisis Center North 24/7/365 hotline: 1-412-364-5556
Crisis Center North Text Line: 1-412-444-7660