Plenty of celebs are in the Guinness Book of World Records, including Justin Bieber (most popular online video), Lady Gaga (most Twitter followers), and Prince William and Duchess Kate (their wedding was the most livestreamed event ever). But they will all need to move over and make room for a very special Guinness Book addition: Colonel Meow, who has officially won the honor of Longest Fur on a Cat.
The two year old Himalayan-Persian crossbreed cat's fur is nine inches long, easily securing his place in the 2014 edition of the Guinness Book of World Records. The cat became a viral internet sensation this year when his owners, Anne Marie Avey and Eric Rosario, began posting pictures and videos of the hilariously adorable Colonel online.
Now, the Los Angeles kitty has more than 178,000 Facebook fans and 73,000 Instagram followers. His long hair, big eyes, and "epic frown" combine for a very funny and striking overall look, and his owners love to pretend that the Colonel is an actual dictator on his social media profiles.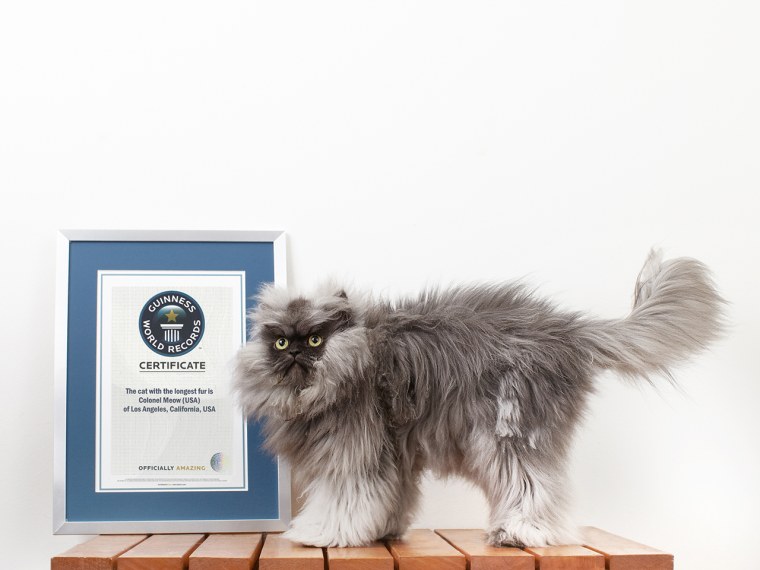 "Colonel Meow is being groomed for stardom, and I know the furry feline will be a big hit with readers," Guinness World Records Editor-in-Chief Craig Glenday said in a statement. "He's an incredible creature, and he'll undoubtedly inspire people all around to the world to whip out their rulers and start measuring their own cat's fur. We're pleased to welcome him into the Guinness World Records family — and as you'll be seeing soon, he's just one of the many spectacular record-holders featured in the new book."
Despite Colonel Meow's newfound stardom, his owners still have trouble believing that their cat — adopted from a Himalayan-Persian rescue shelter — is beloved for the long hair that sometimes drives them crazy.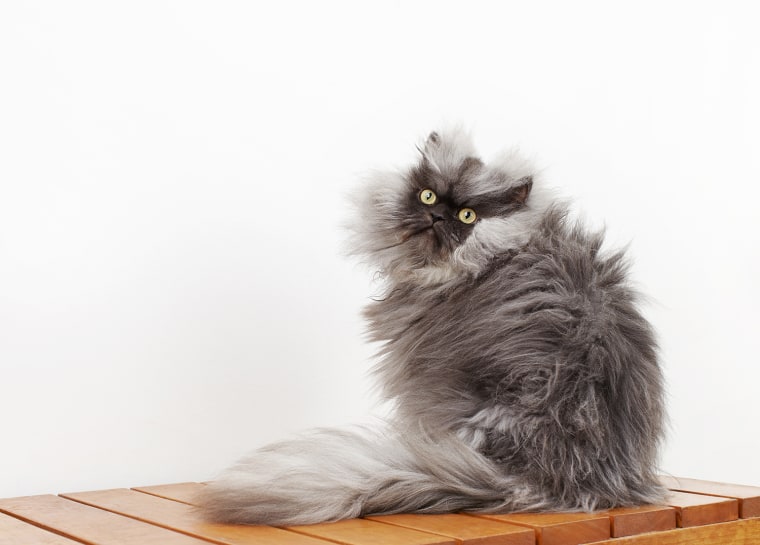 "Literally everything in the house has hair on it, including us! I feel like I'm always vacuuming!" said Avey, adding, "We already knew that he was the best cat in the world, but to be recognized in the Guinness World Records book takes it to the next level."

Although pictures of Colonel Meow alone probably could have put him in the running for a prize, Guinness takes their record-setting very seriously. In order to officially qualify for the Longest Fur title, three different vets had to independently measure ten different hairs from Colonel Meow.
The 2014 Guinness Book of World Records will be released on September 12, so pick up a copy to see who else Colonel Meow will be sharing space with!