Max the cat is a real party animal. His mom, Connie Lipton, tells TODAY that basically anywhere you find a congregation of people, you'll find Max. Or at least you used to.
"He's under house arrest," Lipton said.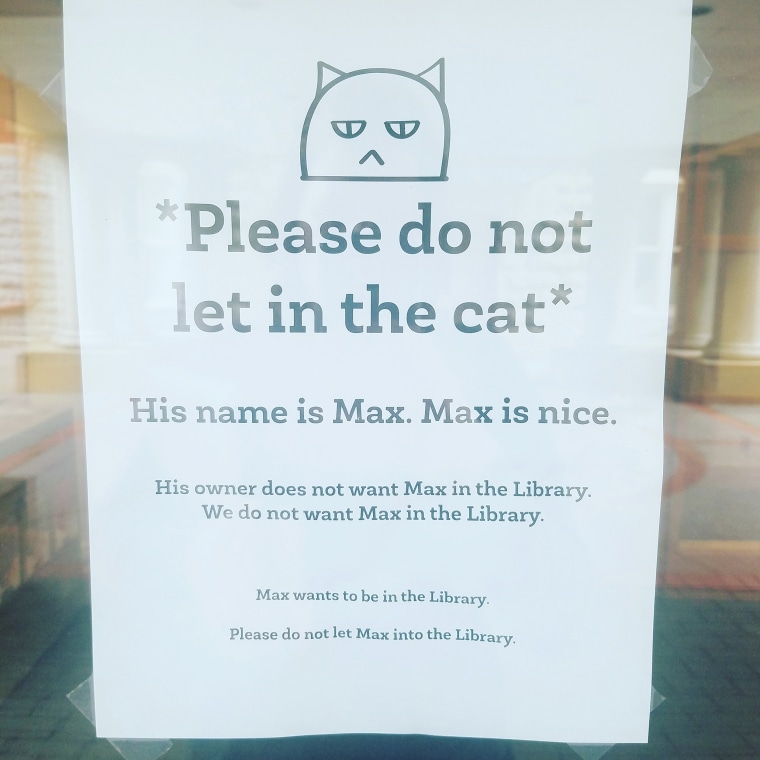 Max, who lives with his family just by the campus of Macalester College in St. Paul, Minnesota, likes to wander. The animal rescue group he was adopted from a little over a year ago even issued a write-up about the gallivanting feline, saying he'd been picked up after being "out without any apparent purpose or chaperone," Lipton said.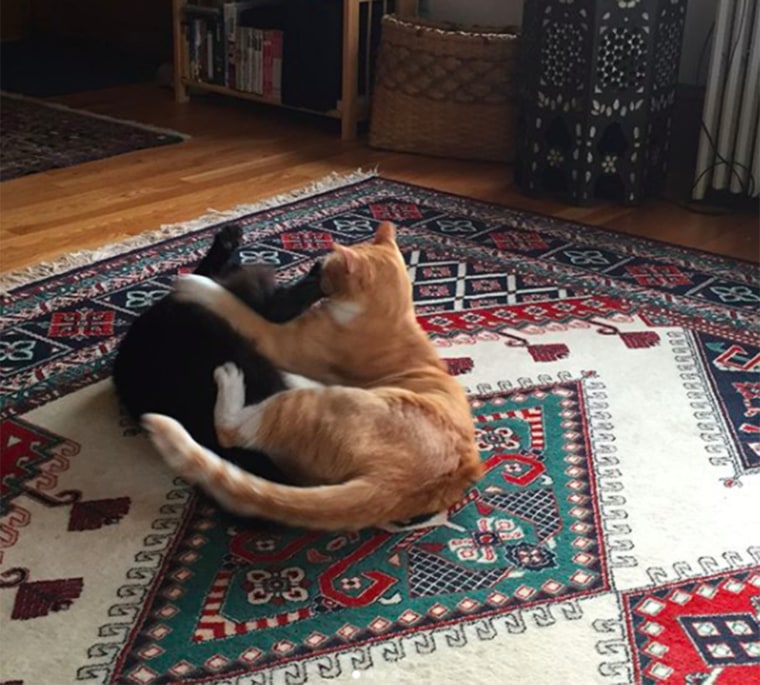 Gracie, Lipton's other rescue cat, doesn't care much for straying far from home. But Max roams when he has the opportunity. Lipton says he just likes to be where there are a lot of people who might pay attention to him.
He would pay visits to student foreign language houses, the science building, the athletic center. He'd hobnob at social gatherings — Lipton, a nurse, recalls getting a phone call from a party attendee once, informing her that Max was there — and liked to relax at a local cafe.
And, of course, Max was a regular at the the DeWitt Wallace Library on Macalester's campus, where his dad is a professor — until recently, that is, when Max was famously banned with a most delightful sign:
"Please do not let in the cat," it reads. "His name is Max. Max is nice. His owner does not want Max in the Library. We do not want Max in the Library. Max wants to be in the Library. Please do not let Max into the Library."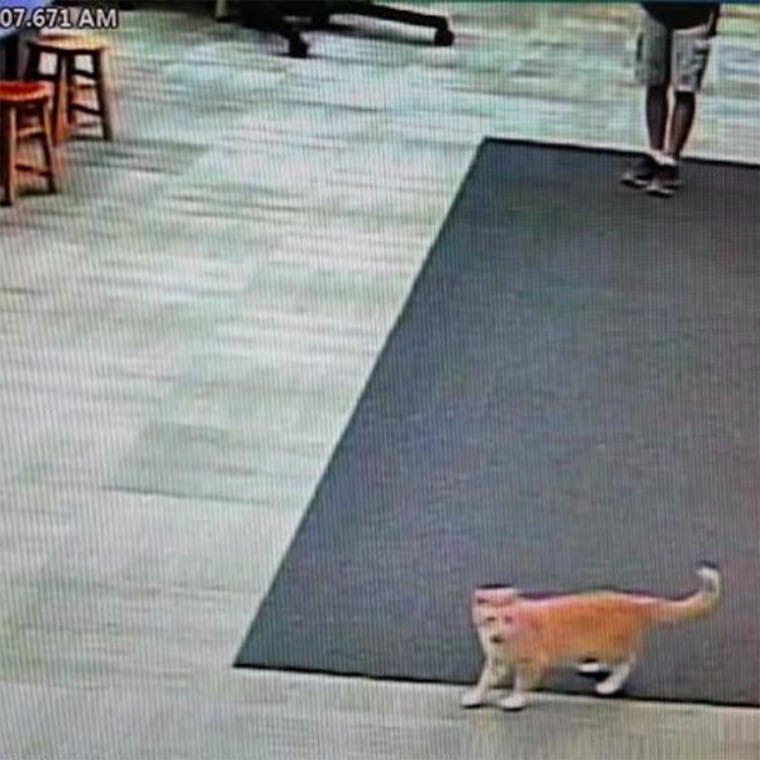 Max wasn't kicked out of the library because of any kind of malfeasance. There's someone with allergies who works at the library. Plus, folks worried he'd get locked inside.
"Pragmatic concerns," explained Chris Schommer, the library employee who created this sign. "We still like Max."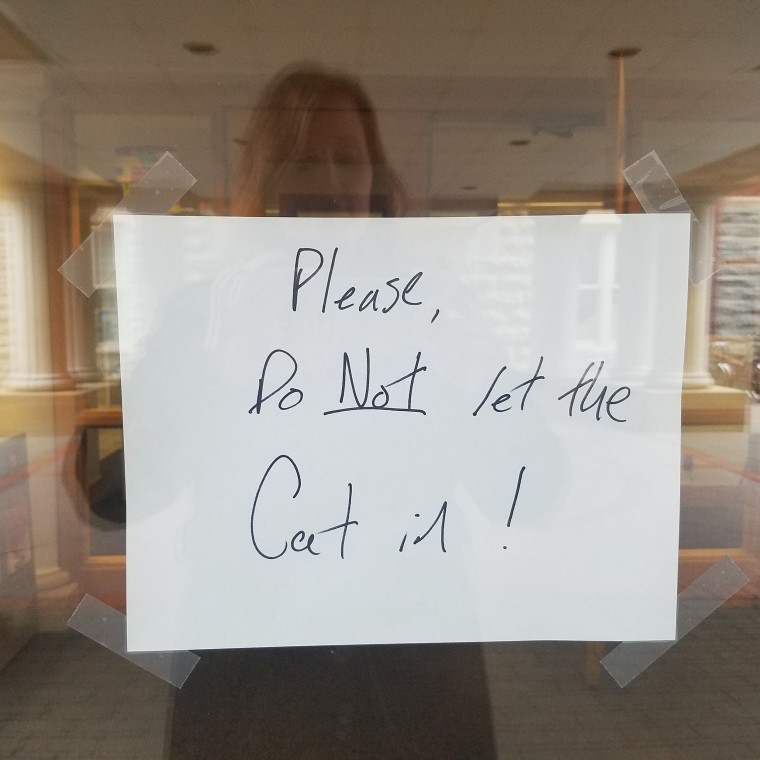 About four weeks ago, Schommer was returning to work at the library after a few months of parental leave following the birth of his second daughter. When he got back, he found a crude sign on the door that read: "Please do NOT let the cat in!"
One of Schommer's duties is creating communications materials for library patrons. On top of that, he'd spent a lot of his time at home reading books and constructing stories with his older daughter. He had the sense it was possible to make a really compelling sign regarding Max the cat — one that would perfectly evoke longing, fun and the irresistible urge to let Max into the library even when you know you shouldn't.
He quickly drew up the new sign, including an illustration by a designer, Gamze Genc Celik, that he'd found online. The sign was attached to the library door.
That was more or less that — sorry, Max — until a series of internet twists and turns led to the sign going up on Reddit and Twitter, and becoming a massive viral sensation around a week ago. It turns out Schommer was quite right about being able to create a really good sign.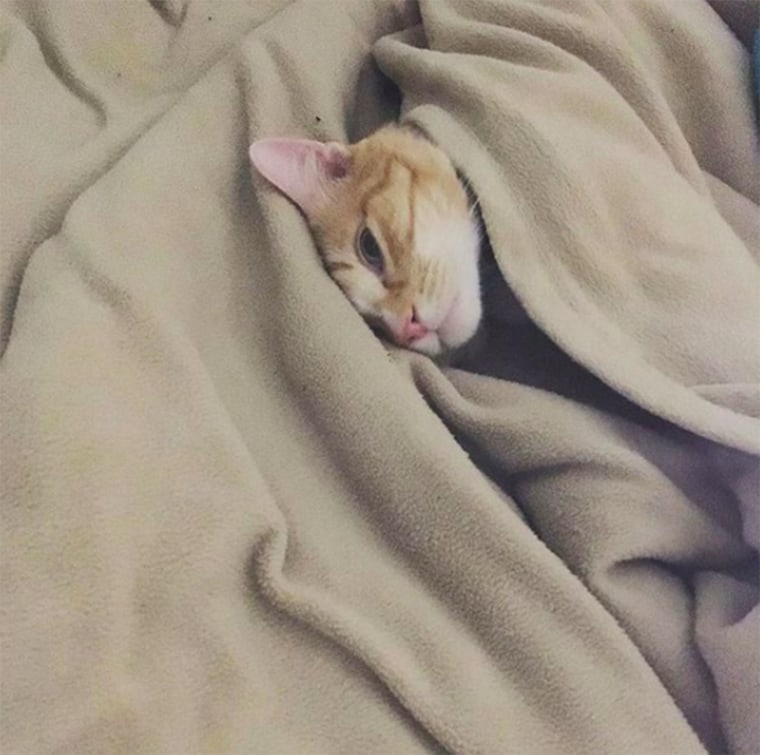 Max has blown up on social media. Lipton and Schommer both have been flooded with messages from Max's new fans. They've made him library cards and other art. Some, who live close enough, squeeze in a visit at home.
A local bookstore put up a sign offering Max safe refuge should he be out for a wander — which he will not be. Because, as we said, Max is no longer permitted to go outside unaccompanied. Lipton spoke with the school administration to assure them of such.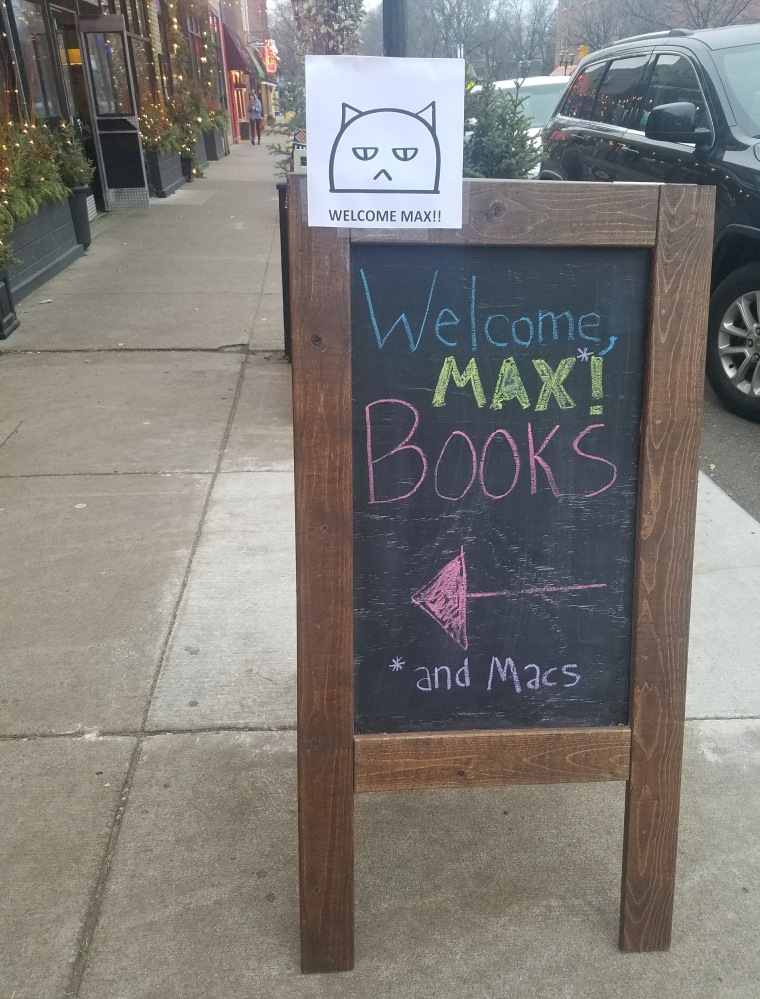 The library, which was Max's old stomping ground, has taken down the sign and put up a selection of cat literature.
And if his real-life public appearances are rarer, hopefully those clamoring for more will be satisfied with a children's book that Schommer is working on with Lipton, along with the illustrator whose work appeared on the poster. You can sign up for updates on a website called "Let Max In."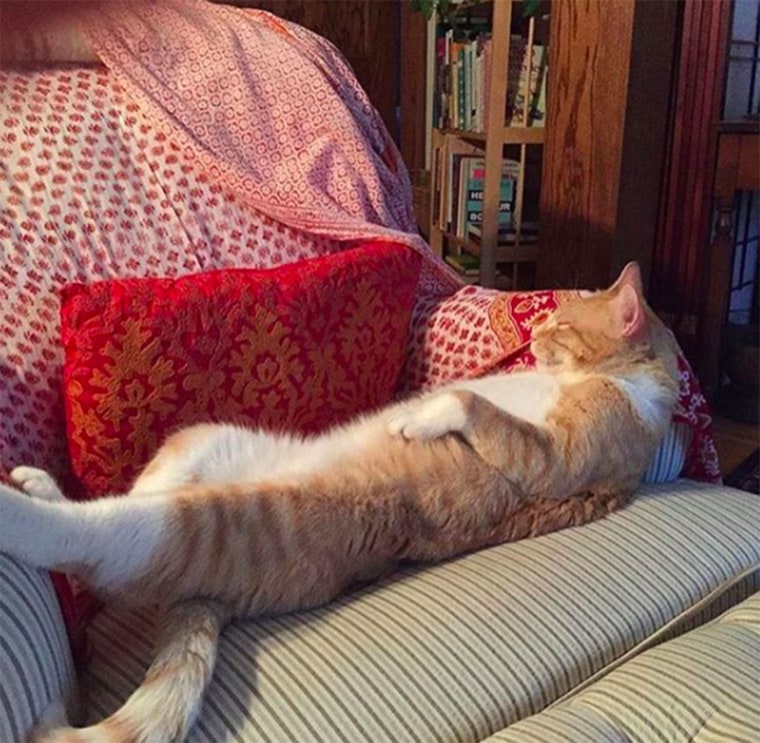 Lipton, meantime, is trying to keep Max happy in his new indoors life. She's creating plenty of fun activities with the help of an animal behaviorist. These include a "cat gymnasium" in one room of the house, and teaching Max how to do engaging and enriching tricks like "sit" and "jump" to stay mentally stimulated.
Lipton's also trying to train Max how to walk on a harness and leash so he can go outside with supervision. He's resisting so far, but she plans to keep encouraging him to learn. It'll make Max happy to visit his favorite haunts; and we imagine seeing him out and about, safely, will make his adoring fans quite happy, too.