An airplane just left Maui carrying very special passengers: 136 shelter dogs and cats.
The pets were being cared for by Maui Humane Society when wildfires erupted on the Hawaiian island last week and devastated the historic town of Lahaina. The island's only open-admission animal shelter was full, so the team had put out a call for "SOS" fosters and reduced adoption fees as part of the national Clear the Shelters campaign.
Now the shelter needs space for all the animals separated from their families during the catastrophe, according to Katie Shannon, director of marketing at Maui Humane Society.
"We know that there are animals in the burn zone that need help," Shannon tells TODAY.com. "We are prioritizing lifesaving and reunification between a pet and their owner."
So the nonprofit Greater Good Charities partnered with Southwest Airlines and the nonprofit Lucky Dog Animal Rescue to fly 33 dogs and 103 cats from Maui to Portland, Oregon, in an emergency airlift.
On Aug. 17, a donated airplane flew to Maui filled with supplies like T-shirts, blankets, socks, flashlights, hygiene kits and pet food.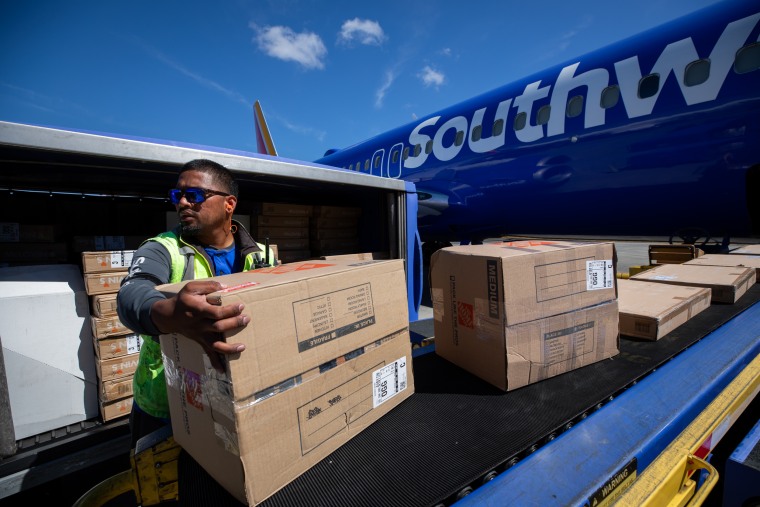 Meanwhile, veterinarians on the island examined each shelter pet to make sure they were healthy and ready for travel.
Now the dogs and cats are flying in the cabin, snuggled in crates alongside humans — including a Greater Good Charities volunteer veterinarian — who are there to make sure they're OK during their trip to the mainland.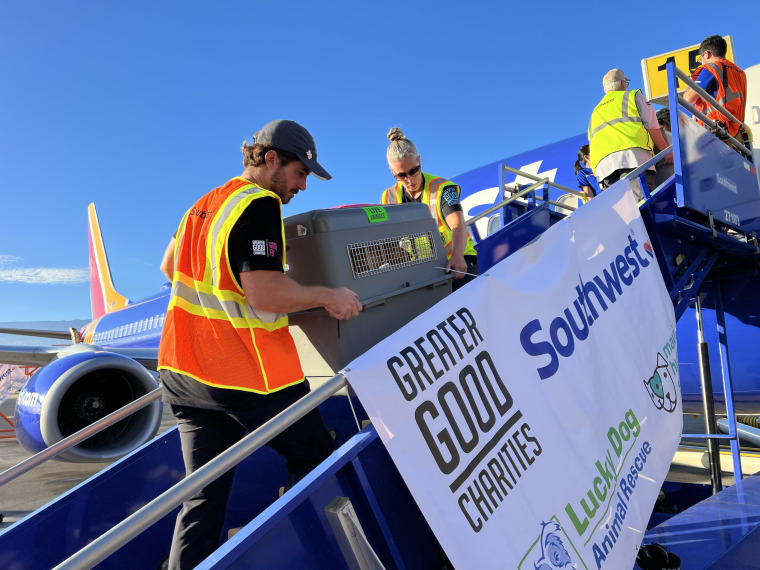 Liz Baker, CEO of Greater Good Charities, said the dogs and cats should be available for adoption soon through the Oregon Humane Society.
"Oregon Humane Society and other shelters will be receiving these animals," she tells TODAY.com. "They will be looked over and cared for and hopefully adopted very quickly into loving homes."
The Aug. 18 flight won't be the nonprofit's last efforts to help pets and people on Maui, according to Baker.
"The people of Hawaii are amazing and so resilient," she says. "They love their pets, and long-term support is going to be needed both from the humanitarian side and the pet side."
Maui Humane Society's Shannon agrees. She noted that fires are still burning in Lahaina and Kula, and that an estimated 3,000 pets are missing.
While shelter staff and volunteers aren't yet allowed to enter Lahaina, they have helped hundreds of animals in the field and provided feed and thousands of gallons of water for livestock. Their veterinary team has provided a range of services, from wellness exams to treating severely burned pets.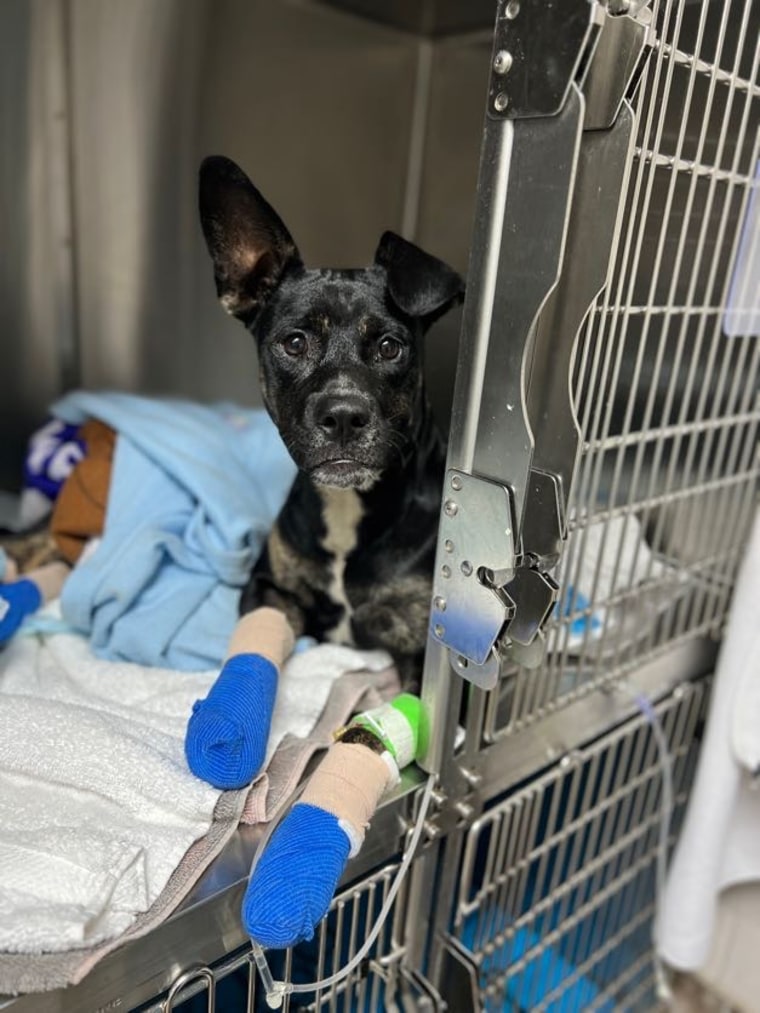 So far, the shelter has taken in over 60 pets rescued from Lahaina and reunited eight with their families. (Maui residents with missing pets can file a lost pet report through the shelter's website or by calling 808-877-3680, extension 9.)
Reunions help bolster the team, she says. For instance, a good Samaritan recently found a mixed-breed dog named Roman who arrived at the shelter terrified and dehydrated, with scorched whiskers, blisters all over his back and skin peeling off his paws.
The shelter's veterinary team cared for Roman and scanned for a microchip, which allowed the shelter to call the dog's owners, who picked him up later that day.
That's how the team learned Roman's harrowing story.
"He was being pet sit by somebody who lived in Lahaina when the fires broke out," Shannon says. "The pet sitter had to run for their life from the fire and jump into the ocean. Roman was not a fan of the water and ran off, and had been missing for about two days. … Now Roman has been healing with his owners and we're just so incredibly grateful. This is the glimmer of hope in this type of destruction."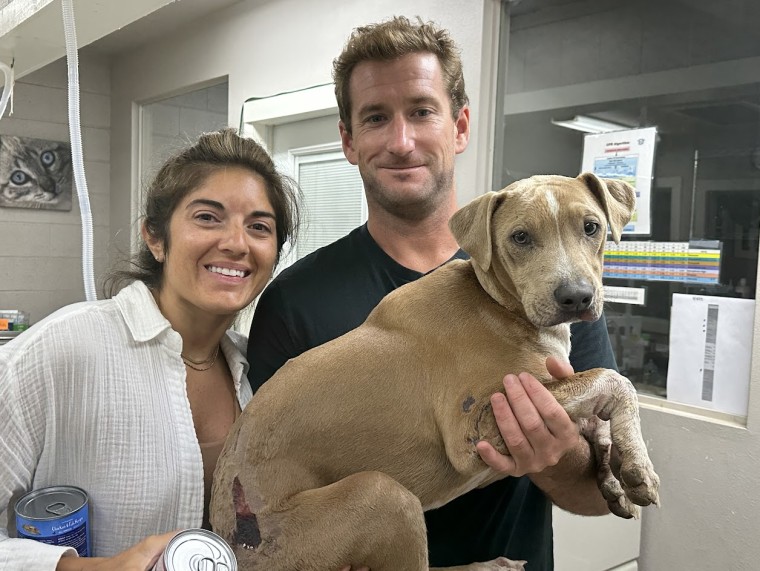 Shannon expects an influx of injured and displaced pets once the fire is extinguished in Lahaina and the team can enter the area.
"We know that there are live animals," she says. "There are reports of cats congregating — some with collars. We have reports of dogs hiding, some with severe burns. So we are doing everything we can but working with our local organizations and national organizations and the county to make sure that we're following proper protocol."
Monetary donations are a huge help to Maui Humane Society because "we still have a very long way to go," she says. Island residents have been opening their doors to people who lost their homes — sometimes with five to six pets and 10 to 25 people living in a single home, according to Shannon.
"This is the spirit of aloha," she says. "Everybody is opening up their homes, opening up everything that they have to people that have been affected. The spirit of aloha is strong and well, and the kokua – the help — that hundreds of volunteers are walking up every day … an average of six hours a day people are putting in now to show up and help us in every way that they can. It has brought our staff to tears to see the overwhelming amount of local and national support that we have received."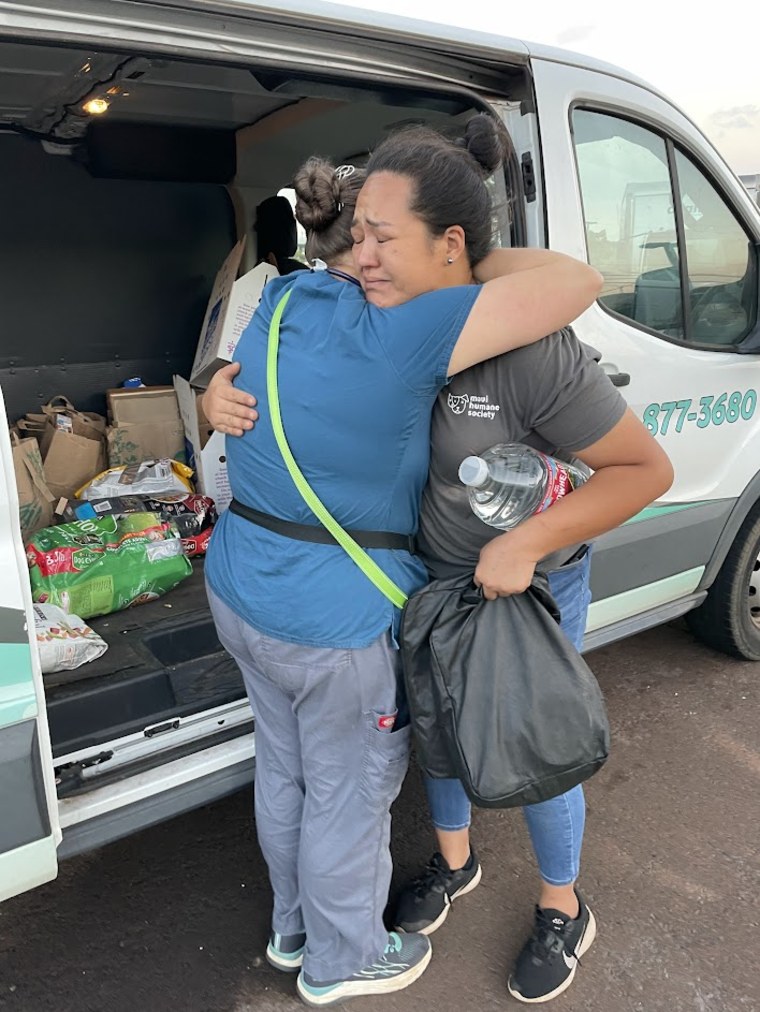 Shannon is immensely grateful for the chance for 136 homeless pets from Maui to have the opportunity to be adopted into homes on the mainland.
"We know that the rest of the country right now is also struggling from (shelter) overpopulation," she says. "So in a time like this where Greater Good Charities is able to organize this for us in the midst of the tragedy, this really is a lifesaving effort and we truly appreciate it."
The shelter pets from Maui Humane Society flying to Portland will be received by Oregon Humane Society and shelter partners in California's Bay Area to prepare for adoption into forever homes. These include Berkeley Humane, Marin Humane, Animal Rescue Foundation, East Bay SPCA, Tri-City Animal Shelter and Friends of the Alameda Animal Shelter.