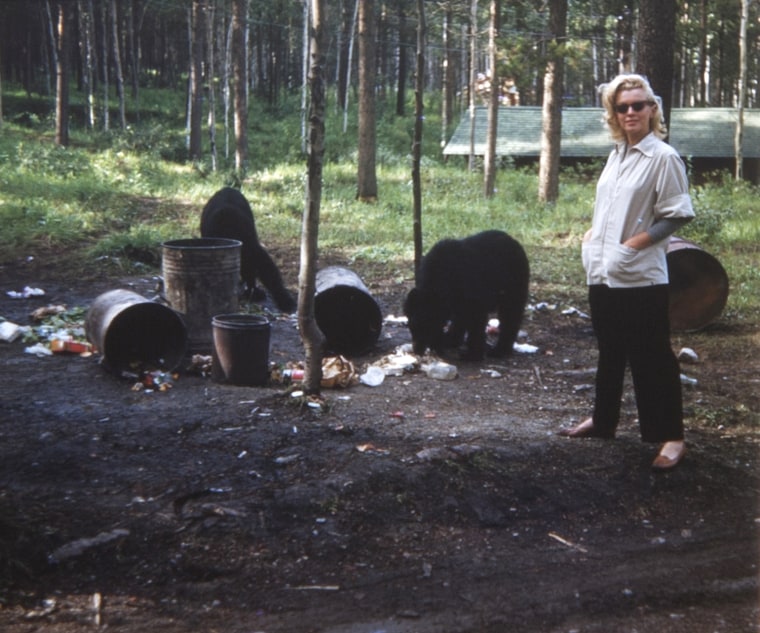 Among the rare photos up for auction by Marilyn Monroe's personal makeup artist Allan "Whitey" Snyder is this shot from her 1954 film "River of No Return," which was filmed in Banff National Park and Jasper National Park, both in Alberta, Canada.
We're assuming these bears were trained, otherwise Monroe probably would not look quite so relaxed!
Monroe did have a soft spot for animals, having been photographed with any number of creatures including her "Monkey Business" co-star — a chimpanzee named Ester — and Hugo, the bassett hound she shared with her husband playwright Arthur Miller.
"I like animals," she once said. "If you talk to a dog or a cat, it doesn't tell you to shut up." (I got that quote from PeoplePets.com, which has a cool slideshow of her with lots of animals here.)
A collection of Snyder's memorabilia is part of a Hollywood Legends auction put on by Julien's Auctions on March 31 and April 1. You can see more of the photos here.
TODAY.com supervising producer Susan Houriet has no desire to get close to a bear, trained or not.