In the six years since Nik Glaser adopted a golden doodle puppy named Kramer, the animal has become more than a pet.
"I have clinical anxiety, and I go through phases where it can be overwhelming," Glaser, 30, explained.
"With Kramer around, I rarely get to the stage of having panic attacks. He's very intuitive. If he sees I'm getting agitated, he'll put his head on my lap or reach out with his paw.
"It's a subtle thing, but it calms me."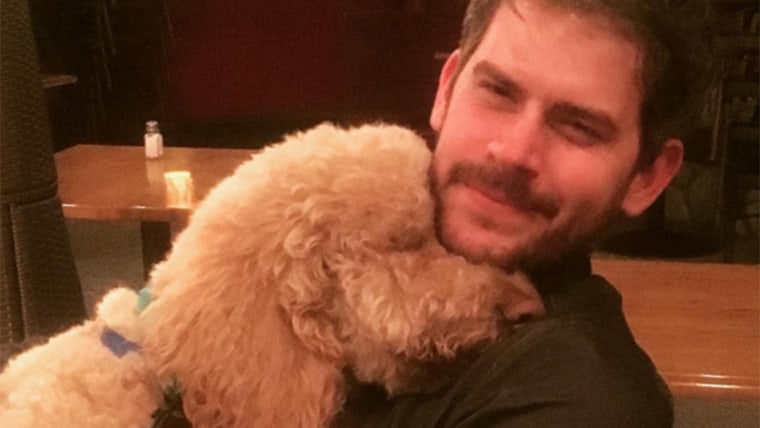 During a short trip to Seattle in mid-December, Glaser left Kramer with an acquaintance near his home in Venice, Los Angeles. The next morning, he received a confusing text from an Airbnb guest staying at his apartment.
The guest said someone had shown up with a dog in the middle of the night and tried to leave it at the apartment.
When the guest insisted that would not be possible, the person — and the dog — disappeared.
RELATED: What dog breed do you look like? Fun website shows your doggy doppelganger
Glaser immediately reached out to his friend, who was nonresponsive for several days. He became increasingly worried.
When Glaser threatened to call the police, the dog-sitter responded saying she had no idea what Glaser was talking about and that the dog was at the apartment.
The Airbnb guest, meanwhile, insisted that the dog had never been left there. Kramer was MIA.
RELATED: Watch a service dog's ecstatic reaction to meeting Pluto in Disneyland
Glaser was devastated, and his anxiety made it an especially difficult time to be without his cuddly source of comfort. To keep from becoming overwhelmed by despair, he threw himself into the search.
"When I first discovered Kramer was missing, I thought, 'Okay, what do people do when this happens?' They hang flyers. They ask around," Glaser said.
"I did file a police report. But one person papering the street was only going to reach so many people. I knew the most powerful way to spread a message quickly was through social media."
Glaser posted a note to his personal page explaining the situation and the impact Kramer had had on his life and offered a $10,000 reward.
Friends rallied to spread the word — and it wasn't long before Kramer had his own public page dedicated to the search.
Glaser also put his own spin on the concept of a pet Instagram account by posting old pictures of Kramer with the hashtag #bringkramerhome."
That account grew to nearly 10,000 followers.
"When I was feeling discouraged, I would take to social media to spread the message. I got comfort from the fact that people cared."
Glaser chased down tip after tip, but led to his beloved golden doodle. Adding to the stress, Glaser planned to relocate from Los Angeles to Seattle in early February for a new job.
"It made the search even more frantic. I could hear the clock ticking," he said.
His last day in L.A. was Jan. 31, but he kept mum about his relocation, worried that people would think he'd given up. He returned the first weekend in February to hunt, but still came up empty.
The following Tuesday, Nik received a tip about a golden doodle spotted at an LA shelter.
Unlike the other false leads, this was unmistakably Kramer — and after the shelter was able to confirm the dog's identity over the phone, Kramer got on the first flight back to LA.
"So. Many. Emotions," Kramer recalled. "I had a friend spring him from doggy jail while I was in transit, so our first reunion would be at my friend's condo.
So how was the big reunion? Well, you can see for yourself.
Glaser said Kramer appeared well-fed and groomed, so it seemed likely someone had been caring for him.
"He was definitely happy to see me!" Nik said. "I think he was wondering where I had been this whole time."