It was cold and damp when Alan Webster found a dog tied up in a field next to a bag of dog food, a bowl and a blanket.
There was also a heartbreaking note that said the dog's name is Tessa, she is 12 years old and her original owner is now living in Canada. The person who had agreed to take her in was no longer willing to fulfill that obligation, according to the note.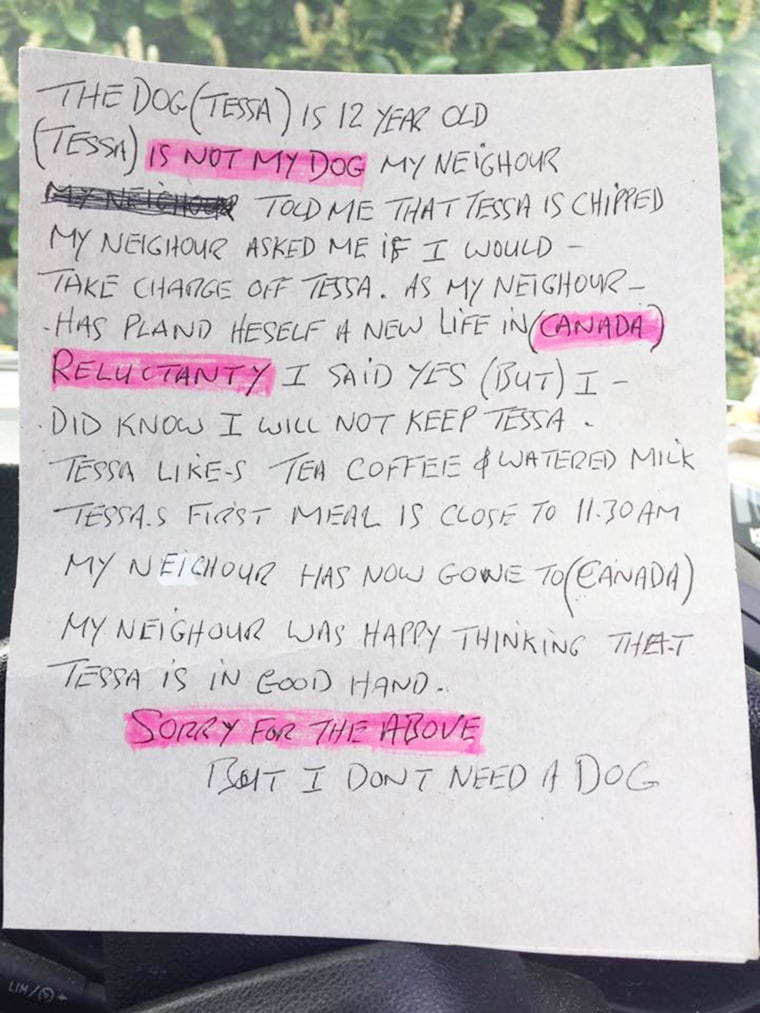 Tessa takes breakfast at 11:30 a.m. and likes "tea, coffee & watered milk," the note went on — before concluding with: "Sorry for the above but I don't need a dog."
Webster runs the South Yorkshire Pet Ambulance in the English town of Rotherham, an emergency transport service for pets and wildlife that relies on donations. He'd traveled to the field one morning last month for a weekly outdoor market — a "car boot sale," in local lingo — to do some fundraising.
Webster suspects Tessa had been abandoned the previous day.
"Had we not been there or the car boot had been canceled due to bad weather, I'm sure she would have died, as no one would have seen her," Webster told TODAY in an email.
RELATED: Old Dog Haven rescues homeless senior dogs, covers their vet bills for life
He thought she must be hungry, and gave her the food he'd brought for himself: warm rice pudding and a chicken sandwich, which she gobbled up.
Bev Flanagan is a volunteer with the South Yorkshire Pet Ambulance, who was with Webster at the time of Tessa's rescue.
RELATED: 'Grateful' dog snuggles new mom who rescued him from shelter
Flanagan told TODAY in an email that Tessa seemed very scared when they first found her, but eventually warmed up and was a "really happy and a friendly little old loving dog once she had our trust and been fed."
"If it had been raining, then the car boot would not have happened, and little Tessa could have been left tied up for a week," she said. "I wouldn't like to think what would have happened to her if that was the case."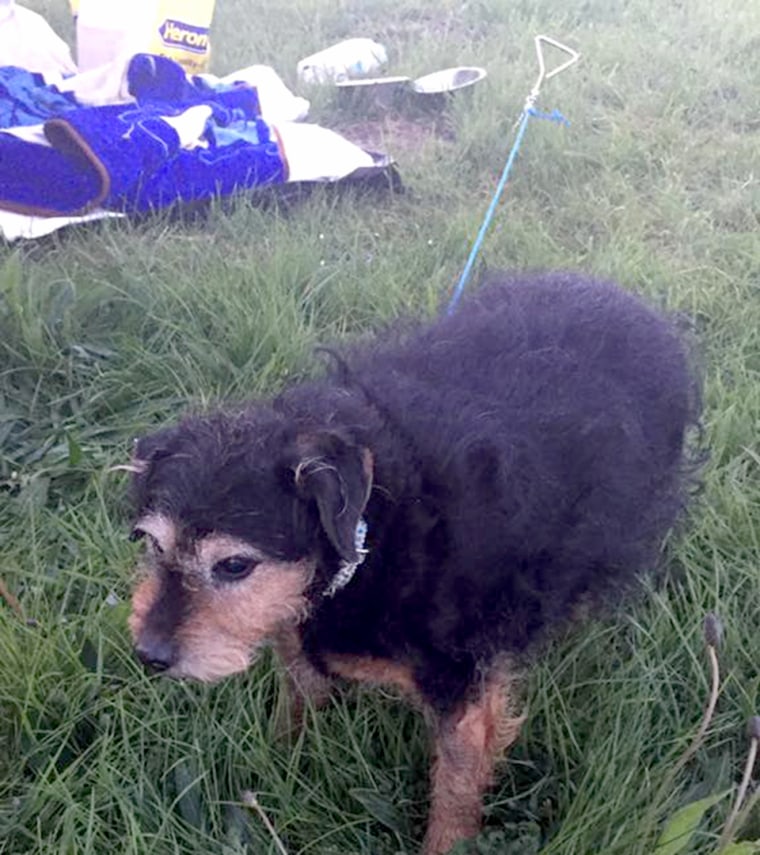 Tessa is now with the nonprofit Dogs Trust, and will soon be up for adoption. After once being treated so callously, Webster likes to think she has a lot of good times ahead.
"I'm sure Tessa's future is going to be perfect," he said. "There are so many people who want to give her a loving home."