Malcolm Alexander spent nearly four decades incarcerated for a crime he didn't commit.
In 1980, when he was 21 years old, he was sentenced to life in prison for rape. Alexander said he was innocent then, and maintained his innocence in all the years since.
The Innocence Project — a nonprofit legal organization dedicated to exonerating wrongly convicted people and reforming the criminal justice system since 1992 — joined Alexander's fight for freedom in 1996. On Jan. 30, absolved of the crime thanks to DNA evidence, he walked free from the Louisiana State Penitentiary at Angola, a maximum security prison farm. He is now 58 years old.
Alexander didn't leave prison alone. A day after he was freed, he reunited with the dog he'd raised behind bars.
The 9-month-old pup's name is Innocent, or Inn for short.
"I named her Inn because I was innocent and she was innocent," Alexander told a CBS affiliate.
Inn was born on April 22, 2016, Alexander recalls. "I wrote the date on my heart," he told TODAY. "I can remember her birthday better than I can remember my own."
Her mother was a friend's dog. While there is an increasing number of programs through which inmates raise and train dogs, Inn and her mother weren't part of a formal program. They were pets and companions, which some inmates are permitted to keep.
Alexander said she was "the runt" of a litter of 10. He chose her because he thought she was the one who most needed his love.
He recounts telling Inn back then that "one day we'll be out of here. Just be patient."
Between that promise and their release, Inn lived at Alexander's work sites: the metal shop and woodshop. He fed her there, and looked after her.
"To have a dog is a privilege," Alexander said. "It makes the world different."
Vanessa Potkin, the Innocence Project's director of post-conviction litigation, told TODAY in an email that Alexander's wrongful imprisonment can be traced, at least in part, to a system in which public defenders are responsible for too many cases, with too little support.
It's a system that's regularly described as being in "crisis."
"The courts and public defenders cannot handle the volume of cases being processed," she said. "Public defenders are overloaded and don't have the resources to provide the type of representation that any of us would want for ourselves or our families."
"Thirty-eight years is unimaginable. He survived 38 years of anyone's worst nightmare," Potkin added. "Being so removed from society, isolated in essentially hell."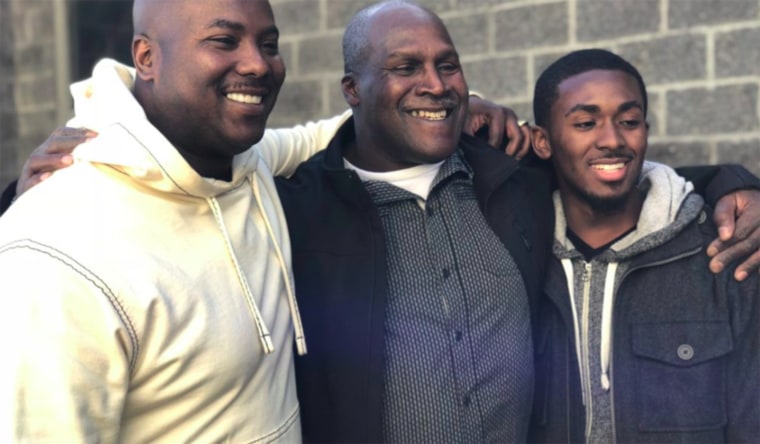 Alexander said he was angry when he was first incarcerated, but he isn't any longer. He said his strongest, deepest feeling now is to "enjoy what life we have left."
"Let what happened be gone, and let's move on. Simple," he said. "I'm surrounded by love."
Still, moving on will require many adjustments. So much has changed in the last 38-some years since Alexander was wrongfully imprisoned.
"I got incarcerated in 1980. We didn't have cellphones and stuff like that," he said. "They say you can't make up for lost time, but trust me I really am trying to."
Alexander's family has changed, too. His son, Malcolm Stewart Sr., was 2 years old when Alexander was imprisoned, and is 40 years old now with a 20-year-old son of his own. Until Alexander and Inn get a place of their own, they are living with his son and his son's family.
Alexander's son recently took him around to various government agencies so he could get his driver's license, and register to vote.
"My family has matured and it's like a new family," Alexander said.
Potkin said that Alexander hasn't petitioned the state for compensation for his wrongful imprisonment. The amount he could receive, if he does file suit, is limited by statute to what Potkin says is a small amount relative to the amount he's suffered.
"Under Louisiana's compensation law, Malcolm Alexander could receive only $250,000, plus funding for job training and education, for his 38 years of wrongful imprisonment," she said. "And the state could oppose his compensation application — which often happens even in the face of evidence of factual innocence — so this amount is not even guaranteed. It could take years for his claim to go through."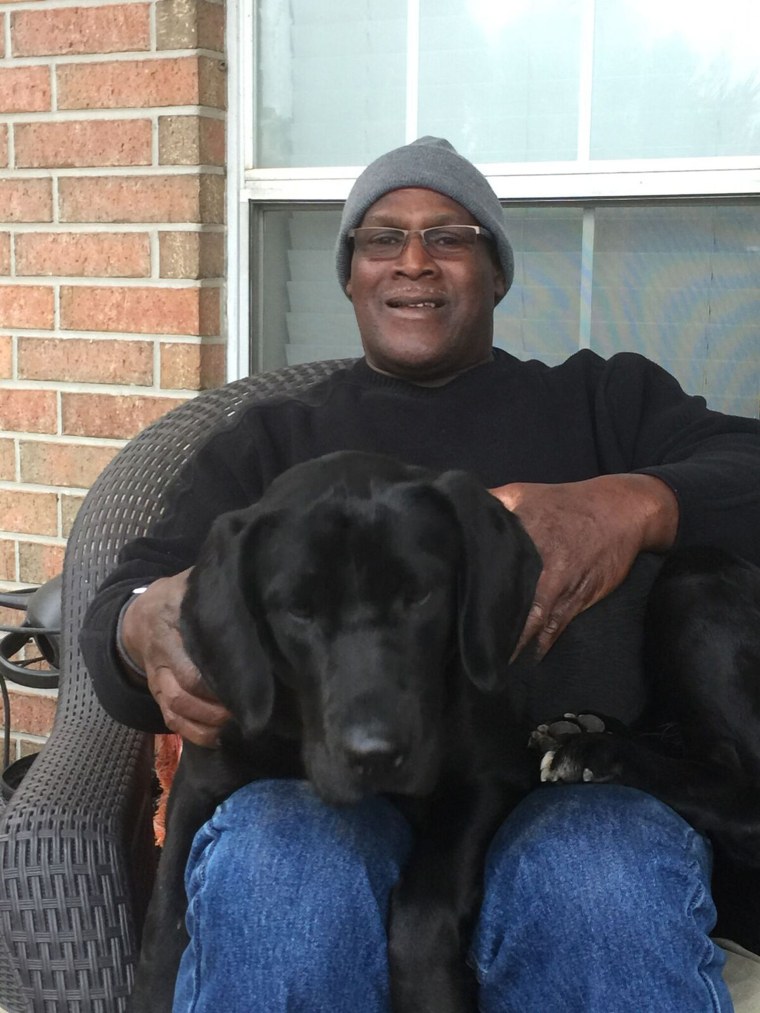 Alexander learned carpentry, woodworking and jewelry-making skills in prison. He is now trying to raise the funds to help him open a booth in the Frenchmen Art Market/Art Garage in New Orleans.
Alexander said he wants to work, and to provide for himself. There's a crowdfunding campaign to help him get started, so that whatever else happens he can finally build this life for himself, and for Inn.
"Oh, she's beautiful. She's beautiful," Alexander said of the dog. "She really enjoys her freedom."