A puppy named Coco made a young girl's wish come true just in time for the holidays.
Camila Vanderhost, a 6-year-old New York City resident who was diagnosed with leukemia when she was just 2 years old, initially thought she might ask for a trip to Walt Disney World when she qualified with Make-A-Wish America.
But with the coronavirus pandemic making travel tricky, she decided what she really wanted was a puppy — specifically, a cute little Yorkshire terrier, aka Yorkie.
"She said, 'I should get a puppy. That way, I can have something to play with,'" her mother, Eliana Ramos, told TODAY. "She said, 'I wish to have a Yorkie puppy.'"
So she had a fun surprise after school on Nov. 10, when wish granters gave her a Yorkie she named Cocomelon, or "Coco" for short — plus toys, treats and other goodies.
"You could tell on her face she was very, very happy," Ramos said.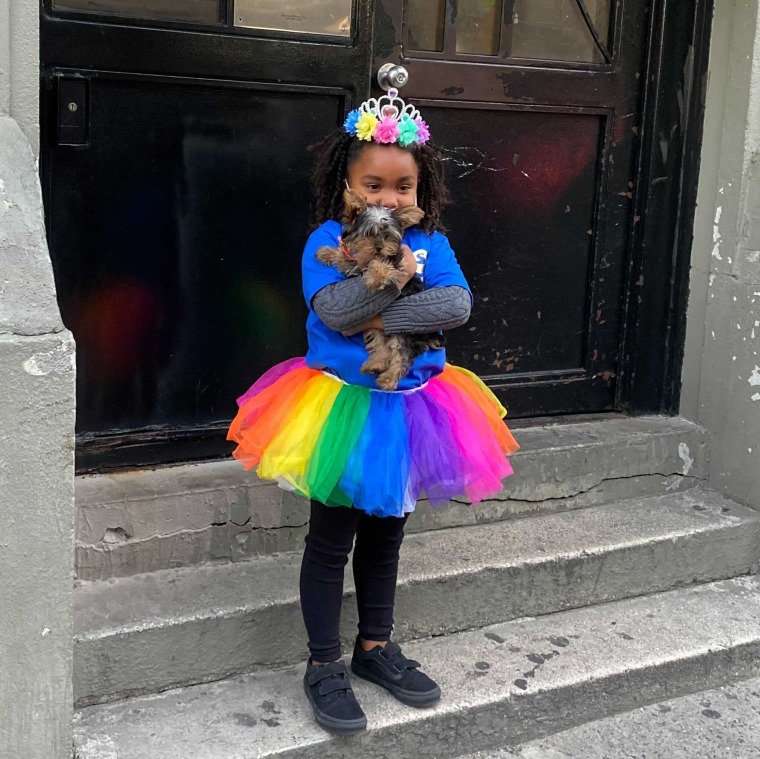 Now Camila, who is in remission, loves Coco with all her heart. They watch Christmas movies together with Coco snuggled in a blanket on her lap. Sometimes Camila even calls her mom from school at lunchtime to ask how her puppy is doing.
Coco has spread joy to the entire family, which also includes Camila's 12-year-old brother.
"That dog brings so much happiness to us. Everything changed in the house. Everybody has a smile," Ramos said. "I think Make-A-Wish changed my daughter's life. When kids go through that kind of treatment, they remember. Every time she sees the scars on her chest, she says, 'I got Coco because I used to be sick.'"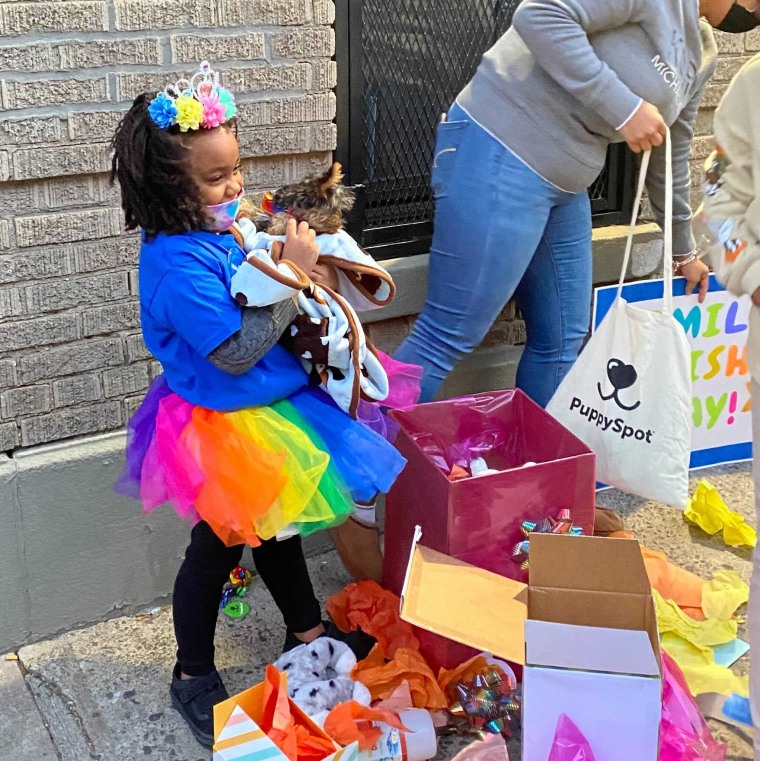 Wishes for puppies like Coco have surged during the pandemic. Make-A-Wish has already seen an overall increase of about 32% in animal wishes, according to Frances Hall, vice president of mission advancement at Make-A-Wish America. She attributes the rise not only to travel restrictions but to the same reason so many Americans started acquiring pets after March 2020.
"I think for a child who has been isolated through the pandemic, a puppy gives them unconditional love," Hall told TODAY. "It's a source of incredible comfort for these kiddos and great joy. We've heard so many stories of how puppies just made them feel so warm and gave them a lot of strength during their illness."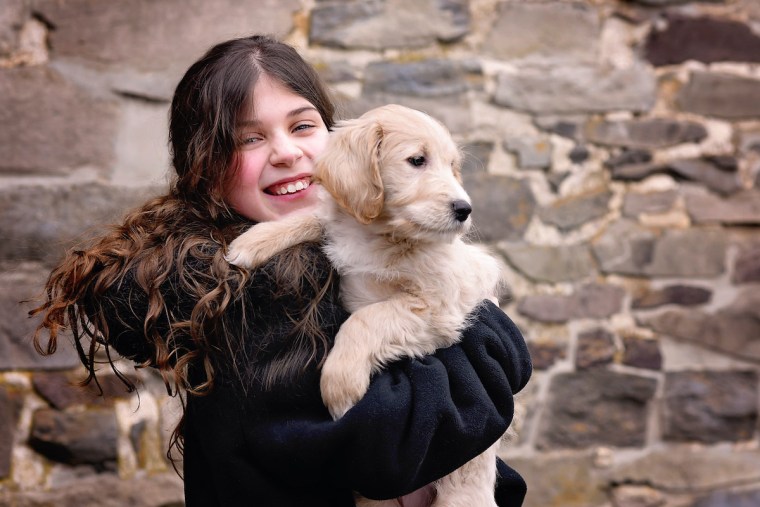 Make-A-Wish partnered with PuppySpot, a company that connects screened breeders with families, to grant nearly 200 puppy wishes.
While dogs are the most requested species, the nonprofit also grants wishes for other pets. Earlier this year, a child who lives on a farm wished for two goats.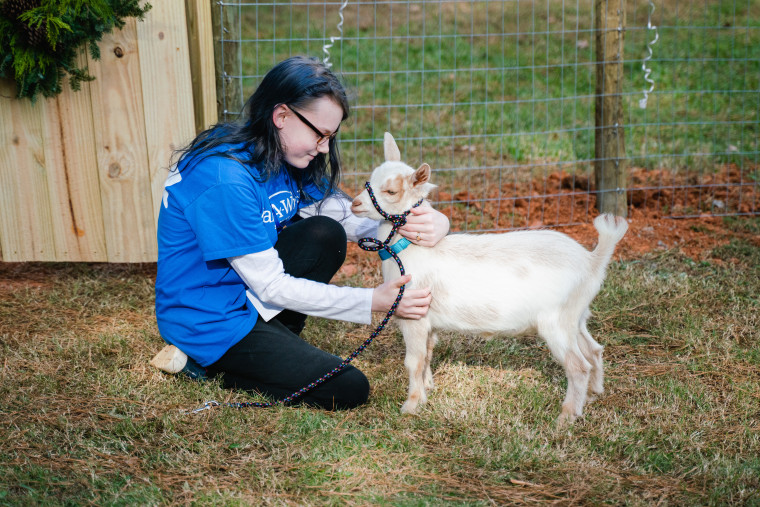 Wish-granting volunteers coordinate with families for the big wish reveal, which has been complicated by COVID-19 safety protocols. Sometimes they host reveals in parks or other outdoor spaces. One granter put a puppy in a box with a hole in the top, rang the doorbell and hurried away — watching the child's delight from a safe distance.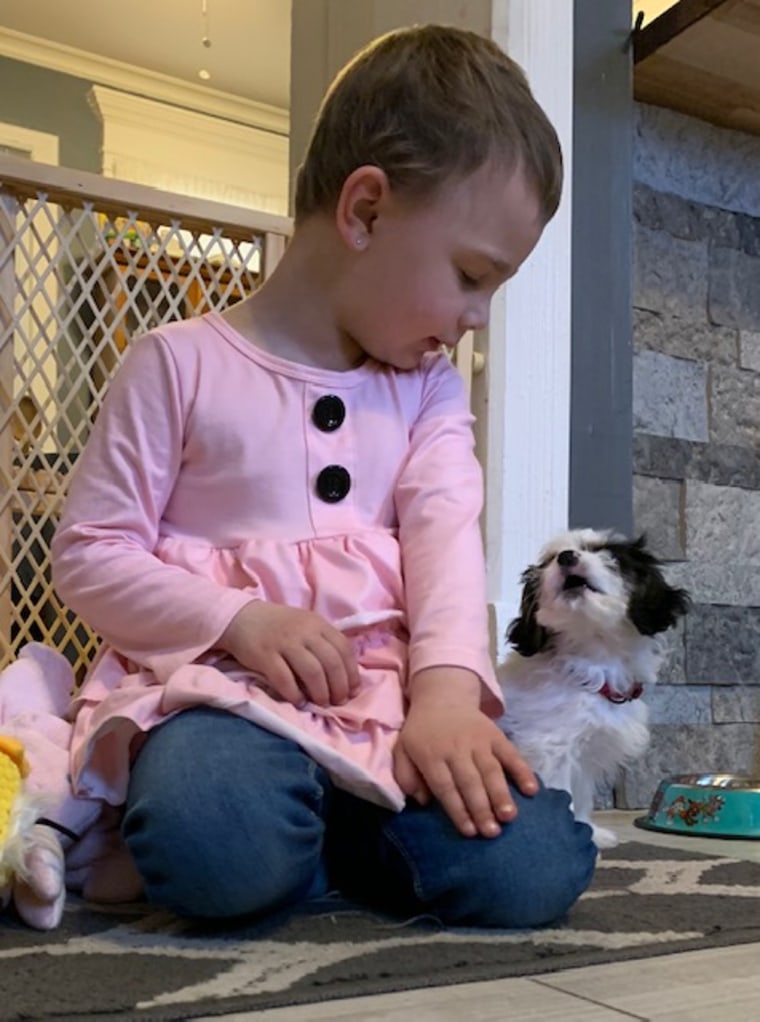 More than 30,000 volunteers across the country provide wish delivery. Other popular wishes during the pandemic include room redecorations since kids are spending so much time at home, outdoor playhouses, shopping sprees and virtual meet-and-greets with celebrities.
But puppies are a "furever" gift, Hall said. She noted that not all "wish kids" are terminally ill, and many go on to lead very full lives.
"We just feel it's really heartwarming to know that a wish kid can get a special friend, even during these tough times," she said. "It's been such a joy for us to be able to continue to grant these wishes."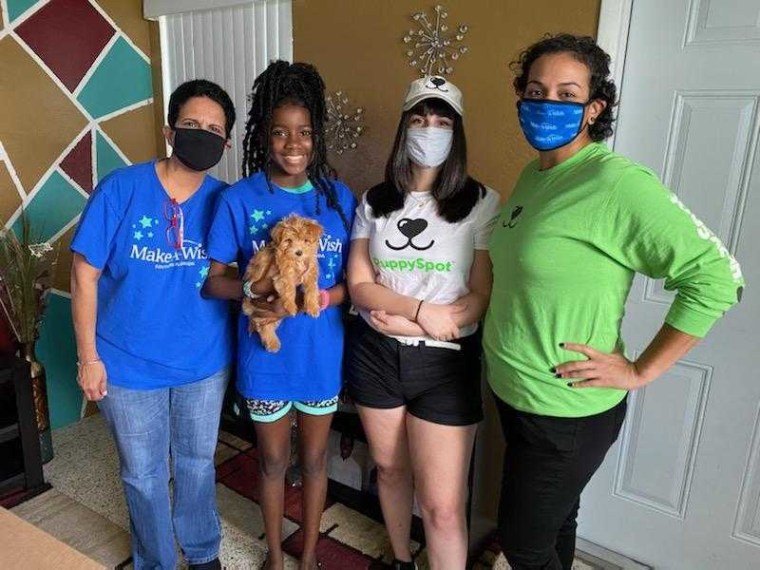 Claire Komorowski, CEO of PuppySpot, said it's thrilling to be just a few months away from granting the 200th puppy wish since partnering with Make-A-Wish America in 2018. She said her team was happy to "lean in" to the spike in puppy requests during the pandemic and help grant many more wishes.
"Especially with the health risks that came into play, even when travel started opening up, a puppy was a much safer option and one that was able to deliver a great amount of joy to families that were confined to their homes," she told TODAY.
The company works with parents to ensure the right fit for both the people and the puppy. For instance, a Great Dane probably wouldn't thrive in a small apartment. PuppySpot also makes sure the entire family is committed to the long-term care of the dog.
The most popular puppy requests are for goldendoodles as well as Yorkies, French bulldogs and Jack Russell terriers. There are also unusual requests; one child wished for a Cavachon, which is a cross between a Cavalier King Charles spaniel and a bichon frise.
Whichever type of dog a child chooses, these pets can be a particularly impactful wish, according to Komorowski.
"We feel that dogs are special and they are critical to families. There's just so much they bring to the table in terms of bringing parents and children together — bringing comfort and reduced anxiety," she said. "There are all sorts of benefits that come from having a puppy in the family."