Stacey Alleman-McKnight doesn't usually have bolt cutters on hand. It was just good luck that she'd picked up a pair the day before, and had them in her truck, when she went out to try to save a dog whose head was stuck in a fence, during the Louisiana floods.
This dog had been treading water for two days, said Alleman-McKnight — the executive director of St. Landry Parish Animal Control, in Opelousas, Louisiana, about 60 miles west of Baton Rouge.
"The poor thing just bobbed," she told TODAY.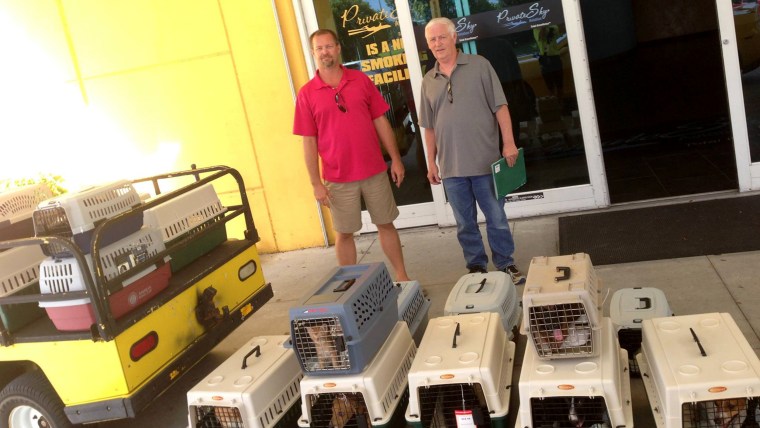 Alleman-McKnight clipped away the fence and rescued the dog, whose jaw was badly broken. She then brought him back to her shelter — which was full even before the floods, before so many more animals were lost or left behind, and only getting fuller.
RELATED: Dog who survived Hurricane Katrina calms shelter kittens
"We're way past capacity," she said.
Theresa Ink is founder of a low-cost spay/neuter clinic in southwest Florida called PAWS of Lee County.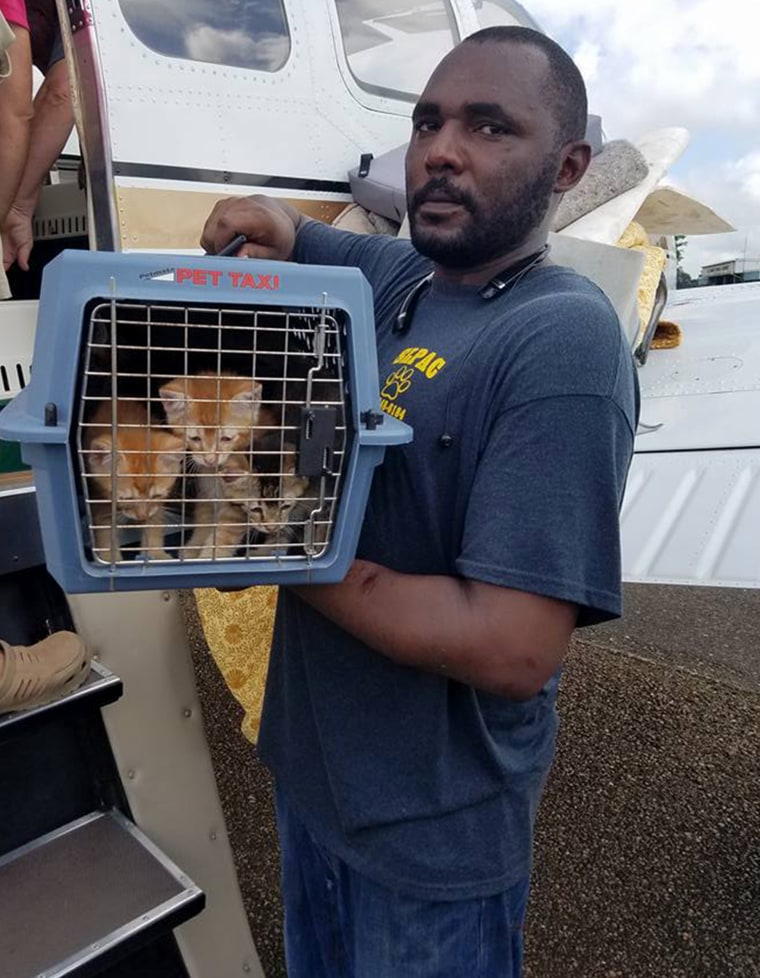 For a couple of years now, Ink has been "pulling" dogs from the St. Landry shelter, and bringing them to Florida, to relieve some pressure on that shelter and help the dogs find good homes. PAWS of Lee County is a modest operation, and usually it's a handful of dogs at a time — mostly small ones, who can be easily placed with the retirees who live in the area.
RELATED: Last 9/11 Ground Zero search dog dies just shy of 17th birthday
Last Saturday night, Ink was watching the news. She saw the images of Louisiana's devastating floods, said to be the worst disaster in this country since Hurricane Sandy.
"We're going to have to help," Ink immediately decided. "I said I want to bring 50 dogs from Louisiana."
Ink placed a request with a nonprofit called Pilots N Paws, which uses volunteer pilots to transport shelter animals from places where their lives are at risk, to places where they will be safe.
This group's 5,000 volunteer pilots fly more than 15,000 rescue animals each year, according to executive director Kate Quinn. But Ink had never worked with Pilots N Paws before; she didn't know what to expect.
RELATED: Rush is on to rescue animals stranded in Sandy's wake
It didn't take long before there was good news.
"During a natural disaster, such as the flooding in Louisiana, our mission is compounded because not only are we providing lifesaving flights for homeless animals, but we're also freeing up desperately needed space so that pets can have safe shelter while their owners work to rebuild their lives," Quinn told TODAY by email. "Taking this concern off the minds of the victims of the flooding is the least we can do."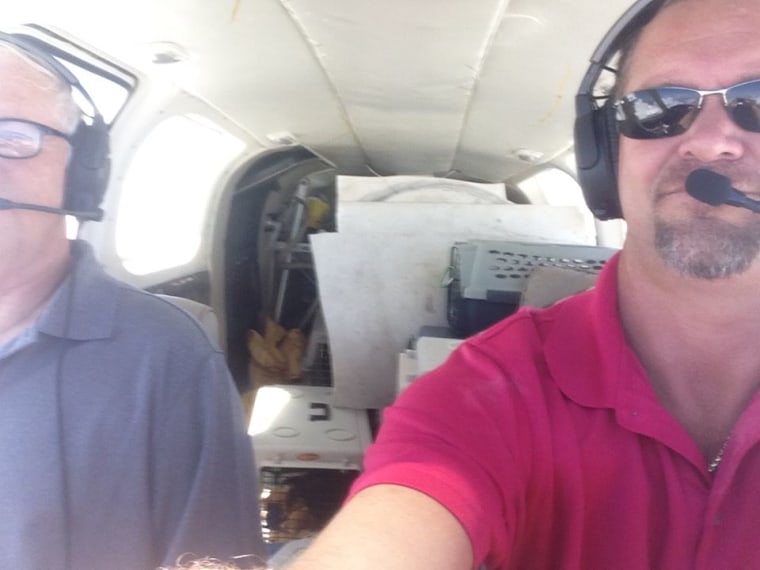 On Wednesday morning, entrepreneur and volunteer pilot David Murphy set out on his first Pilots N Paws mission, from Georgia to Louisiana, then to Florida, and back again. He was joined by his recently retired father, in a plane they'd borrowed from a local dentist who is also a Pilots N Paws volunteer.
"We're animal people," Murphy said. "Just wanted to help where we could."
Usually Murphy's bulldog, Tank, likes to come along in the air, but Murphy left Tank behind this time, so there would be more room for kennels. That room was needed; on Wednesday, some 30 cats and dogs were loaded up onto the plane, headed to Florida, to safety.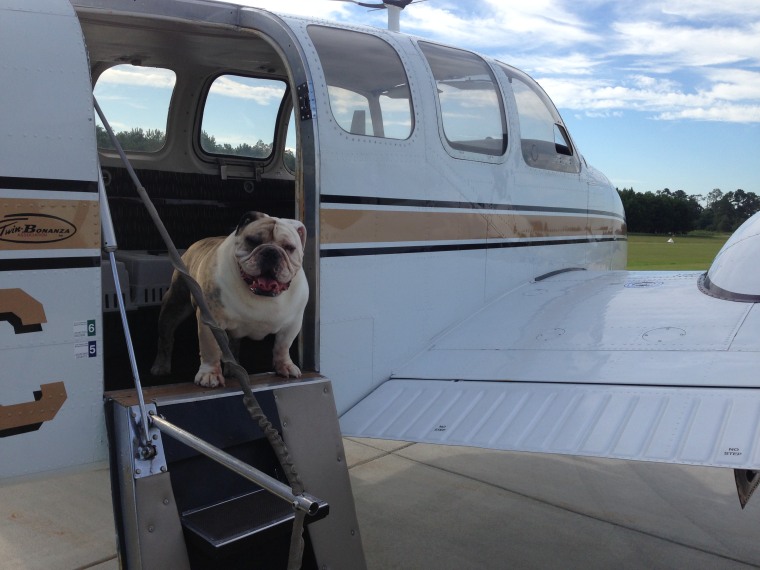 They joined another 60 or so pets driven over in a van by Jim Dwyer, co-founder of the nonprofit It's a Dog's Life Rescue Transport Inc. Dwyer's trip took two full days.
"My mind and body was a little on the worn out side," said Dwyer. "My heart and my spirit was feeling pretty darn good."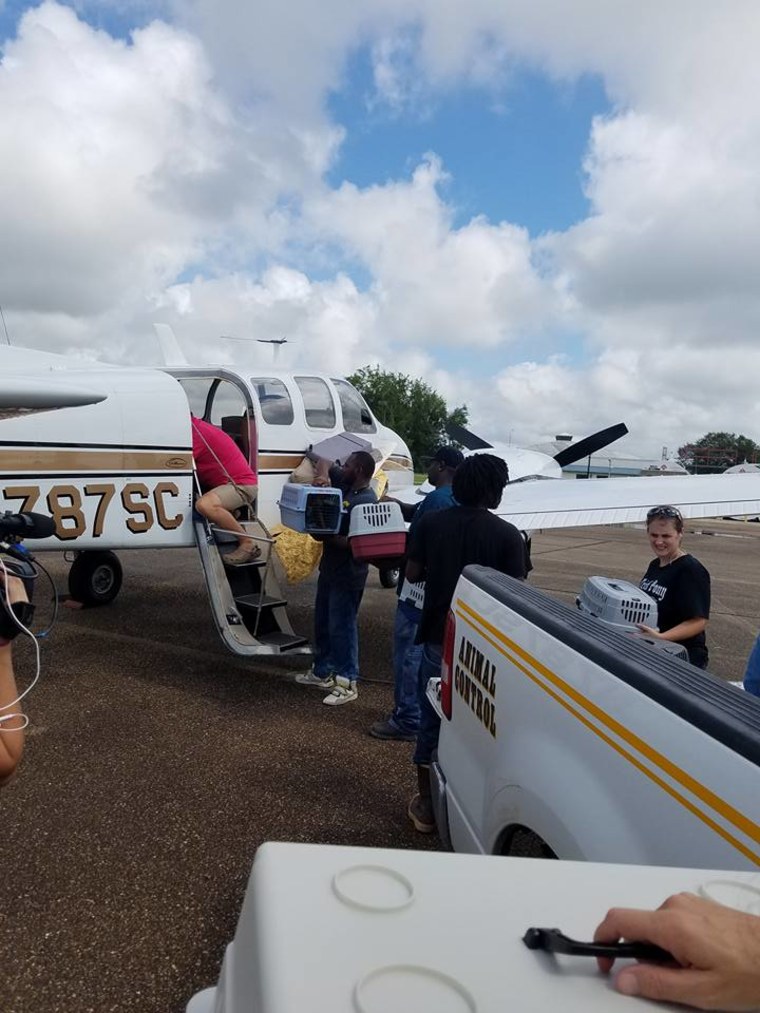 The animals are going to stay with a handful of shelters and rescue groups. The Gulf Coast Humane Society, in Ft. Meyers, Florida, took 29 dogs and five cats, for example.
Right now they're being bathed, and given medical care, and "TLC," said executive director Jennifer Galloway. She expects they will start going up for adoption next week.
A couple of other animal rescue groups have taken about 10 others. PAWS of Lee County currently has the rest — they will also become available for adoption, too, perhaps as quickly as this weekend.
"So far, they're pretty good," said receptionist Kate LaPointe.
This includes the dog who Alleman-McKnight found caught in the fence. He's been named Louie, for Louisiana. PAWS' veterinarian wired Louie's broken jaw shut (and neutered him). He'll be staying with adoption coordinator Tammy Thallas while he heals.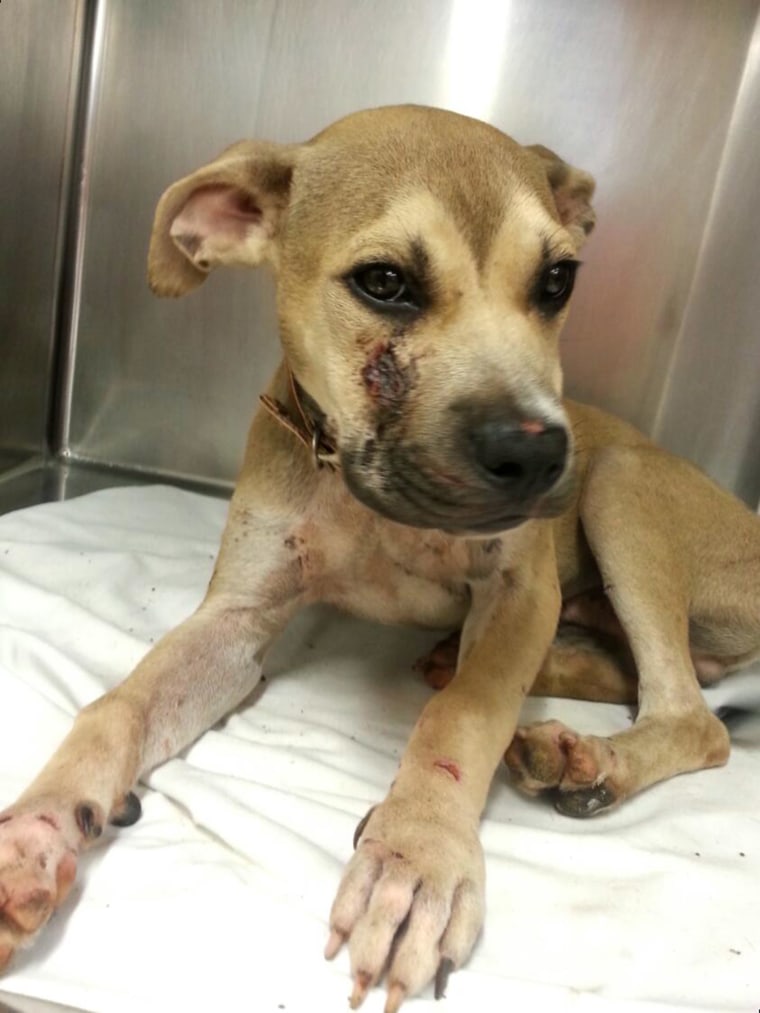 It may take a long time, but "he's going to be fine," said Ink.
Alleman-McKnight, meantime, is still at the shelter. She has a slew of newborn kittens whose mothers are missing or dead, who need to be bottle fed every couple of hours. Their mews are tiny and high, and constant.
There are currently more than 250 dogs in 137 kennels at the shelter, as well as more than 100 cats, a lizard, a ferret, 20-plus horses, and a mule — with more arriving all the time, and not a lot of safe options close to home in this ravaged community, no "second plan for them," said Alleman-McKnight.
So Pilots N Paws is dispatching another group of pilots in the next couple of days to take some more of the shelter's pets over to Florida. Murphy is prepping his dentist friend's plane, getting ready for his next run — bulldog Tank is there helping out — while Ink searches for homes, and funds, to care for this new crew.
"It's truly like watching a miracle," said Alleman-McKnight. "They didn't owe these animals anything. To think, there's people out there that just want to do something good."