It's all fun and games until a chicken gets involved! Little Jerry Seinfeld, the chicken seen being held by New York Mets relief pitcher Tim Byrdak in the photo above, ended his short stint as the Mets unofficial mascot on Tuesday. 
Little Jerry arrived at the Mets clubhouse Friday night after Mets closer Frank Francisco called the Yankees "chickens" before the start of last week's Subway Series. Resident prankster Byrdak perhaps took the words a little too literally and showed up with a live chicken at the clubhouse before the series opener.
Of course then the pitcher realized the chicken would eventually need a new home. He couldn't live in the clubhouse forever!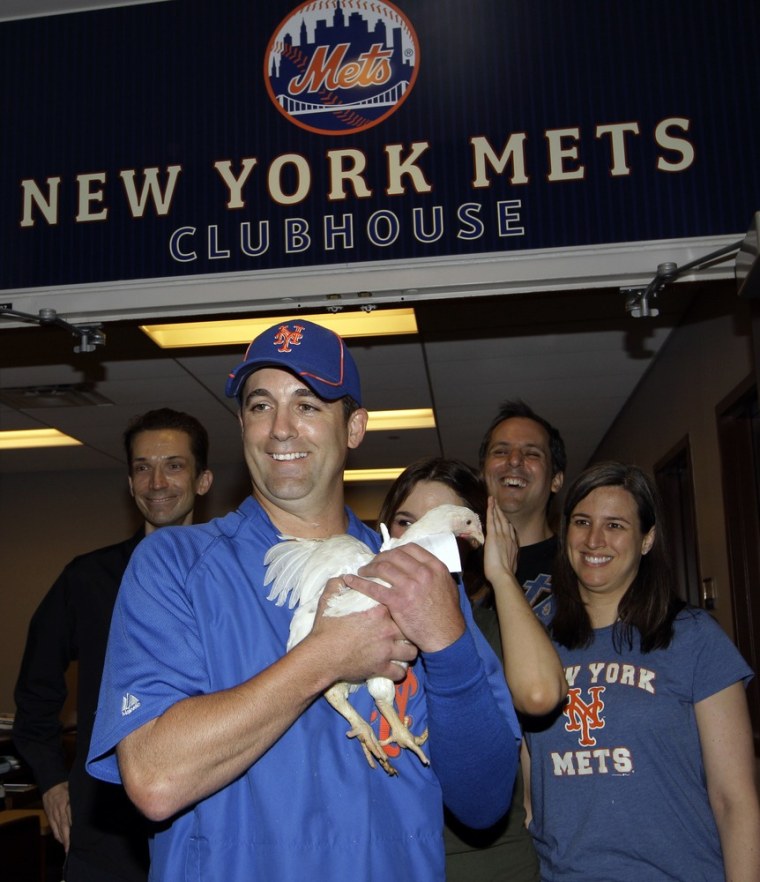 "Tim Byrdak and the other Mets players couldn't get over how much his personality blossomed over the couple of days he was in the clubhouse," Meredith Turner, media relations specialist for Farm Sanctuary, told TODAY.com in an email.  
"He came in tense and frightened, as you can imagine, but after receiving some TLC and wholesome food from the Mets chef (she had to Google what to feed chickens!), he began to relax, and his personality came shining through."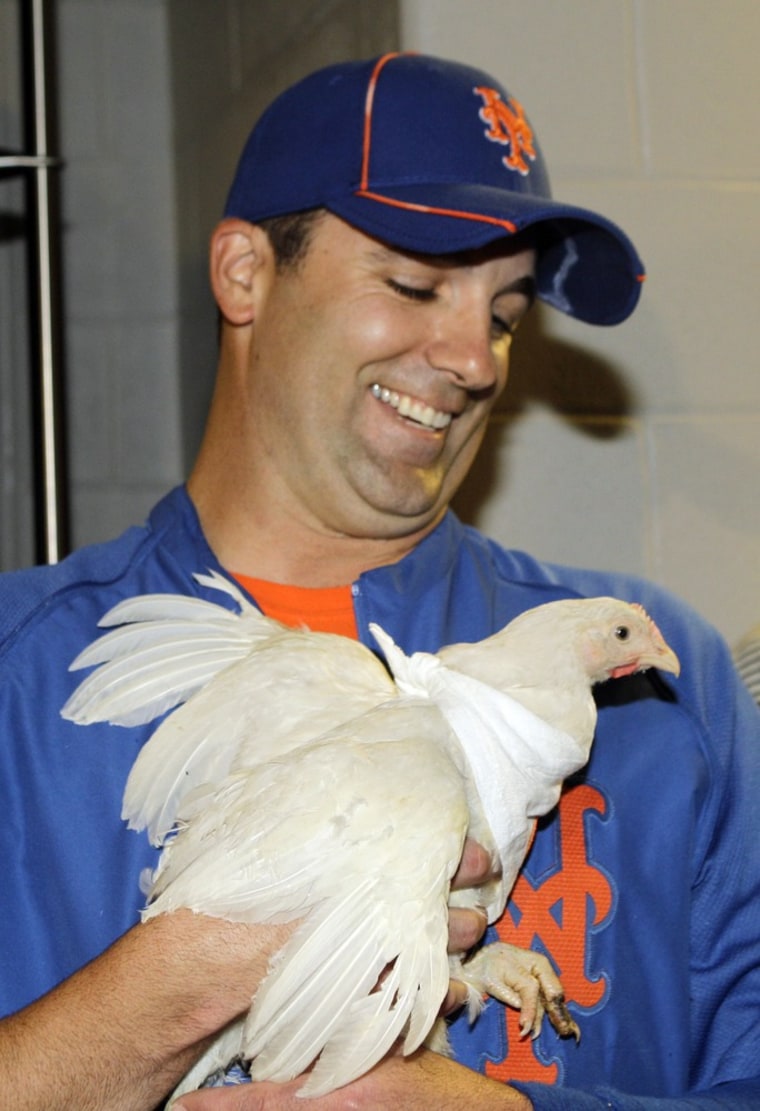 Little Jerry even got noticed by his namesake, comedian Jerry Seinfeld, who tweeted about the bird trying to rally the Mets during their series against the Yankees with the hashtag #rallychicken:
Though sad to see him go, in the end it was decided that the Mets chicken would make Farm Sanctuary's New York Shelter in Watkins Glen his home.  
He said goodbye to the Mets clubhouse and his brief stint as the Mets' unofficial mascot earlier this week and arrived at the Farm Sanctuary late Tuesday. See Little Jerry Seinfeld arrive at his new home and explore his surroundings in the photos and video below: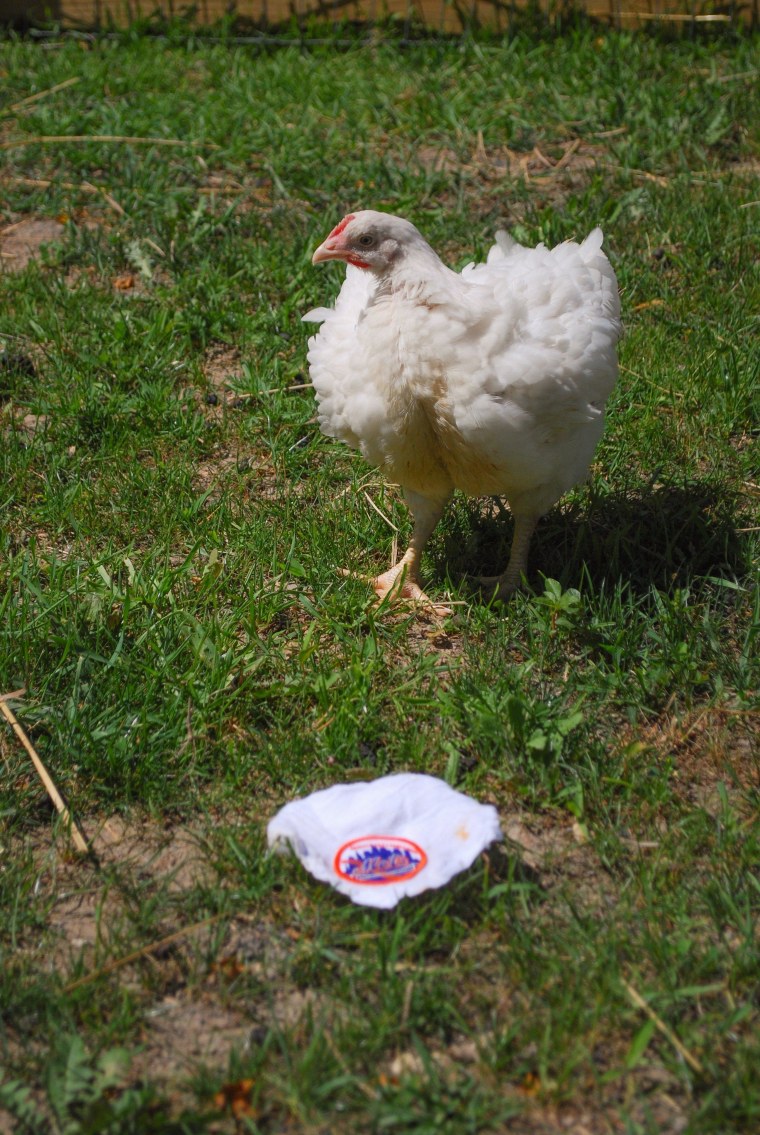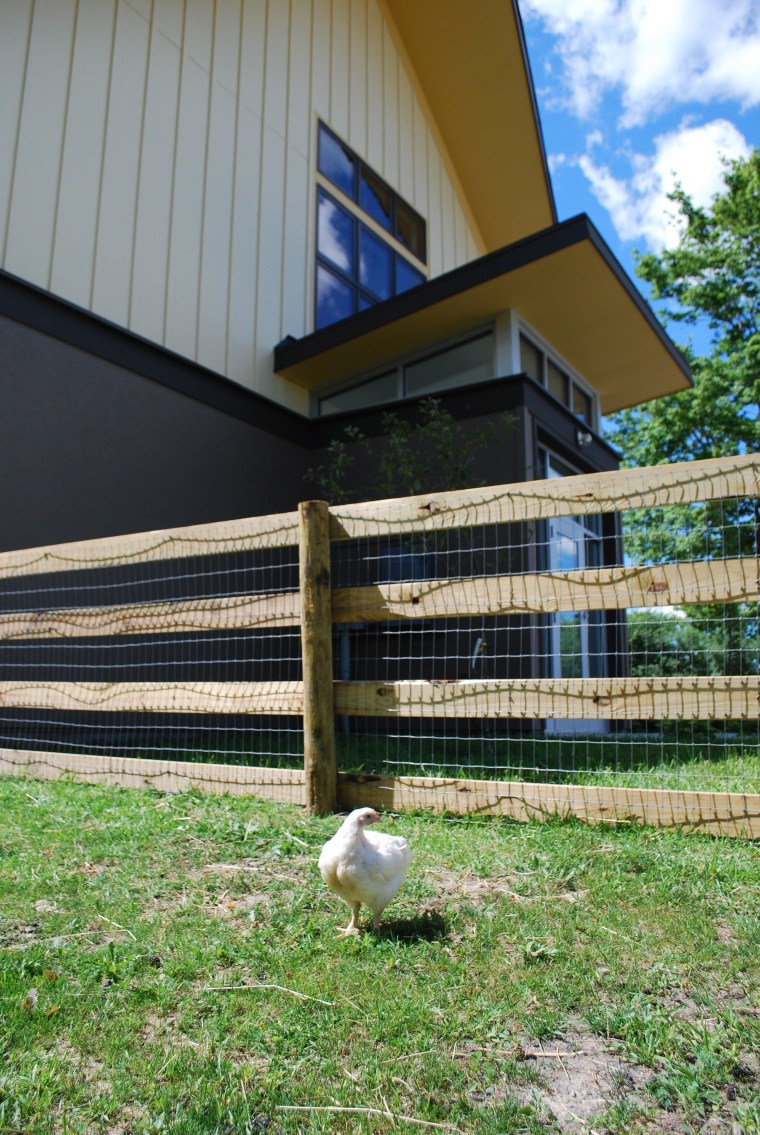 More:
TODAY.com producer Lisa Granshaw loves that she was finally able to somehow write about her favorite baseball team in Animal Tracks. How can you not love such a unique baseball team?