Olivia Poff is a familiar face for TODAY viewers. She's training our new puppy with a purpose, Sunny, to become a guide dog. In honor of his arrival to TODAY, Sunny worked with Olivia to bring you these fun facts about him.
Hi, fur-riends!
Allow me to introduce myself: My name is Sunny, and I'm TODAY's third puppy with a purpose. One day, I hope to be a guide dog for someone who can't see or can't see well. I'll be learning my skills from the Guide Dog Foundation for the Blind.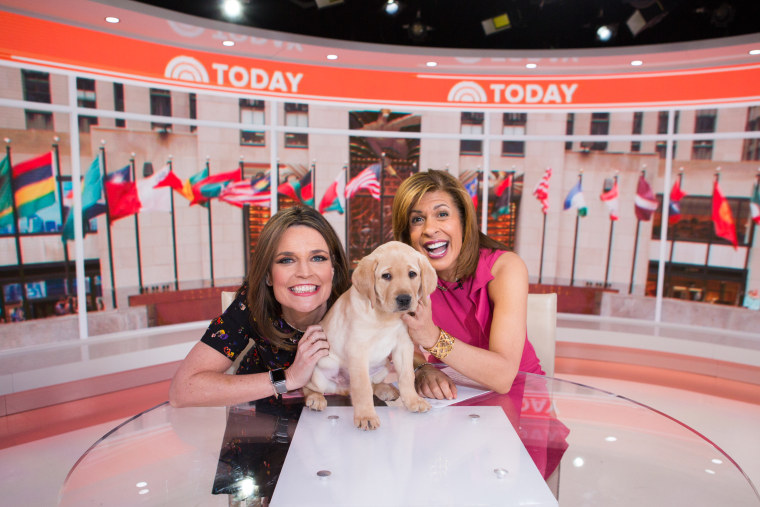 If being a guide dog sounds like a pretty big job for a pretty little guy, don't worry! I'm going to get bigger! In fact, I'm only 9 weeks old right now.
I was born on Jan. 2, 2018, and I have seven siblings. My mama's name is Muffin. (She ain't muffin but a saint for raising all eight of us!) She is a very pretty yellow Labrador retriever, and my dad, Pancho (a black Labrador), is what people call tall, dark and handsome!
Last week, all of the TODAY anchors were expecting me to run out on my own to greet them on my first day, but I surprised them! I brought four of my siblings with me to reveal that TODAY has expanded the puppy with a purpose program to four local stations across the country. We are so proud to represent everything that it takes to become a Guide Dog Foundation guide dog or America's VetDogs service dog for people in need.
Here are a few fun facts about me: I live with my trainer, Olivia Poff, and her golden retriever, named Cowboy, in Smithtown, New York. I have a great, big backyard and a house full of toys. My favorite time of the day is a three-way tie between breakfast, lunch and dinner.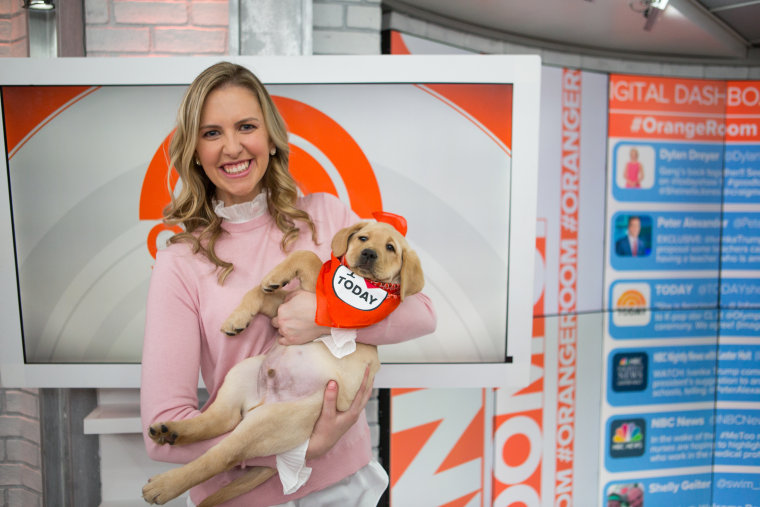 Charlie (TODAY's previous puppy with a purpose) gave me all the secrets to success, and I can't wait to apply them to my journey that I'll share with you over the next year and a half! Your support will help this Sun to rise.
You can stay up to date on my siblings and me by signing up here. Warning: My future is so bright, you may need to wear shades! ;)
Wags and kisses,
Sunny