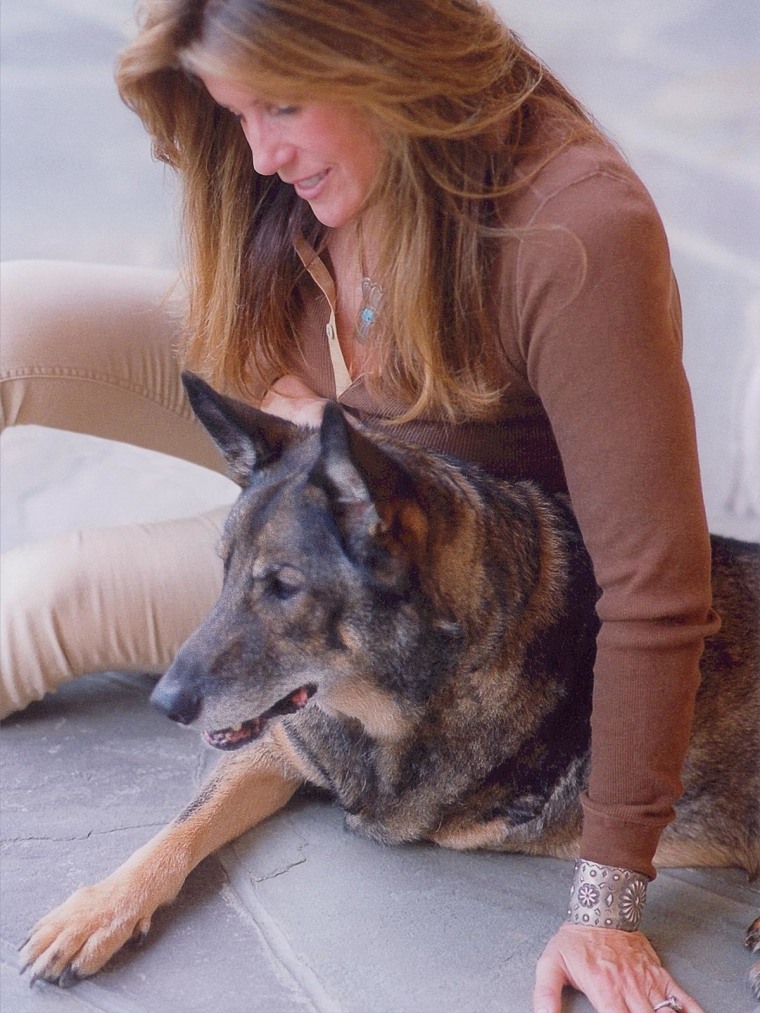 Jill Rappaport has been on TODAY for nearly 22 years. She was the entertainment correspondent for the first 17 of those years, but when her beloved dog Jack got bone cancer, her life and career changed forever.

While chronicling Jack's illness on the show, she realized that animal welfare issues were her calling, and so her path changed. In her popular, award-winning "Bow To Wow" series, shelter dogs get a makeover and a second chance at life, and through her work, she helped to save hundreds of horses that were severely abused. She also keeps TODAY viewers informed about the latest health trends for pets.
Rappaport is the best-selling author of "People We Know, Horses they Love," and has written three others books, including "Jack & Jill: The Miracle Dog with a Happy Tail To Tell," about her beloved dog Jack, and "500 Cats." She also developed a women and pets clothing line for Pendleton, which benefited the Jack and Jill Fund for animal cancer.
Jill and TODAY received the coveted Genesis Award, which is the Oscars of the animal world, for her reporting on animal issues. She has now won that award twice, and her Nightly News piece, "Hurricane Sandy: Protecting Our Pets," was nominated for another in 2013. Rappaport was named the first recipient of the "Voice for the Animals Award" for her work on and off the screen from the Humane Society of the United States, presented by Matt Lauer. She received the coveted MSPCA-Angell Animal Hall of Fame Award in Boston.
Rappaport also received the New York City Parks Citizen award from the Mounted Auxiliary unit. She was honored for Outstanding Community Service from the LI Veterinary Medical Association, and Rappaport was named the ASPCA Good Will Equine Welfare Ambassador in 2011. She ended 2011, by being given the honor of ringing the NYSE Opening Bell for the Iams Home 4 the Holidays adoption drive (she later rang the Closing Bell in 2012) and started the new year as host of Animal Planet's Puppy Bowl VIII, providing up-to-the-minute sideline analysis and commentary with the shelter pups.

The animal advocate received the coveted 2012 Global Pet Expo's annual "Excellence in Journalism and Outstanding Contributions to the Pet Industry Award," whose past recipients include Ellen DeGeneres and Rachel Ray. In June, she was awarded the 2012 Pet Philanthropy Circle's Pet Humanitarian Award, and she received The Presidential Service Award for Media Excellence from the ASPCA in November.
Rappaport recently introduced "Jill Rappaport's Rescued Me Collection," a line of neon leashes/collars, horse halters and lead lines promoting rescue and adoption. A portion of the proceeds will benefit animal cancer and shelters. She just launched her equestrian jewelry line called "Hannah's Heart" named after her beloved late mare. She designed the line exclusively with London Jewelers and proceeds will benefit the ASPCA.
Rappaport lives on a farm with her five rescue dogs and seven horses, whom she refers to as her "fur angels."
Visit her page here.