EDITOR'S NOTE: Bretagne, the last surviving 9/11 Ground Zero search dog, died just shy of her 17th birthday on June 6, 2016. The following day, the Society for Features Journalism honored this story about Bretagne's 16th birthday party in its annual Excellence-in-Features Awards contest. The story won first place in the Short Feature category for large publications with a circulation of 200,000 and up. We're sharing it with our readers again as we look back on Bretagne's life of service and adventure.
In human years, Bretagne is more than 100 years old — but she acted like an exuberant puppy at an epic Sweet 16 birthday bash thrown in her honor in New York City.
Bretagne (pronounced "Brittany") is the last known surviving search dog who worked at Ground Zero after the Sept. 11, 2001 terrorist attacks. This year, as Bretagne's 16th birthday approached, New Yorkers decided to come together and do something unforgettable for her.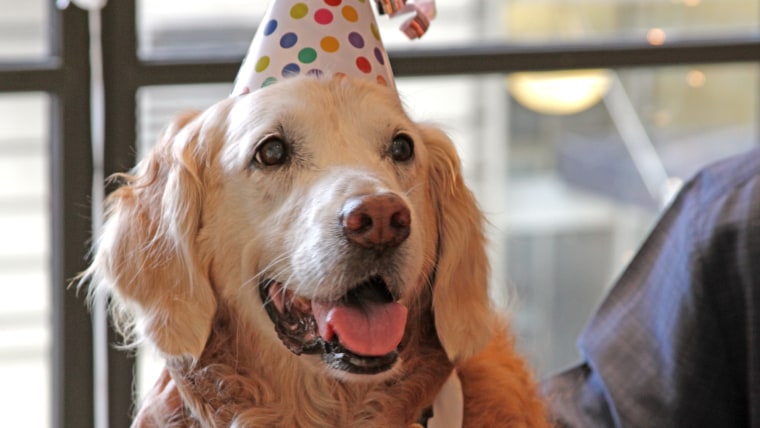 During her daylong celebration, the golden retriever reclined on soft beds at a classy Central Park hotel, ate a gourmet burger, rode around in a vintage New York City taxi, frolicked at a doggie splash park, played with oodles of new toys, donned a birthday party hat and inhaled a dog-friendly cake in a matter of minutes. Through it all, she wore a blissed-out smile on her furry face and relished all the attention and affection she was getting.
"There are so many reasons Bretagne's story is special, but this one really hit home for BarkPost since we are based in New York," said Laura Hartle, creative producer for BarkPost Video, which coordinated the celebration in late August. "To be able to have the chance to thank one of the dogs who helped our city when we needed it most was an unforgettable experience."
BarkPost — the publishing arm of Bark & Co., which offers monthly BarkBox subscriptions for dogs — has an ongoing video series called Dog's Best Day that aims to give deserving pooches the best 24 hours of their lives. In Bretagne's case, that day included an illuminated billboard in Times Square and the dedication of a cobblestone in her honor on the plaza of the 9/11 Memorial.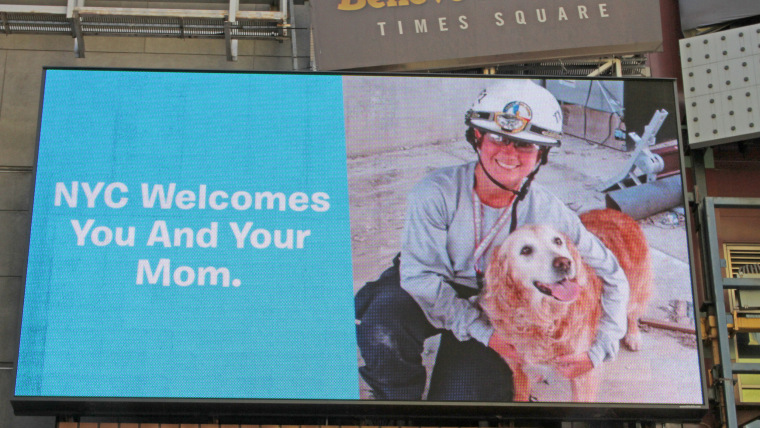 "It was really surprising and very touching to see how many people were involved and excited about her coming back to New York," Bretagne's longtime handler and owner, Denise Corliss of Cypress, Texas, told TODAY. "Of course, it's not just about Bretagne. It's about the love and support that New York showed for those who responded to 9/11. She's kind of a symbol of that."
"People we met on this trip were very emotional and very nice to us," she said. "People were hugging her, and some were crying."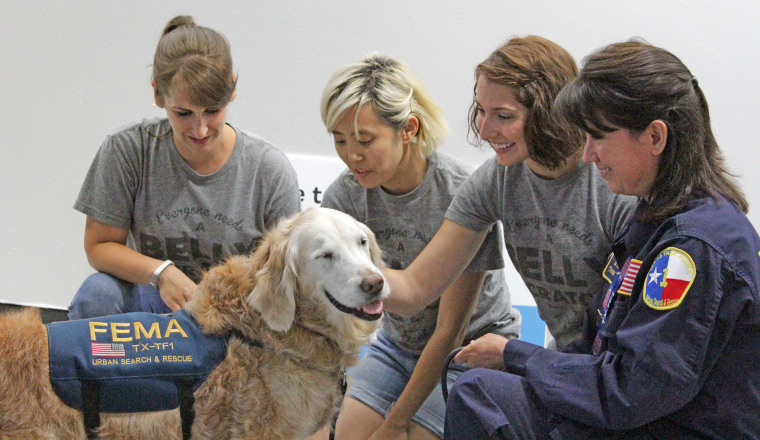 Bretagne made national news last year when, at age 15, she returned to Ground Zero with Corliss for the first time since the 2001 terrorist attacks. NBC News' Tom Brokaw interviewed Corliss at the 9/11 Memorial and also spent time with Bretagne, who was a 2014 finalist for the American Humane Association's annual Hero Dog Awards.
During that visit, Corliss cried as she beheld the 9/11 Memorial's enormous waterfalls and reflecting pools, which are surrounded by bronze panels bearing the names of the nearly 3,000 people killed in the attacks.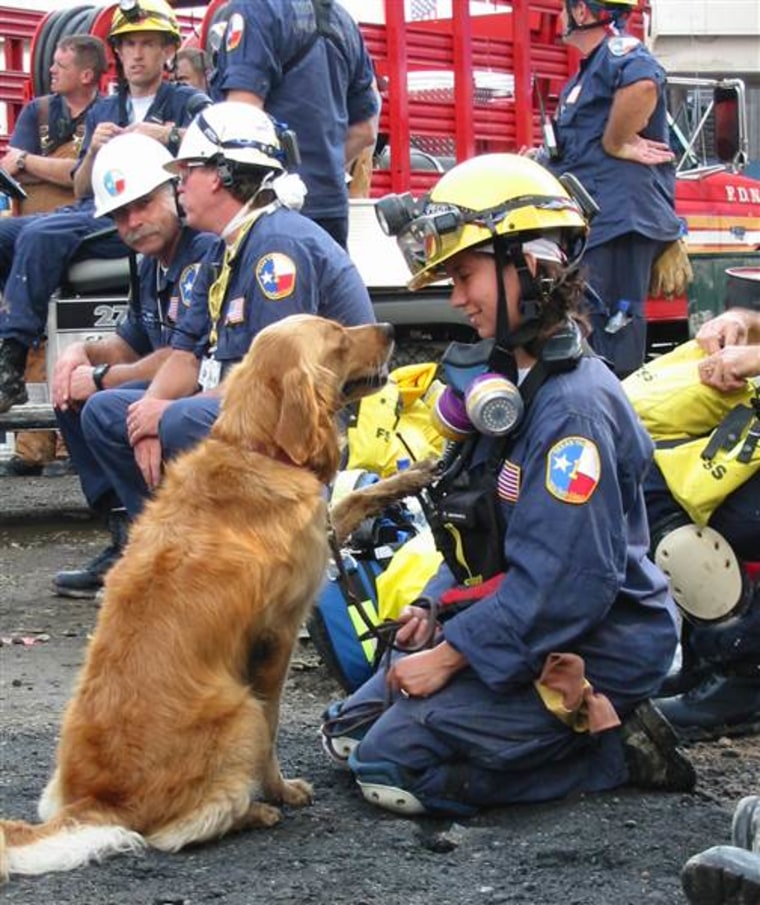 "Seeing this kind of took my breath away a bit, similar to how the pile was the first time I saw it," Corliss said at the time. "It's so calm and peaceful now, unlike the chaos of before."
RELATED: 9/11 search dog from Ground Zero still lends a helping paw
Corliss found herself wiping tears away again during this year's much more relaxed trip to New York. Her husband, Randy Corliss, 49, said he could tell how grateful his wife was.
"When they had us look up at that big display (in Times Square) and we saw those beautiful pictures presented up there for Bretagne and Denise, I thought, 'Uh-oh! Here comes squirt time for Denise,'" Randy Corliss said. "It tends to happen at this time of year."
Today, Bretagne represents the rarest of breeds: All of the 300 or so known search dogs who worked the pile at Ground Zero have died, including Woody, a dog featured in TODAY's coverage last year.
Another search dog from 9/11, a 16-year-old English springer spaniel named Morgan, worked at Staten Island after the terrorist attacks and is still alive today, said Dr. Cindy Otto, a veterinarian who provided on-the-scene medical care for 9/11 search dogs and has been tracking their health ever since.
"It warms my heart that both Bretagne and Morgan are still with us almost 14 years after their heroic work in the 9/11 response," Otto said.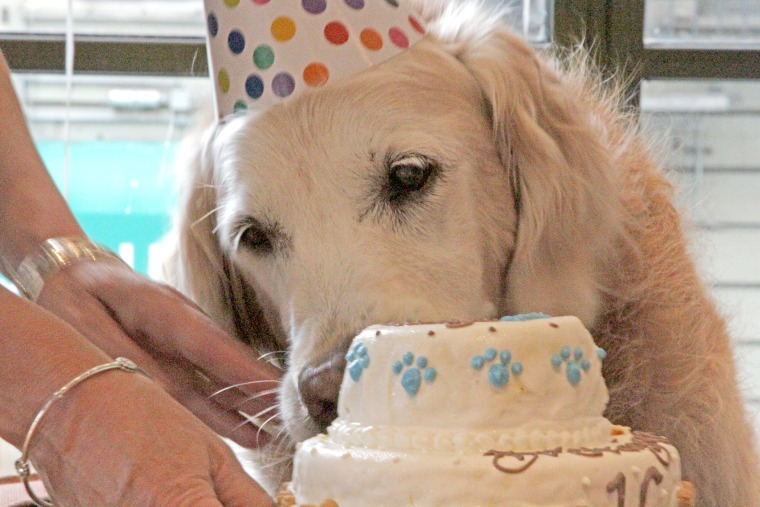 Bretagne's birthday celebration included a $1,000 donation in Bretagne's honor from 1 Hotel Central Park to Texas Task Force 1, which trained Corliss and Bretagne and sent them to Ground Zero for their very first deployment together. The day also included a romp in the fountains at Hudson River Park, where Bretagne splashed with glee and relished catching a tennis ball in her mouth before being presented with "the bone to the dog park."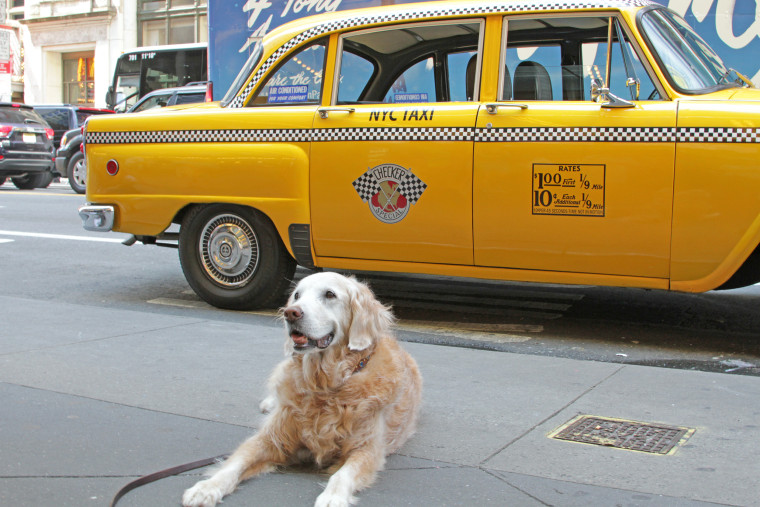 "I'm just so grateful for everything people did for us — and for Bretagne still being here with me," said Denise Corliss, 51. "I know I'm on borrowed time in a sense because of her age, but I'm so grateful that she's still here and we're still having such a good time together."
Bretagne's life story is featured in the non-fiction book "My Old Dog: Rescued Pets with Remarkable Second Acts," written by Laura T. Coffey and with photographs by Lori Fusaro. Bretagne's chapter includes comments from NBC News' Tom Brokaw and exclusive photographs of the search dog at the 9/11 Memorial.
Connect with TODAY writer Laura T. Coffey on Facebook, Twitter and Google+ and at MyOldDogBook.com.