It's not unusual to find housing rentals with pet restrictions. It is, however, extremely unusual to find a landlord who will only rent to tenants who have big dogs, especially pit bulls.
Jade Rouzeau doesn't have anything against Chihuahuas or cocker spaniels. But she'll only rent her remodeled three-bedroom home in Jacksonville, Florida, to families with big dogs. They get extra points if those dogs are pit bulls.
"People who contact us about our rental are often in disbelief, thinking that our requirement is too good to be true," Rouzeau told TODAY in an email.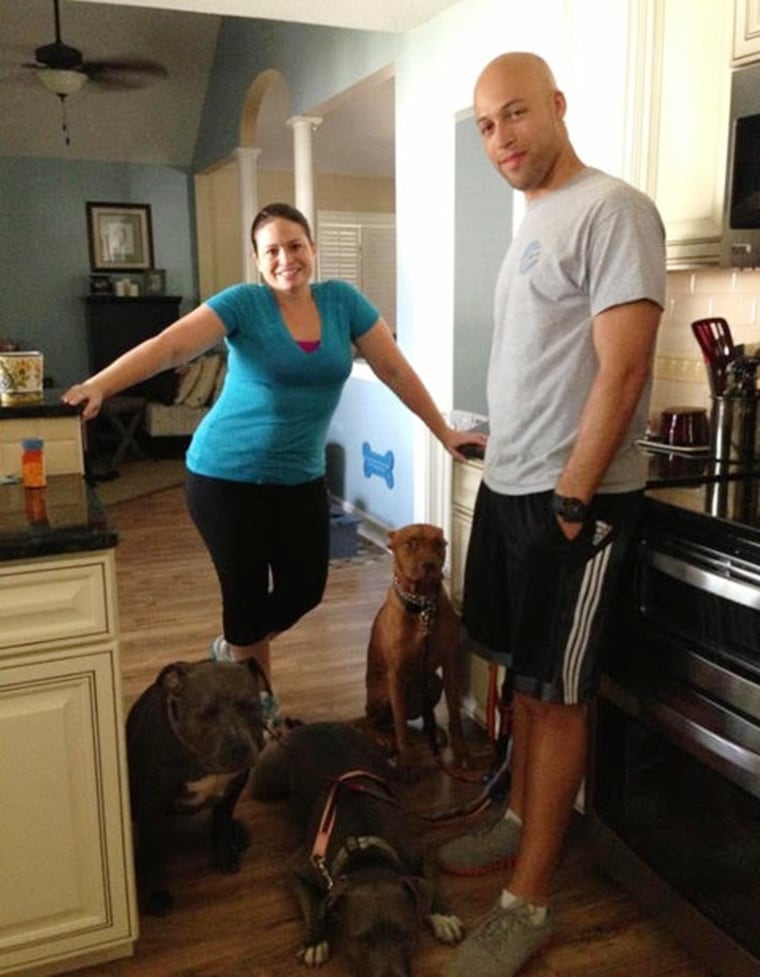 Rouzeau is a dog rescuer and real estate agent, with two pit bulls of her own. She is renting out the house because her husband, Greg, is a chief petty officer in the Navy who was transferred to Norfolk, Virginia.
RELATED: 'Smiling' dog allowed back home despite town's pit bull ban
While finding any kind of pet-friendly housing can be a challenge, Rouzeau figures that small dogs, and their owners, don't have that much trouble finding a place to live — and therefore don't need to be renting from her.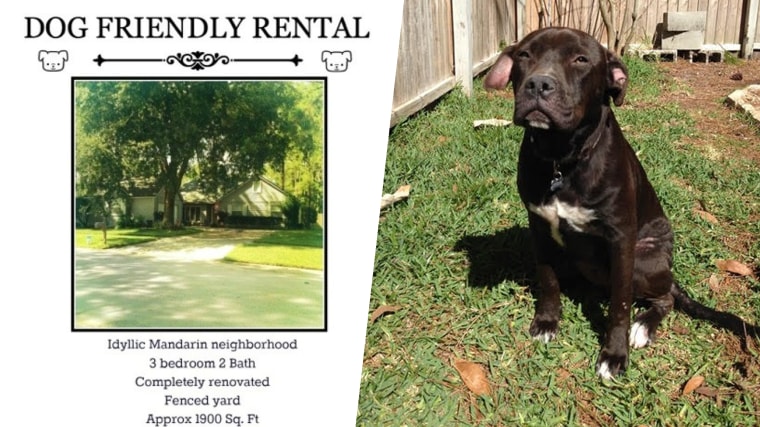 "While we appreciate their interest, we politely decline to rent to them," Rouzeau said.
RELATED: Pit bull rescued from abuse gets showered with love from the police who saved her
Throw a pit bull, rottweiler, husky or other type of dog often found on "restricted breeds" or "dangerous breeds" lists into the mix, and options become almost negligible. This remains true, despite ample evidence showing that a dog's breed is not related to how dangerous that dog is.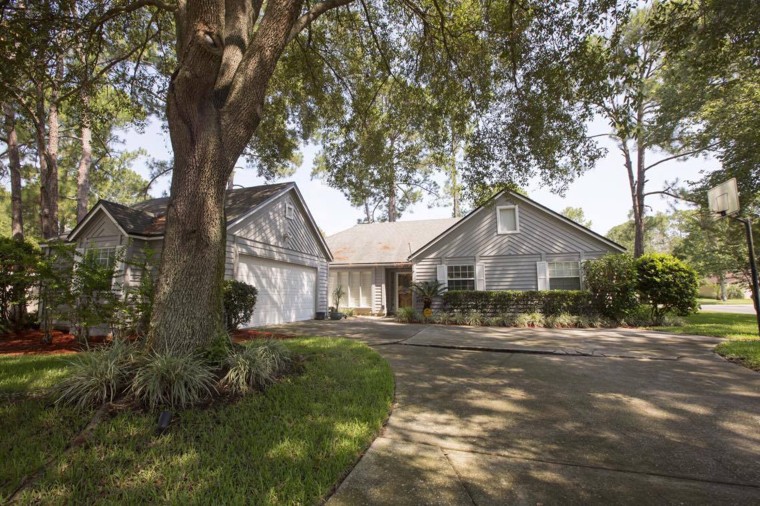 The Minneapolis-based nonprofit My Pit Bull Is Family maintains a database of pit bull-friendly housing across the country. Prior to Rouzeau's house coming up for rent, the database had just two listings in Jacksonville that would accept all types of dogs.
"It's pretty uncommon," My Pit Bull Is Family executive director Shannon Glenn told TODAY.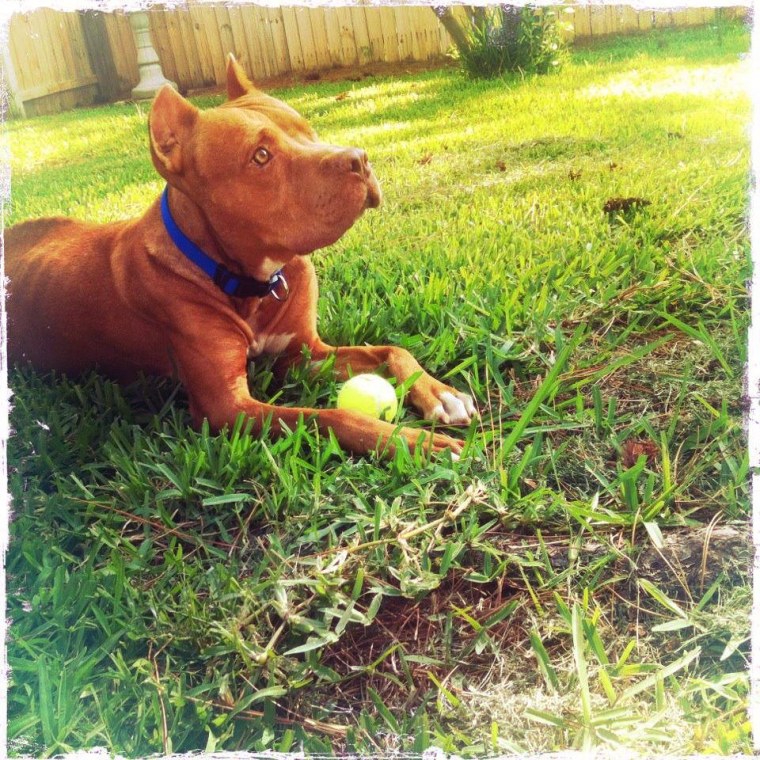 This scarcity of rentals, in turn, is a chief reason that people give up their pets to animal shelters.
RELATED: Abandoned dog waited a month for owners to return — until this man stepped in
"When landlords restrict pets, loving owners often relinquish their dogs to shelters or are faced with unnecessary evictions," said Lora Dunn, an attorney with the Animal Legal Defense Fund.
Rouzeau would like to help people and their pets avoid that terrible choice. She'd like to see other landlords follow her lead, and also open their rental homes to families with pits.
The volume of inquiries she receives, every time the house goes up for rent, suggests an enthusiastic, robust market.
RELATED: Mailman builds ramp for aging dog so they can continue their sweet daily greeting
"In addition to inquiries about renting the house, we get a flood of emails, texts and calls from people just thanking us for looking out for our fellow pit bull parents," said Rouzeau. "It's almost as though it's a secret society, an immediate understanding of what it's like to have one of these dogs."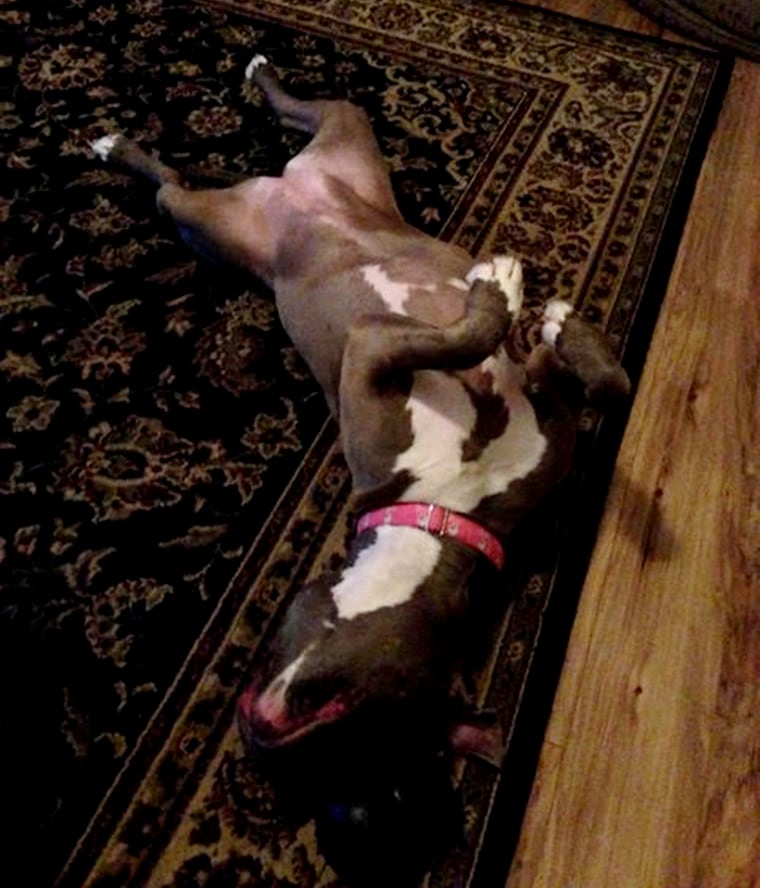 RELATED: Astronaut has 2 rescue dogs in official NASA portrait — and it's spreading joy
And if you're interested in the house, but don't currently have a pit bull — Rouzeau advises you to consider changing that, with the help of one of the terrific shelters and rescue groups in the Jacksonville area.
"I would tell them: Give these balls of love a chance," she said.