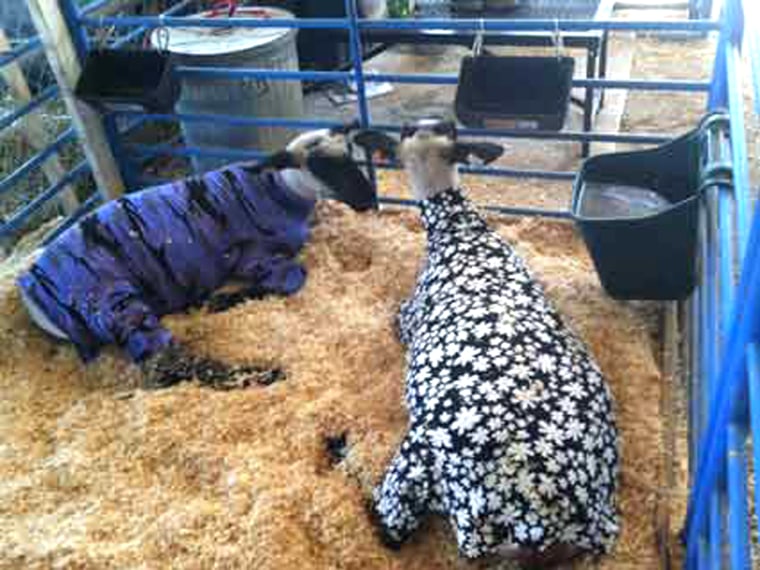 We've heard of rockin' pet accessories, doggie couture, and even sweaters for penguins. But thanks to Kiera Butler at Mother Jones, we're now tuned in to a county fair phenomena — "lambie jammies."
These homespun or purchased sweaters for fleecy folk generally pop up in the summertime, when many farmers compete in lamb and sheep shows at their state and local fairs. That's precisely the place where Kiera Butler spotted these popular pullovers for her article, "Beyond corn dogs: 6 things I learned at the county fair."
The garments come in all sorts of fabrics, from spandex to cotton, and keep show sheep looking immaculate while waiting around in their pens, says Betsy Freese, a commercial sheep farmer in Iowa and editor-in-chief of Living the Country Life magazine.
"You'll see lambs in all kinds of decorative designs, and some farms will have their own designs with the logo of their farm on them," added Freese, who has observed all sorts of creative patterns at the county fair where her daughter shows pigs, goats and sheep.
The sheep coat industry is alive and well on the Internet, but some prefer a funky, Cosby-esque look for their little lambs who wear their re-worked hand-me-downs. Sue Weaver, a contributing editor to the website Hobby Farms, also suggests making sweaters out of men's wool socks or a sweatpants' leg on her blog.
Although coats are indispensable come fair time, these jammies are more than just for show (and keeping clean). They're often used in cold climates for newborns not yet ready to face the frost. And sometimes little coats are a perfect fit for lambs who are losing the battle for mom's attention.
"We've had on our farm a set of quads, but it's unlikely that one ewe can nurse four lambs, so often you'll have orphans," Freese said. "You'll want to make sure they stay warm because they're just not getting as much nutrition. Some people will make coats for them."
But lambs aren't the only livestock requiring special, homespun apparel — kids have their own goat coats for wet and wintry weather.
Check out more lambie jammies and goat coats here. Or make your own with these instructions.
Danika Fears is a TODAY.com intern who wishes she too could hang out all day in her jammies.
More:
'Occupup': Dog joins protest at Zuccotti Park
Internet brings dog to devoted adoptive owner, 650 miles away
Orphaned beluga dies at Alaska aquarium