Julianne Hough's King Charles spaniel, Lexi, proves that the power of puppy love helps to heal physical and emotional pain.
Hough revealed on Instagram Friday that she underwent a second surgical procedure related to her chronic struggle with endometriosis.
Rather than spotlighting the pain of her unpredictable disease, Hough shared her gratitude for Lexi's constant, restorative love.
"My second laparoscopy for my Endometriosis was over the holidays and of course, who was right by my side? My guardian angel Lexi," Hough captioned a post-surgery photo with her canine companion.
The 29-year-old actress included two photos in her post: one from her first surgery in 2008 and a nearly identical photo from her latest surgery. In each snapshot, her beloved dog snuggles closely with her.
"9 years later and not much has changed ... except the size of her little head," Hough added.
The former 'Dancing With the Stars' pro was diagnosed with endometriosis at the age of 20. This past fall she opened up about her struggle with the painful and debilitating condition that affects an estimated 1 in 10 women.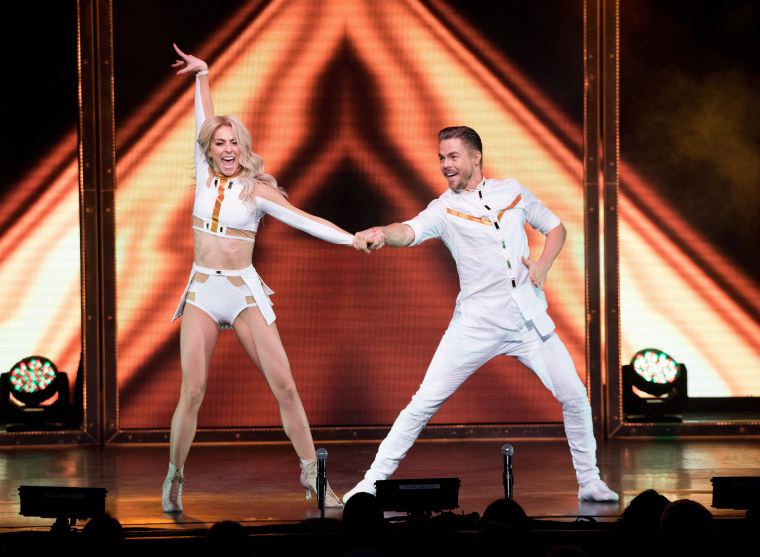 Other stars, including Lena Dunham and Padma Lakshmi also have the condition, and dog lovers everywhere share in the healing power of a puppy's compassion.
"Who else feels like their dog is their guardian angel?" Hough asked fans in her Instagram caption. Fans replied with their stories of hope and healing with the help of a furry friend.
Since going public with her diagnosis, Hough has learned to embrace self-care with the help of little Lexi.
"LEXI always knows when I'm sick, feeling sad, or when I need her, and I don't even know it," Hough wrote.