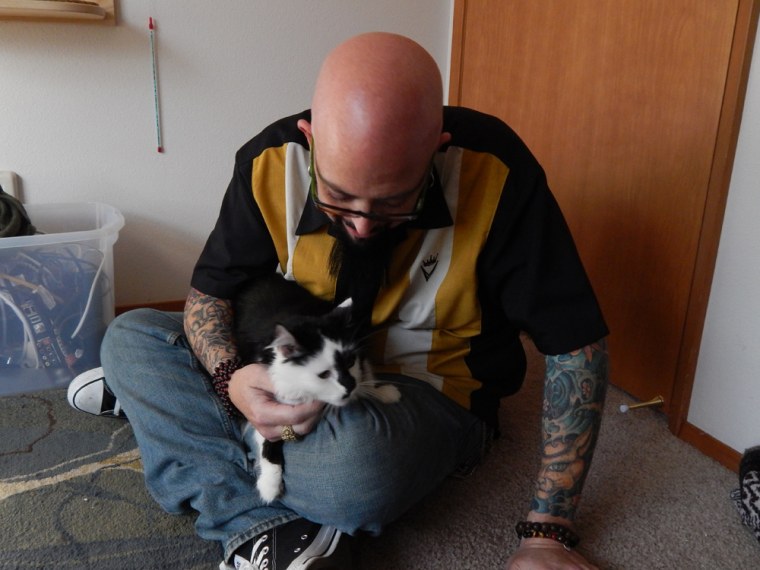 Who would call 911 on a family cat? It was a question that some asked after Lux, the 22-pound Himalayan who trapped his family in their bedroom, made headlines in March for behaving so badly that police officers in Oregon had to step in to help. 
But cat behaviorist and "My Cat From Hell" star Jackson Galaxy said he totally understands why Lee Palmer and Teresa Baker called 911 now that he's worked with the feline. His efforts to help Lux and the family will air on Saturday's special episode. 
"I would've said, 'Absolutely not' when I first met these guys," Galaxy told TODAY.com when asked whether it's ever appropriate to call 911 on a house cat. "I gotta say, at this point, I get it. I get why somebody would have."
Sign up for top Entertainment news direct to your inbox
Galaxy said he was perplexed when he first met Lux because he never saw the cat do anything wrong. "He was, like, the most loving, wonderful cat," he said, noting that it took a long time for Lux to exhibit any worrisome behavior to Galaxy. "But he's also not. And when the 'not' part emerges, it's a shock."
The cat behaviorist, who rarely seems rattled by the felines featured on "My Cat From Hell," said this was "the most challenging" and "the most frustrating" case he's worked on in his 20-year career. "This cat had me over a barrel," Galaxy confessed.
According to Galaxy, "Lux is challenged internally. ... He is physically really challenged. Emotionally challenged. At the end of the day, he was put in this situation that raised that challenge level to red flag. It was a lot of wrong place, wrong time." He promised that the episode will explore what those issues are.
Though his show often offers tips on how to resolve various issues with felines, Galaxy said this particular case also will challenge viewers' preconceived notions about Palmer and Baker — and the cat — based on news stories.
"You have to forgive what Lee says in the heat of the 911 call," Galaxy said of the owner's admission to kicking Lux after the cat scratched his toddler. "I spoke to a lot of dads who said, 'In the heat of the moment, I might've done the same thing. If the cat is striking my child until the child bleeds, what would you do?!' And I was hard pressed at that moment, even being who I am. Those are the things that I beg the public to consider when watching this episode."
The cat behaviorist said he spent more time working on this case than he usually does with other families who need his help, and he even had to put some of his theories to test. Through it all, Galaxy said Palmer and Baker were receptive to what he refers to as "homework" to fix the situation. In fact, he said the family had to go beyond the assignments he usually gives.
"They had to make some very tough decisions ... even though it was very challenging to them," Galaxy said. "They always kept their cat's needs ahead of theirs."
Despite the effort Galaxy has put into helping Lux and the family, the work is ongoing and fans may see more of the kitty on future episodes. "I'm not done," he said of his work with the Himalayan. "It ain't over until the fat lady sings, and the fat lady has not sung yet."
"My Cat From Hell" airs Saturdays at 8 p.m. on Animal Planet.