By the time Betty Walter was rescued from the havoc wreaked by Hurricane Harvey (now a tropical storm), she and her dogs had been in her attic for 14 hours as they tried to stay safe with the water rising in and around her one-story home in southeast Houston.
The 44-year-old animal rescuer had 20 dogs in her care: four of her own, and the rest belonging to friends and neighbors, as well as some fosters she'd been taking care of while they awaited adoption. There were others she'd wanted to rescue still — dogs she heard crying but she couldn't reach as the flooding got worse.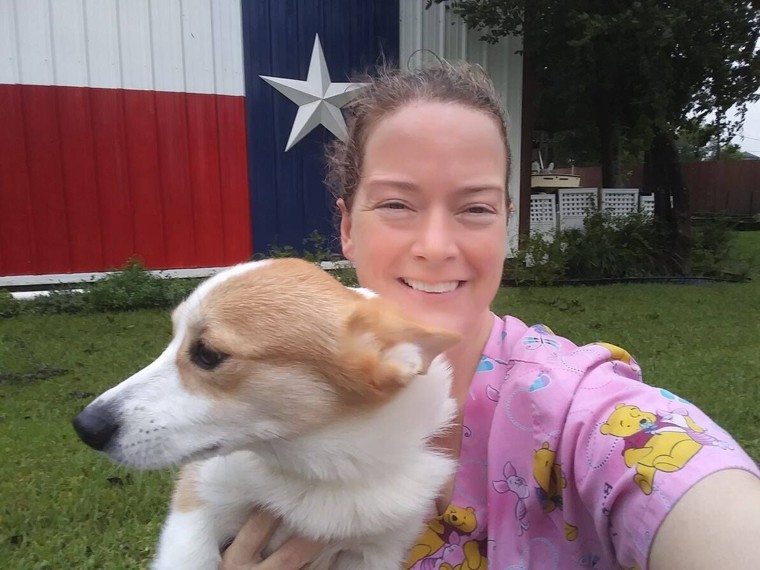 When first responders first came down her street to get people out of the flooding houses early Sunday morning, the boats were so full there was only room to take people, not pets. Walter, who works three jobs to support her animals, declined the help.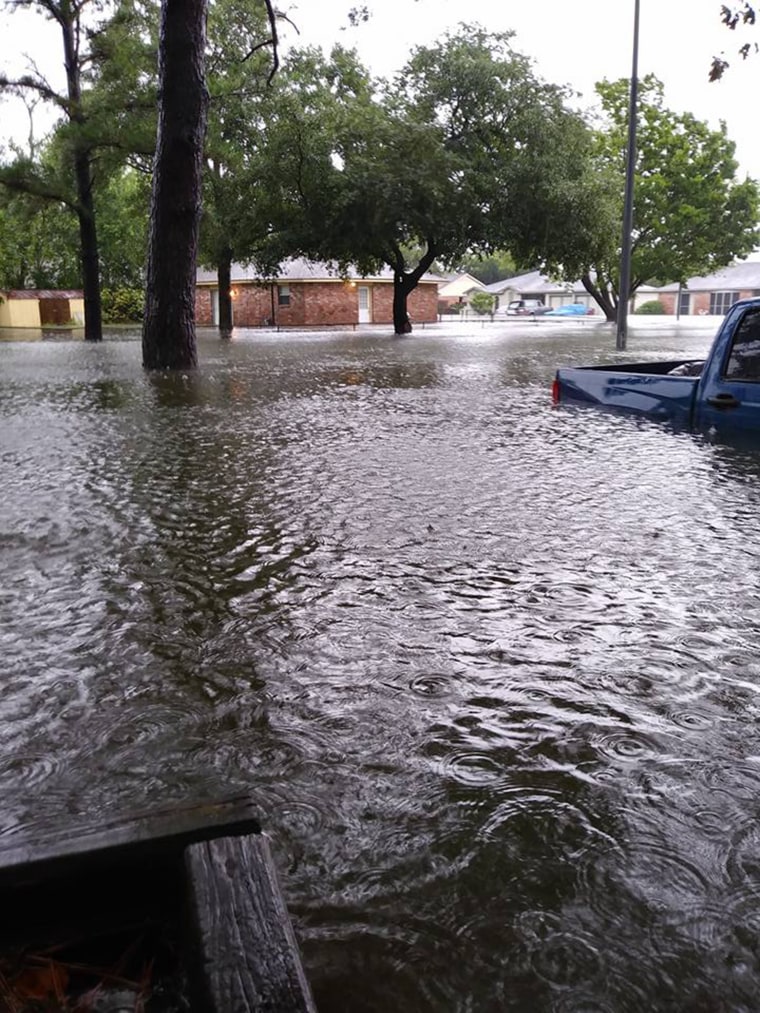 "I was not going to leave the dogs," Walter told TODAY. "These little pets were depending on me to take care of them."
It was difficult getting all the dogs up in the attic with her. While some were small and easy to lift, there was also a 120-pound Great Pyrenees for whom Walter had to fashion some impromptu stairs.
And still, "the rain wasn't stopping, the water kept on creeping," Walter said.
She began to worry about becoming stuck. She imagined her phone dying, and the food and drinking water running out while the floods kept rising.
Like so many others, Walter put out messages on social media about her need for rescue. "I was pleading not to be forgotten," she said.
About 3 p.m. on Sunday, in a remarkable twist of luck, the perfect help arrived.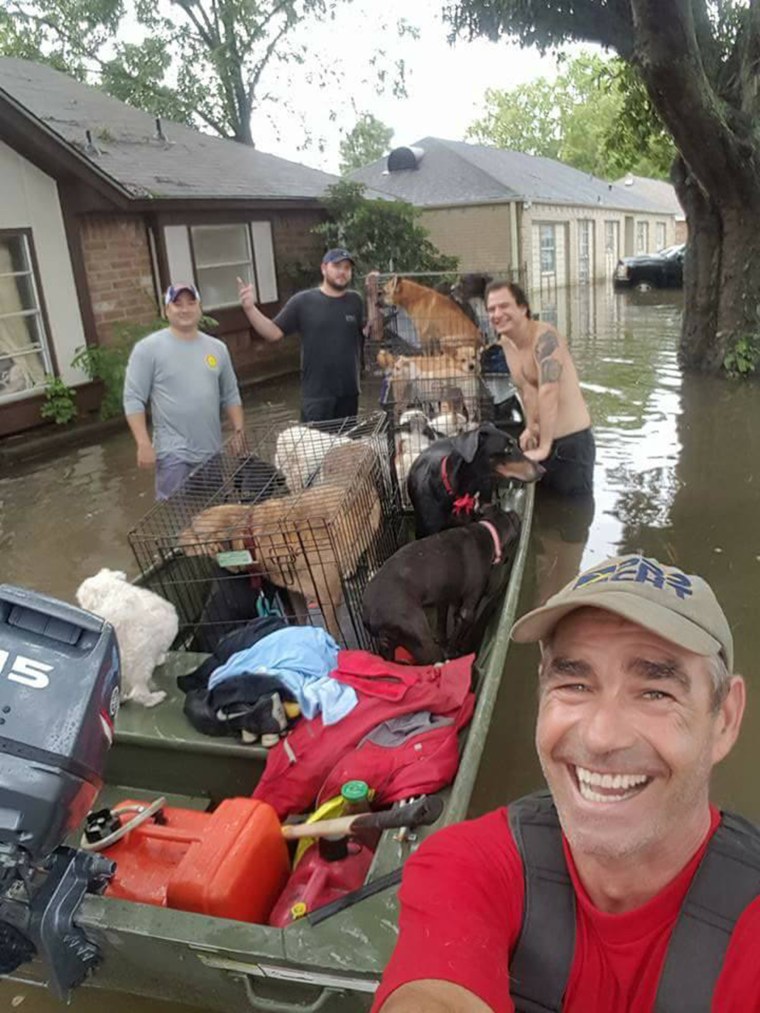 Buck Beasley headed out to Walter's neighborhood that day in his flat-bottom boat to rescue a woman he'd been told about who had sensitive medical equipment that couldn't get wet. By the time he got there, though, the woman had already been saved.
So he decided to see who else in the area might need his help. Along the way, he met up with Jeremy Williams and Anthony Hernandez, who were also out searching for those who needed rescue.
The three canvassed the neighborhood and found a man who was stranded with his Doberman. They were welcomed aboard.
Then Williams went around a corner and found Walter. They spoke through a window. Williams invited Walter to come out onto the boat. She seemed reluctant, he said. "She was like, 'I have a lot of dogs.'"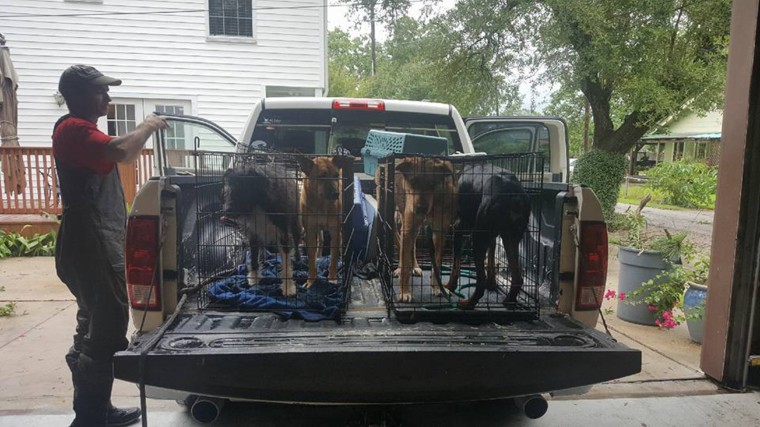 "I said it's OK, we'll load them up, too," he said.
The dogs were placed on the boat. The humans walked alongside. The water was so deep in some places that Walter's feet barely touched the ground.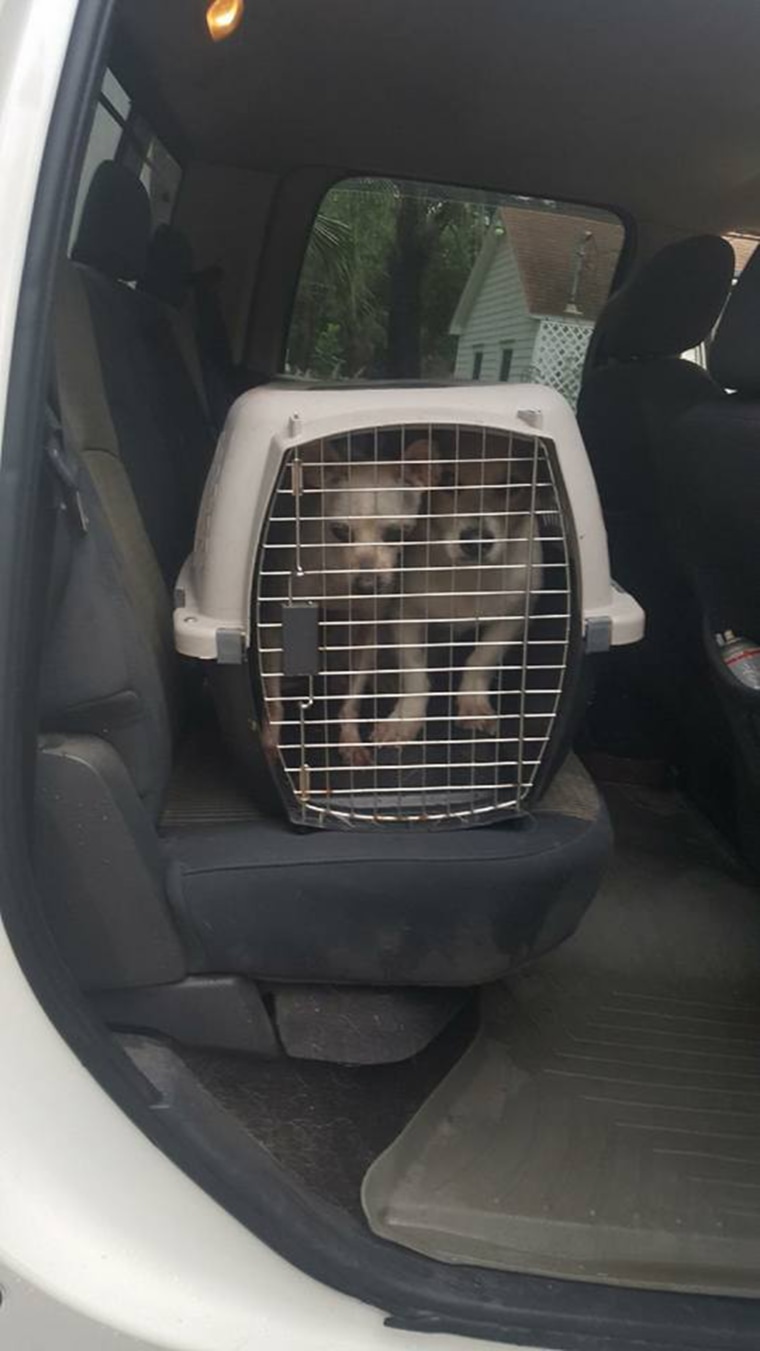 When the group reached dry land, the dogs were loaded up into Beasley's truck, and so were the people. They traveled the 20-odd miles to Beasley's home, located in an area with a lot of rain but no flooding.
Beasley's wife, Amy, got a call from her husband along the way, saying he had two people and a truckload of dogs coming. That sounded great to her; she and her husband are volunteers with the group Bay Area Pet Adoptions. They've been going out and getting goats and dogs and other at-risk animals out of the floods since they began.
RELATED: How to help animals affected by Hurricane Harvey
And they'd actually set aside a whole structure on their property for homeless dogs to ride out the storm, but then all the dogs went into foster homes.
"Everything just came together," Amy Beasley said. "How many times have you said, 'I wish I could do something?'...You're not often presented with an opportunity you're so well suited for."
The four people and now two dozen dogs are all still at the Beasleys' home, waiting for the devastated region to become livable again. Neighbors, who brought bags of clothes for Walter to wear, have also been coming over to help out with all of the dogs.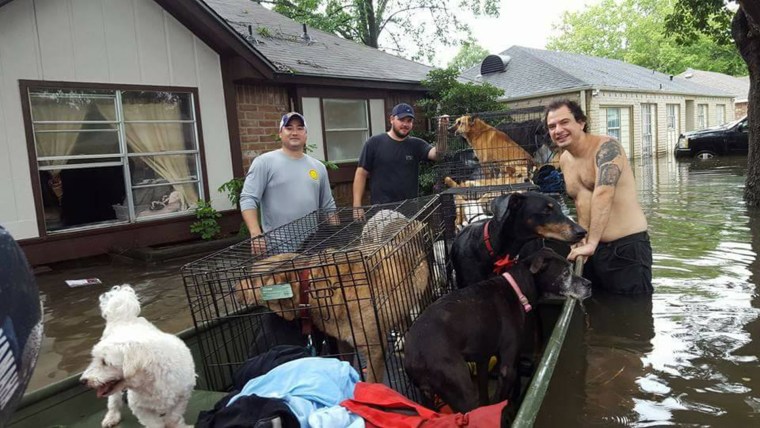 "Everyone's just been wonderful," said Amy Beasley.
Walter is eager for the rain to end, even though she knows there are hard times ahead.
"I'm broke, and I have no flood insurance," she explained.
But Walter is not asking for donations. Instead, she asks those wanting to help to contribute to Bay Area Pet Adoptions or Mutts & Meows, a local rescue group for which she's a volunteer. Walter's immediate needs are covered. The dogs are with her, safe and comfortable — all 20 of them.
"I can't ask for anything more," she said.