Mark Woods of Cornwall, England, loved his 18-year-old whippet named Walnut. So when it came time to put his beloved puppy down, he wanted to do something special on their last day together. Woods decided on a final walk along the beach.
Walnut came into Woods' life when he was 35 years old. "I was searching for some emotional direction at that time of my life as I was really not too great at holding down relationships," Woods, now 53, told TODAY via email.
For years, Walnut had been Woods' constant companion, calming nervous divers at the scuba diving center Woods owned, and chasing thousands of squirrels through London parks. When they moved to Cornwall in 2012, Woods and Walnut would frequently walk up and down Porth Beach, so one last walk seemed a fitting way to celebrate his life.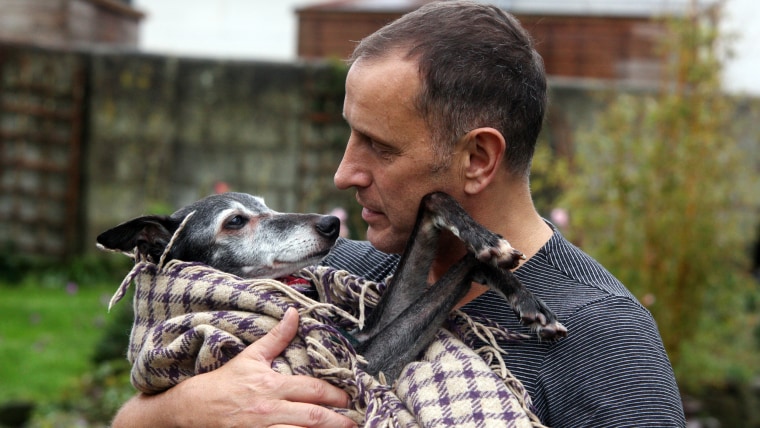 RELATED: Owner takes terminally ill dog on bucket-list adventure to make happy memories
"He always loved getting his feet wet and having his toes in the sand," Woods said.
Woods put the call out on Facebook, asking anyone in the area to join in Walnut's final walk. When Saturday morning came, he was shocked to see such a large crowd gathered.
RELATED: Maid of honor carries bride's dying dog down aisle in beautiful ceremony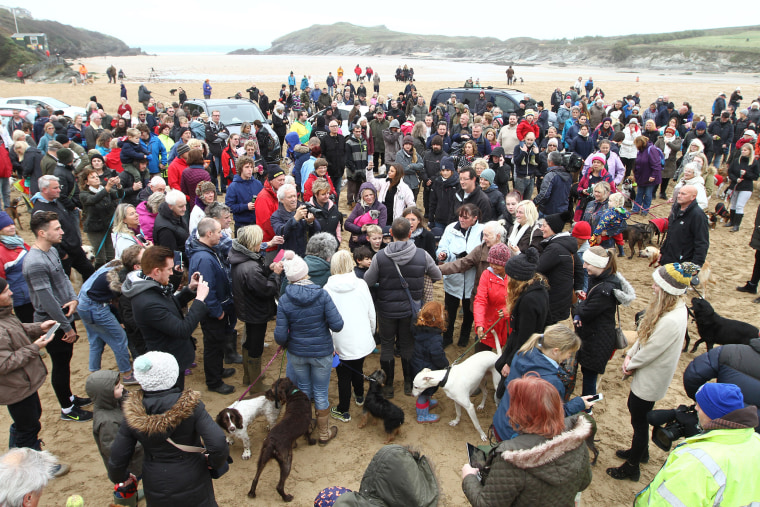 "It was an incredibly humbling experience for me," Woods said. "I had no idea anyone would come ... (so) as I approached the beach and saw the huge crowds on the beach, it dawned on me that something special was unfolding for Walnut's last walk."
RELATED: A terminally ill dog has an 'awesome final ride' thanks to owner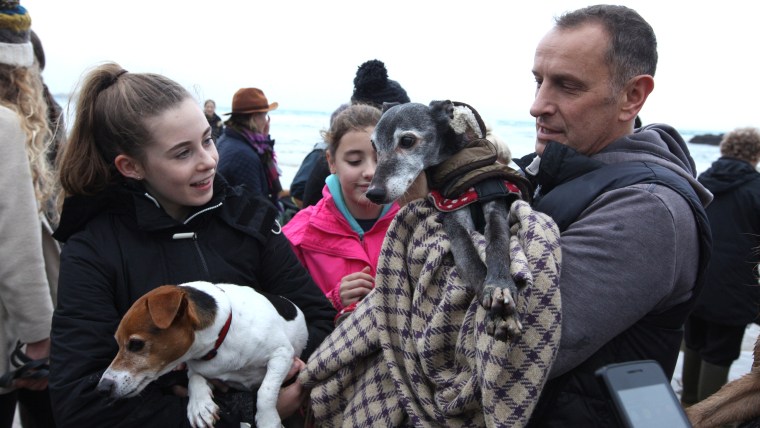 Woods carried the tired pup most of the way, but Walnut was able to walk around for a bit and play with the many dogs who came to the beach to celebrate his life.
"He was very calm and seemed happy to me," said Woods, "but he also looked so very tired and I believe ready for his final walk to heaven."