The adorable "hugging dogs" that warmed hearts this summer after being rescued from a kill shelter have found a permanent home!
Kala, an 11-month-old hound mix, and Keira, a 1-year-old boxer, have been adopted into a home after they were rescued from a rural Georgia shelter in July, only two hours before they were to be euthanized.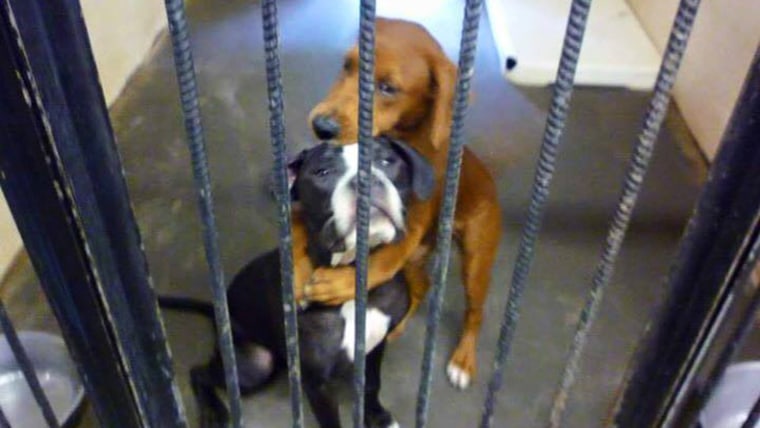 The organization Angels Among Us Pet Rescue announced on Facebook Monday that the two pups have been adopted by a woman who recently lost her two elderly dogs and had read about Kala and Keira's story.
RELATED: George and Amal Clooney adopt a rescue dog
"It just fell together," their new owner told Angels Among Us. "We turned our tears into smiles with these two young, playful dogs."
A picture of the dogs that showed them appearing to be hugging was posted by Angels Among Us on Facebook in July, sparking an outpouring of emotion.
The snap also raised nearly $4,000 in donations to help pay their medical expenses.
Keira and Kala were strays before admitted to the Georgia shelter, where animals are typicall held for three to seven days before being euthanized
Angels Among Us worked with Etowah Valley Humane Society to rescue the puppies and place them in foster care.
"All the good people made us forget the bad stuff that happened to us,'' Angels Among Us wrote in a "message" from the two dogs.
"Now here we are. A family and home to call our own. Thanks for sticking with us."
Follow TODAY.com writer Scott Stump on Twitter.