Super Bowl Sunday is just weeks away and that means one thing for animal lovers: the 16th annual Puppy Bowl.
The fur will fly when Team Ruff and Team Fluff compete for the Chewy "Lombarky" trophy Feb. 2 at 3 p.m. Eastern time on Animal Planet. Puppy Bowl XVI aims to be the biggest and most adorable game yet: 96 puppies will represent 25 states and three international locations: Toronto, St. Croix in the U.S. Virgin Islands and Cartagena, Colombia.
Fans will enjoy their favorite parts of the 2020 Puppy Bowl, including slo-mo replays and nose-to-nose action from the water-bowl and puppy-kiss cams.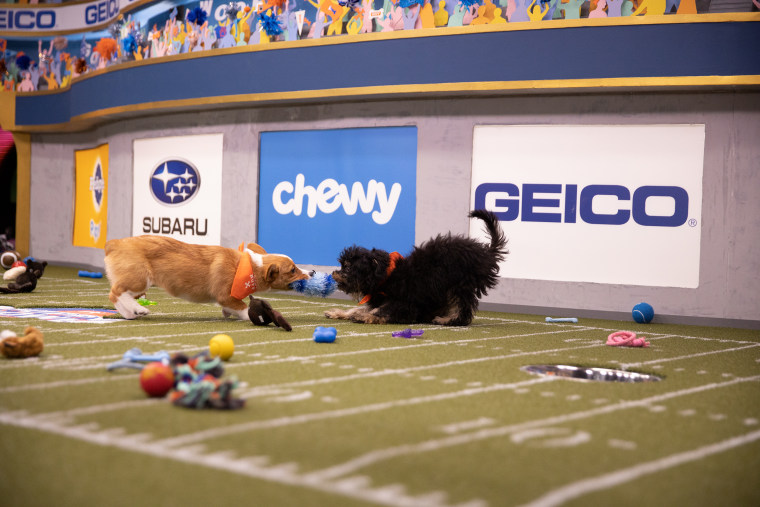 If you're watching this year's showdown with your pet, be sure to post a photo; you may be featured on Animal Planet's Instagram story during the game.
Four Furry Facts about the Puppy Bowl
In past years, 100% of the animals who participated in the bowl have been adopted to loving families.
This is the biggest game in Puppy Bowl history! Animal Planet worked with 61 animal shelters, representing more than 25 states, to fill the two team rosters with 96 adoptable puppies.
Puppy Bowl XVI will feature five players with special needs, including Ferris, a three-legged Labrador retriever mixed breed; two hearing-impaired pups, Kismet, a Great Dane, and Paprika, a Chihuahua mixed breed; Filbert, a Shetland sheepdog mixed breed who is blind and hard of hearing; and Rooster, an American Staffordshire terrier/bulldog mixed breed with a cleft palate.
To help celebrate its 16th year, the Puppy Bowl will feature all-new team colors, like "Bark Blue" and "Tail Mary Tangerine."
When is the Puppy Bowl XVI?
Puppy Bowl XVI will air Sunday, Feb. 2. The pregame show will start at 2 p.m Eastern time. The game is set to begin at 3 p.m. Eastern time on Animal Planet.
The Dog Bowl III, a one-hour competition for adorable and adoptable adult and senior dogs living in rescues and shelters, will take place Feb. 1 at 8 p.m Eastern time, also on Animal Planet.
How can you watch?
Fans of these cute canines can get an early look at the Puppy Bowl XVI pregame show Jan. 26 on Animal Planet GO, the network's mobile app. The actual game will also be available on Animal Planet GO and will be unlocked at 5 p.m. Eastern time.
The Puppy Bowl is Animal Planet's answer to the Super Bowl. Here is a very cute look at this year's furry lineup.