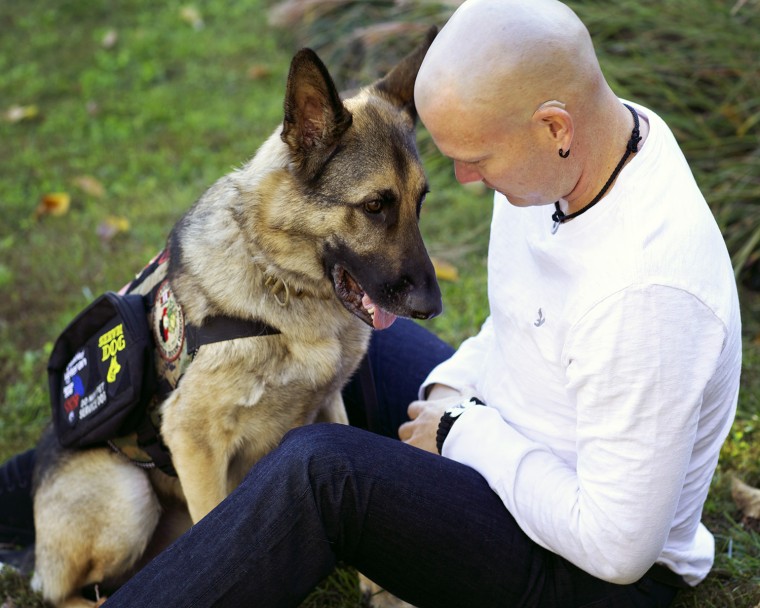 Captain Jason Haag served three tours of combat duty, leading Marine Corps troops in fighting across Iraq and Afghanistan. But his toughest battle, the one that nearly killed the Purple Heart winner, was simply coming back home.

Haag, who turns 34 on the Fourth of July, credits a specially trained service dog named Axel for helping him recover from post-traumatic stress disorder (PTSD), which afflicts an estimated 30 percent of America's war veterans. The symptoms include severe depression, anxiety, flashbacks and panic attacks related to the horrors of war and the difficulty of readjusting to civilian life.
"There's no doubt in my mind that if it wasn't for Axel, I'd be six feet underground now," said Haag, who lives with his wife, Elizabeth, and three children in Fredericksburg, Virginia. "I'd have become a PTSD statistic."
After his third tour of duty, Haag spent a year and a half locked up in his basement, the windows blacked out. He'd text his wife when he needed something. Suffering from nightmares and panic attacks, he received a medical discharge from the military for severe PTSD. Drinking heavily and on two dozen types of medication, he often turned violent — screaming at his kids, throwing things and once choking his wife.
"I was slowly killing myself with alcohol, prescription medications, isolation, anger," Haag said by phone. "My wife finally said, 'I can't do this anymore. You have one more chance. You have to find something that works.'"
At wit's end, Haag finally turned to K9s for Warriors, a nonprofit group based in Ponte Vedra Beach, Florida. The organization trains dogs rescued from local shelters to serve veterans with PTSD, one of whom commits suicide almost every hour, according to the Department of Defense.
Four or five veterans at a time stay at the group's headquarters for a three-week program aimed at training them to handle the dogs but also "breaking the pattern of fear" they're experiencing, says Shari Duval, founder and president of K9s for Warriors. "We make them part of the solution to their recovery, taking them out in groups from day one to places like Walmart and Target, where they'd never otherwise go," she says.

The group, funded by donors including The Annenberg Foundation and pharmaceutical company Bayer, pays for all expenses related to the program except travel costs to and from Florida. Vets only have to pay for the food and upkeep of their dogs once they go home.
To date, Duval says the program has graduated 127 "teams" with a 95 percent success rate, meaning the veterans have reengaged with families and society, returned to work and reduced medication by as much as 80 percent. Duval, the wife of pro golfer Bob Duval, started the program after her son Brett Simon, a bomb-dog handler, returned from Iraq with PTSD.
"I'd lost him," she said. "He was physically there, but it was lights out, nobody home."
Simon, a retired police officer, is now director of canine operations for K9s for Warriors, which is one of several groups that are using trained service dogs to help veterans recover from PTSD. Others include Guardians of Rescue, Canine Companions for Independence and the Sam Simon Foundation.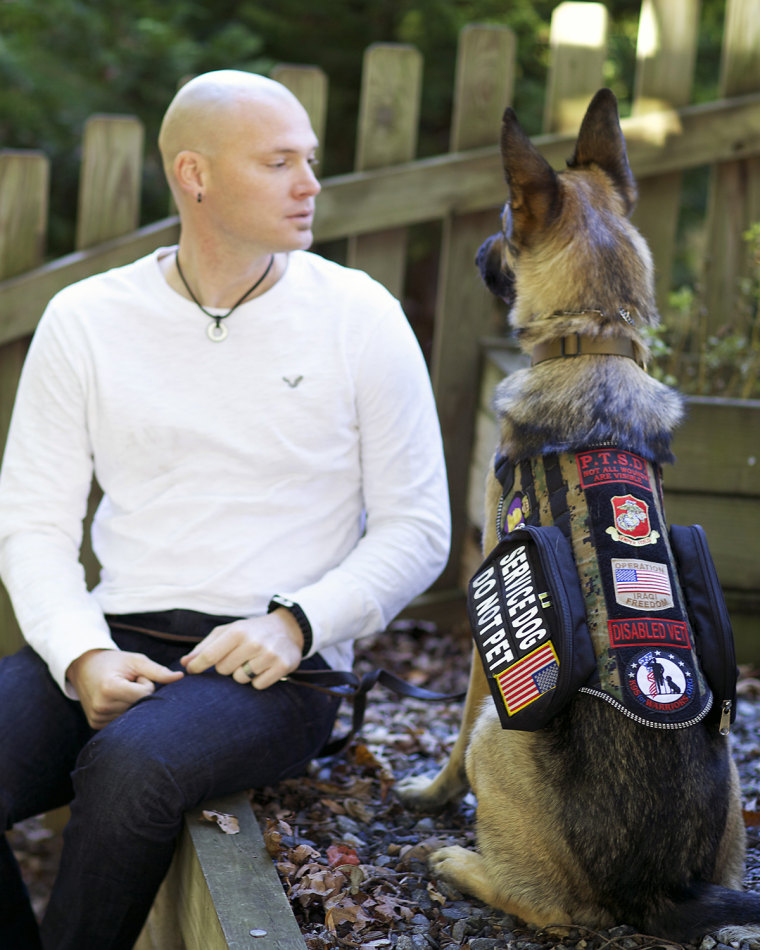 The dogs are trained to carry out specific tasks to lessen PTSD's symptoms, according to Simon. Besides the companionship and security they provide, the canines know how to perform "block and cover" moves to provide a sense of protection to veterans in public. The dogs can also sense and recognize panic and anxiety attacks, often helping to pull their masters back from the brink.
It's happened to Haag many times. His recurring nightmare goes back to the first man he killed in combat. In vivid color and detail, he can still see the face, the stare, the hair, the look of the man he faced down on his march to Baghdad.
It's those kinds of memories that haunt him. Back home one day in a shop, Haag got into an argument with a customer and blacked out.
"Next thing I knew, I was sitting outside next to my truck with Axel in my lap, licking my face," said Haag, who now serves on the board of K9s for Warriors in a bid to get out the message on PTSD and the benefit of service dogs. "Axel did as he was trained to, leading me out of the area, opening the door and sitting me down."
Things are night and day for Haag compared to before. He's engaged with his kids and saved his marriage. "I think I'll be in recovery for the rest of my life," he said. "But my goal now is just to save as many veterans' lives by spreading the word about service dogs and providing hope that there's a chance of recovery."