For Dr. Ashley Bourgeois, protecting pets from wildfire dangers is both a professional and personal concern.
The board-certified veterinary dermatologist and correspondent for the new platform TopVetsTalkPets practices at Animal Dermatology Clinic Portland in Oregon. The animal hospital is so close to two blazes that it had to close its doors early on Sept. 11 and didn't open at all yesterday because the air quality was so hazardous to the staff and pets inside and the clients waiting outside due to the coronavirus pandemic. Members of the staff developed scratchy throats and irritated eyes.
Plus, a little over a month ago, her family adopted a puppy.
"We obviously want the pets to be safe, so we want to limit their time outside," she told TODAY. "I can definitely speak to this as not only a veterinarian but an owner of a very energetic, excitable puppy, and now we can't really send her outside."
While pets can't exercise outside, she said it's important to find ways to keep them entertained at home. She suggested inviting a neighbor's pet over for an indoor play date, offering pets interactive toys like feeding puzzles, and playing indoor games, like using a laser pointer for cats and dogs to chase.
Of course, it's extremely important to be prepared to evacuate and to make plans to bring pets if at all possible. Sign up for emergency alerts with your county or state, and research pet-friendly hotels or reach out to family and friends who might be willing to help. Local animal shelters can also offer resources in case you have to leave.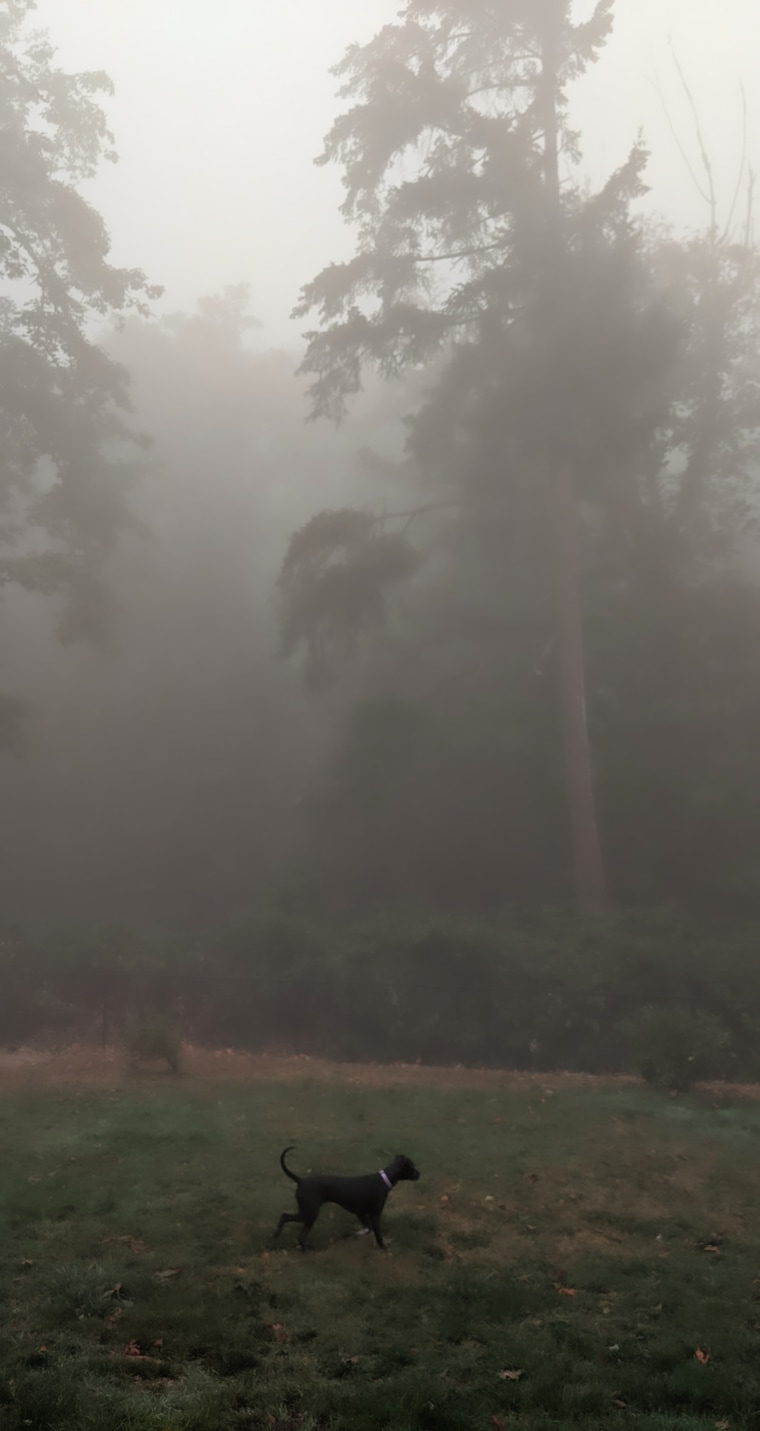 Dr. Bourgeois said two staff members at her practice have already had to evacuate their homes. She's been speaking frequently with colleagues about how to pull together a pet emergency kit, and said a packing list should include:
Bottled water for you and your pet, in case you end up in an area without tap water (or where it's unsafe)
Food dish (which can also be used for water)
At least a week's supply of food in a waterproof container — and if your pet eats canned food, don't forget a can opener.
First-aid supplies like gauze and antibiotic ointment
Medications (and a list of instructions in case you are separated)
A copy of your pet's medical records, including vaccinations and recent care or surgeries
Your veterinarian's contact info
A special toy or blanket that reminds your pet of home or gives comfort
Portable carriers for small dogs and cats
Sturdy harness, leash and collar
Litter box for cats
Plastic bags for waste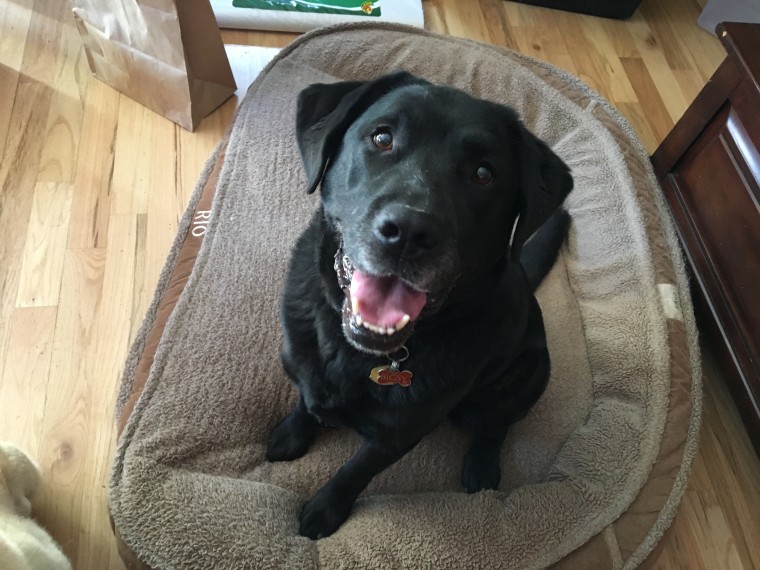 Bourgeois emphasized the importance of making sure your pet's ID tag and microchip information have your most current contact information in case you're separated. Consider adding a trusted person who doesn't live in your household as a contact to the microchip registry in case you wind up in an area without cell service or just can't be reached.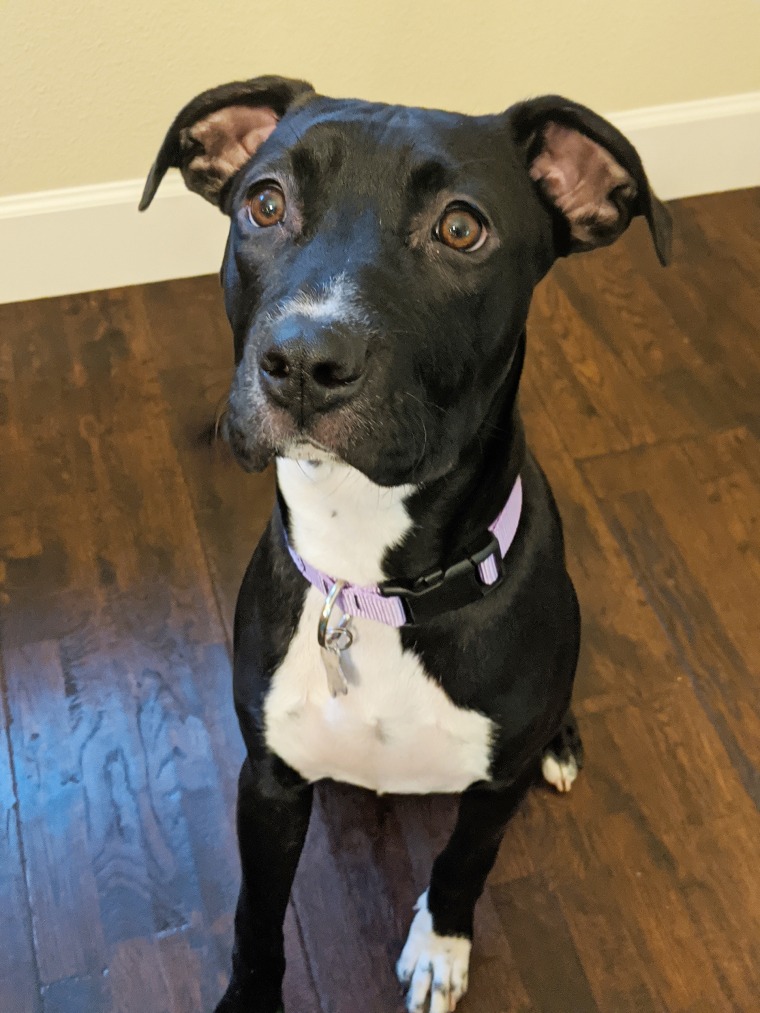 "Just having someone else that might know about your whereabouts that feels comfortable taking the pet, if they were to be found and you can't be contacted, can definitely be a good idea," she noted.
While it's ideal to evacuate with our pets, sometimes mandatory evacuation orders are issued while people are at work or away from home for some reason, leaving them unable to retrieve their pets. So Bourgeois suggests leaving detailed instructions at home about a pet's medications, feeding habits and any behavioral triggers, such as "dog aggressive" or just "severe anxiety."
She also recommends fixing a pet rescue sticker on a window on the front of the home to let firefighters know there are pets inside. However, if you evacuate with your pet, be sure to remove the sticker or write that you've evacuated with them to help keep first responders out of harm's way.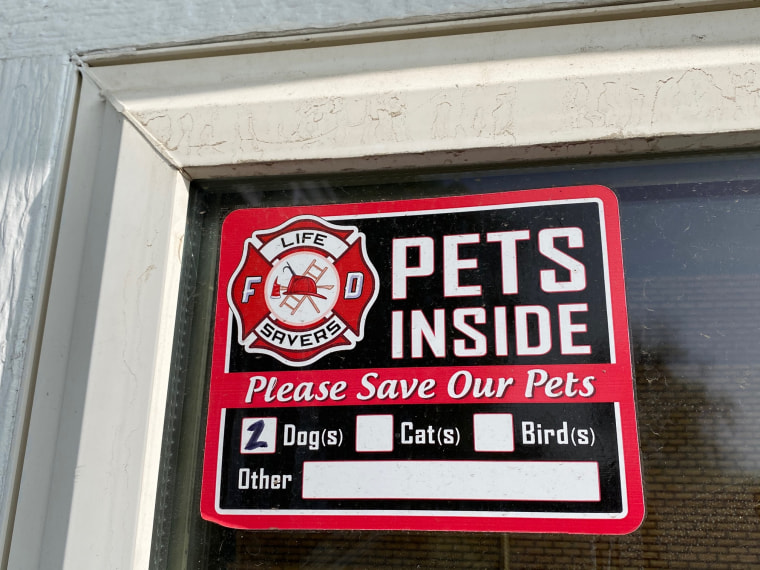 "The big thing is to be prepared even when you don't think you have to be," she said. "Nature and fires don't follow rules."
Dr. Justine Lee, a veterinary specialist in emergency care who practices at Animal Emergency and Referral Center of Minnesota (and also a correspondent for TopVetsTalkPets), has treated cats and dogs for burns and smoke inhalation from house fires.
"If you ever think your house is in danger, you always want to evacuate as quickly as possible, so you have to get creative," she told TODAY. "I've had cat owners who have been in apartment fires who get their cat out safely by just throwing their pet in an empty pillowcase and running out the door. Just make sure you're best prepared as much as possible."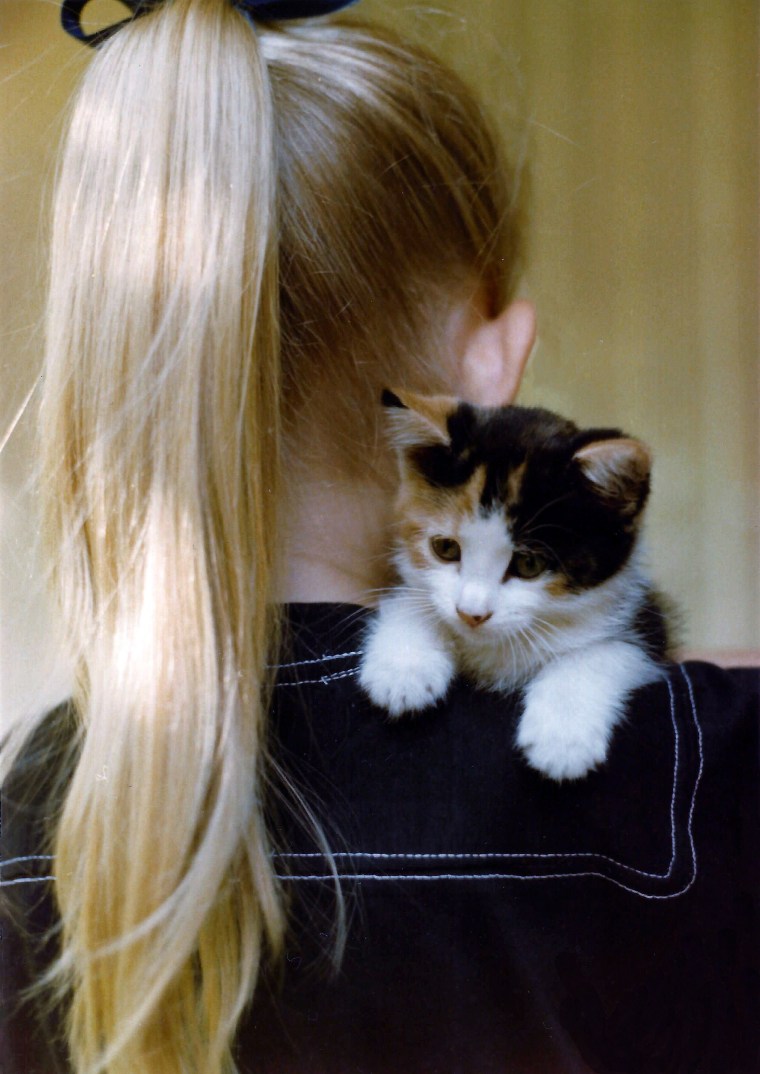 In areas where you can smell smoke from nearby fires, Lee said the biggest worry is lung damage. She suggests closing up the house, turning on the air conditioner and installing a HEPA filter in the room where you and your pets spend the most time. (Of course, make sure the smoke detector works, too.)
While birds are especially sensitive to smoky air because of their unusual lungs that have air sacs, dogs and cats might not show symptoms until the situation is severe. She said cats should never pant, so if you notice open-mouthed breathing, it's a warning sign, as well as any difficulty breathing, lethargy, coughing or foaming at the mouth. So if you smell smoke in their fur, it's better to be safe than sorry.
"When in doubt, you want to get to a vet," she said. "In the event that you think your pet was exposed to smoke inhalation, please: absolutely no masks on dogs and cats. Bring them to a veterinarian immediately for oxygen therapy. One of the biggest dangers we see is carbon monoxide poisoning from smoke. Just by putting them in oxygen, it gets rid of that carbon monoxide within 20 minutes."
Smoke exposure also causes inflammation to the upper airways and the nose, mouth, throat and trachea of pets. Long-term exposure can cause severe lung injuries and abnormal fluid accumulation.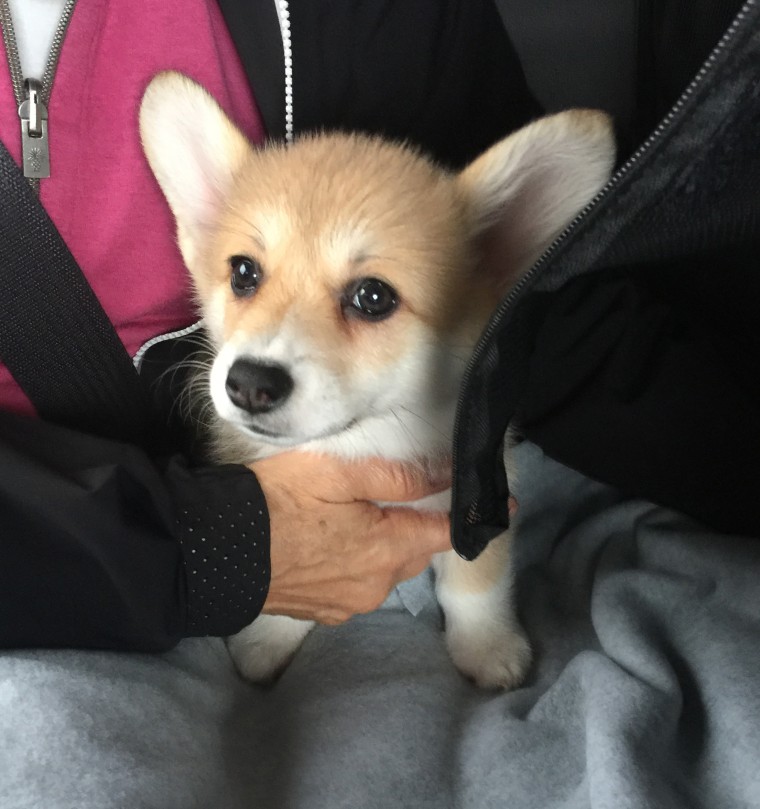 When pets are directly exposed to fire, they risk burns on their skin, fur, whiskers, paws and even the surface of their eyes — corneal burns — which can cause blindness if left untreated.
Still, Lee stressed that people should "never, ever" risk running into a burning home to try to save a pet.
"A lot of pets can escape on their own if they have the opportunity," she said. "Please be safe and never run into a house if you think that you're going to be in danger."
Lee said like many veterinarians, she feels empathy for everyone affected by the fires — both two- and four-legged.
"Any veterinarian out there, we all know how devastating these wildfires have been," she said. "We're obviously happy to help. If you find a stray pet with burns on it, please bring it to a veterinarian. We call those people good Samaritans, and we'll always take care of that pet."