Believe it or not, Wrangler wasn't the first four-legged friend to hold a job in the real world. In 1983, two Scottish fold cats in Minden, Nevada, took up a residence at the Douglas County Public Library and left their paw prints on more than just the bookshelves.
Now, their story — "The True Tails of Baker and Taylor" — gives a behind-the-scenes look at the lives of the two small-town cats that lifted up a community.
Beginning in 1978, former assistant librarian Jan Louch spent her days among the bookshelves at the Douglas County Library, where she worked for 18 years. In 1982, she noticed that the newly renovated space had fallen victim to a rodent invasion, and quickly suggested getting a cat to help alleviate the problem and protect the library's books.
Instead, they found two.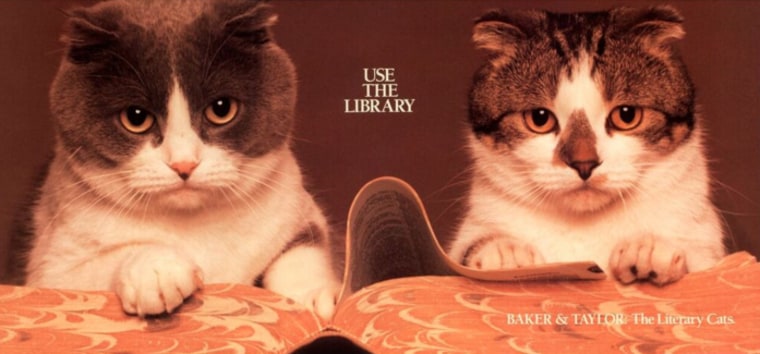 Louch credits the pair's unique sense of humor for making them so lovable. Quirky habits like sleeping in office supply boxes, dragging shoelaces across rows of books, and making themselves at home on the checkout counter put not only the office in a better mood, but the library visitors as well.
"They were kind of uncanny cats," Louch told TODAY. "But they were absolutely great, even though they were very different.
RELATED: These 6 'hero cats' saved the humans they loved
"I still miss little things about them, like petting Baker's extra soft fur. And Taylor — he would stare at me for hours. He was like Mr. Spock."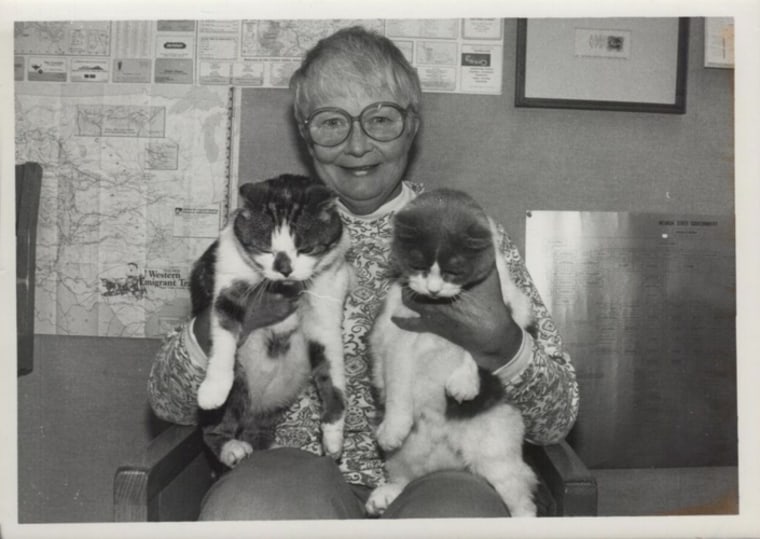 The library cats follow a long line of felines acting as guardians of literary works, a practice that dates back to the Middle Ages. For centuries, librarians all over the globe have been employing what they call "library cats" to protect rows of the most beloved stories from mice and other rodents that may physically damage the books. In fact, the New York Public Library's sculpted lions, who have been greeting patrons at its steps since 1911, symbolize the history of cats as protectors.
RELATED: 'Dewey' chronicles life of author, cat and town
Baker and Taylor, named after the world's largest distributor of book and entertainment products to libraries, quickly came to be the heart of the Minden community. But their reach expanded to epic proportions in 1988, when the supplier company, and their namesake, decided to make the pair the official mascot for the brand.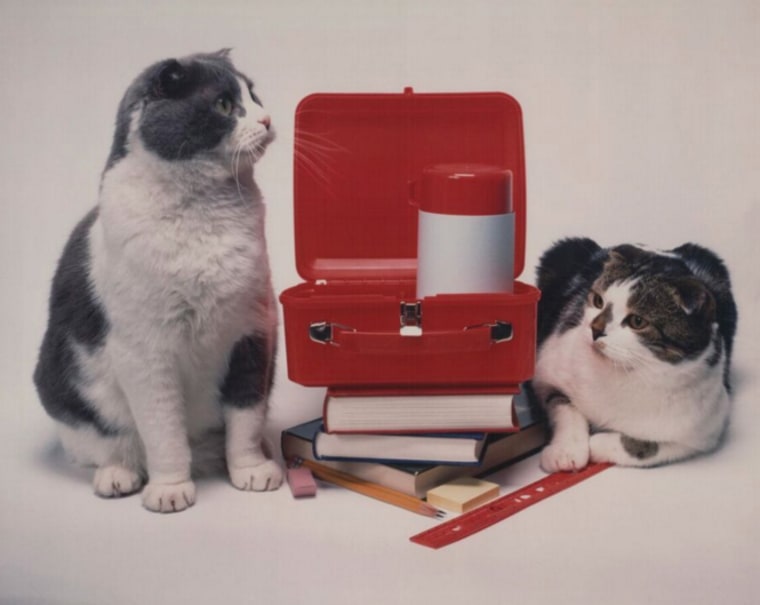 "It was kind of a shock, really," Louch recalled. "We knew we wanted to publicize them on their home turf, but when that first poster circulated 30,000 copies, it was shocking. It was like 'Wow, those are our cats."
All around the country, people began to fall in love with the two furry faces adorning their local libraries with posters and reader-friendly merchandise, so much so that visitors from the United Kingdom came to Douglas County for a chance to meet them. In Ohio, former second-grade teacher Leslie Kramm Twigg and her students formed the official Baker and Taylor fan club, even penning an original anthem to sing for the mousers.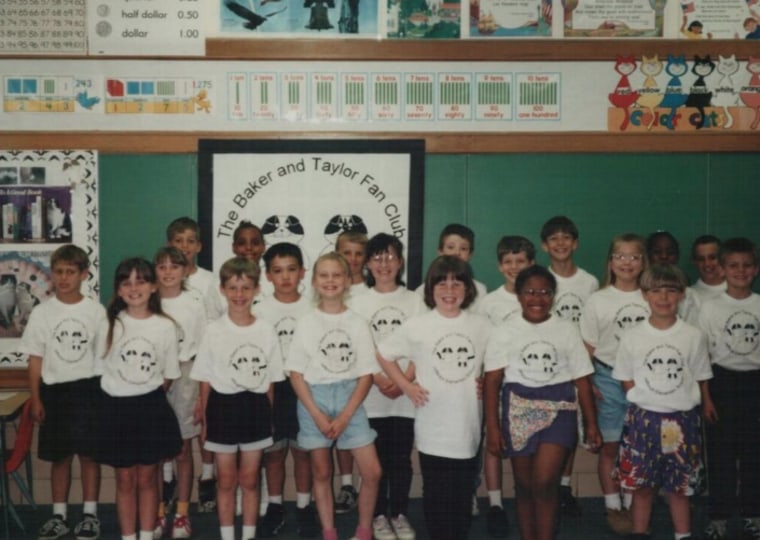 When co-author Lisa Rogak learned of the nationwide attention that Baker and Taylor had unknowingly captured, she knew that she had found a compelling story to tell.
RELATED: Kids feel comfortable reading aloud to shelter cats
"As a book lover, and someone who worked in publishing for so long, I always knew about the posters and the shopping bags that the cats were featured on, and most librarians of the '80s and '90s did, too," Rogak told TODAY. "But I had no idea how much these cats meant to the world until I went through Jan's archives and saw it for myself."
Indeed, to this day, three boxes of artifacts from Baker and Taylor's time as library cats still remain housed at the Douglas County Public Library.
RELATED: Watching funny cat videos at work can boost your productivity
"Jan saved everything about the cats," she told TODAY. "The shipping invoice for Taylor, notes about their daily habits, unseen photos from their ad campaigns, and even pen-pal correspondence between Baker and Taylor and their fans.
"It was just gold for me. Jan's memories really made the book what it is today."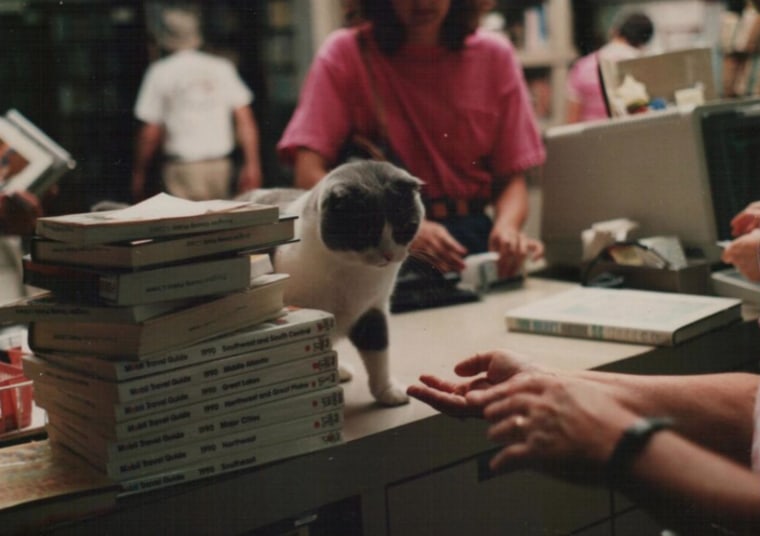 While Baker and Taylor passed away in 1994 and 1997, respectively, their pictures still appear on the wholesaler's merchandise, including tote bags, bookmarks, posters, calendars and other materials distributed at library trade shows and press events. Both beloved feline friends have been buried in front of the Douglas County Public Library with individual plaques to honor their memories.
RELATED: A librarian's 7 tips to get reluctant boys reading
Rogak, who worked closely with Louch over the course of two years, says she hopes that the book will shed light on the influence that an animal in the office can have on people, and how their presence can help us to live in the moment, especially in an age where technology has taken over our attention.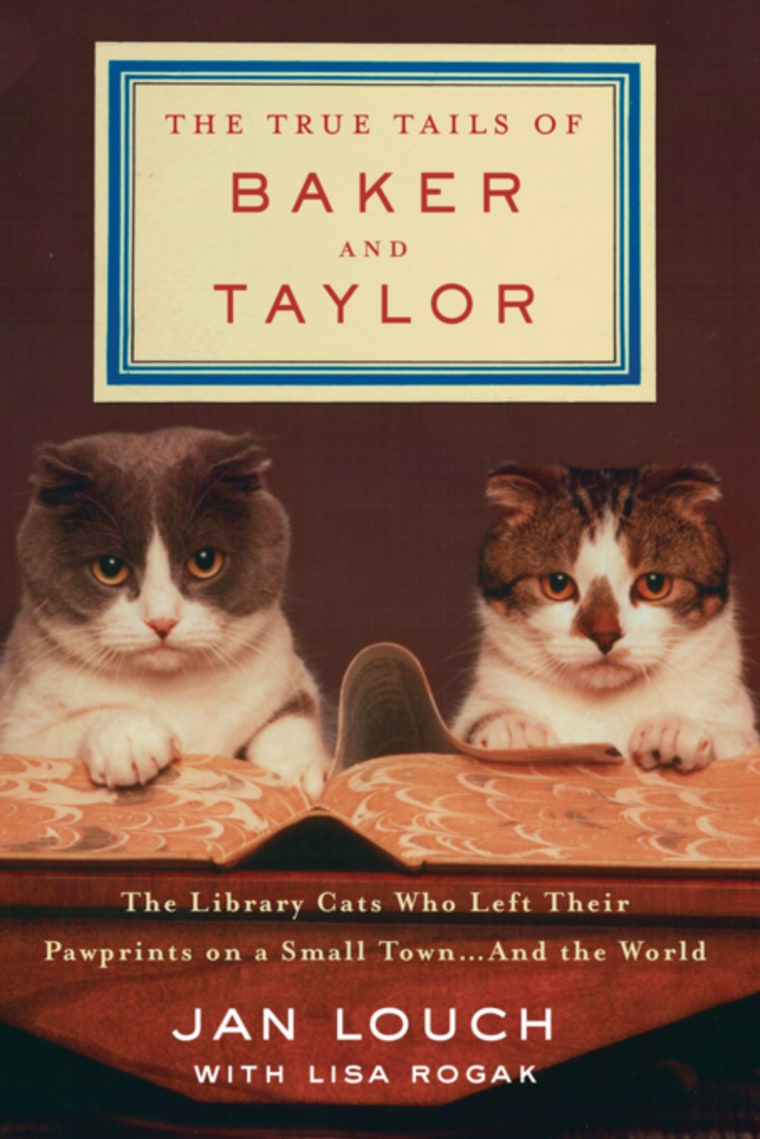 "This book really isn't just about the animals," Rogak said. "It's about how the animals can change humans and their lives in unexpected ways.
"Working in a place where there are cats, or other animals, can have a whole new effect on you, even if it's just a momentary encounter. That one instance can carry a person, and uplift them for the rest of their day. And who knew a couple of unassuming cats would accomplish that?"
"The True Tails of Baker and Taylor" is available for purchase online and in bookstores on May 3.