Last week, as the Skirball Fire burned up more and more of Southern California, Los Angeles Police Department Officer Tae Kim was helping with evacuations.
Kim's focus was to "get people out," LAPD spokesperson Sergeant Hector Guzman told TODAY. But while going door to door in west Los Angeles, Kim found a cat that seemed to be in trouble.
The cat was in a house whose front door was open. No one appeared to be home, so Kim carried the cat to his patrol car to make sure the feline would be safe.
"For somebody it's their companion, family member," said Guzman. "It could be their everything."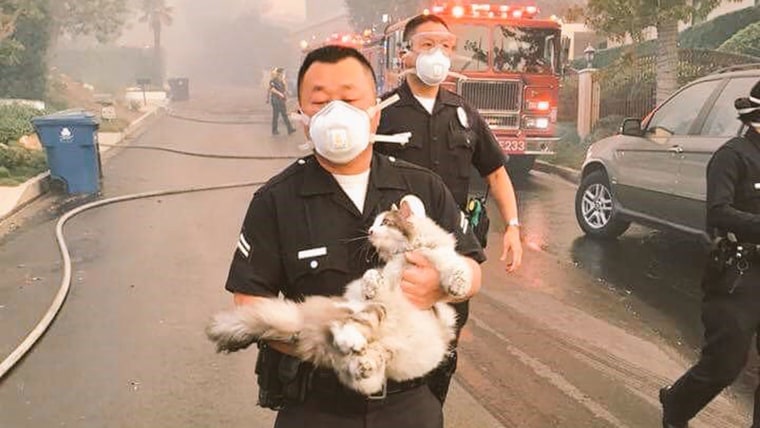 The six wildfires tearing through Southern California have burned up 175,000 acres and counting. A reported 90,000 people have been evacuated from their homes. On Friday, authorities confirmed 70-year-old Virginia Pesola as the first person to be killed in connection with the fires.
Heroic individuals are working around the clock to save animals from these harsh conditions — and the good news is you can help.
A big way to do that is by supporting animal shelters in the affected areas.
Randy Friedman, spokesperson for Ventura County Animal Services — in the area where the Thomas Fire has spread across 148,000 acres — told TODAY that the shelter has taken in far more animals than usual in order to provide a "safe space" for the community's pets.
That includes those who are lost and stray, and those who need refuge while their human family members are evacuated. VCAS' usual capacity is about 400 pets; they are now caring for more than 1,000, both at the regular shelter and at the evacuation shelter at the Ventura County Fairgrounds.
On Friday, an elderly woman came to VCAS with her three dogs, one of whom is 17 years old. She was evacuating to an emergency shelter, but her dogs weren't allowed. Full to the brim already, staff quickly built a new kennel in the shelter director's office so the dogs would have someplace to stay until their owner could reclaim them.
"That's our main mandate," Friedman said. "To keep people's pets safe."
To help in this mission, VCAS is maintaining a fire wish list, updated regularly as needs change. They're also posting updates on the VCAS Facebook page.
Friedman said another priority is to have animals go home as quickly as possible to free up much-needed space. Families who have left pets at the shelter while they are evacuated should retrieve them as soon as they are able. While the shelter has been closed to adoptions due to the fire, that should change early in the week at the latest, Friedman hopes — and "adopt right away once we're back open," he said.
The Humane Society of Ventura County is also working "in full-throttle crisis mode," said spokesperson Franki D. Williams. "We have been open 24/7 since Monday and have been intaking animals as well as going out on animal evacuations since that time."
Williams said the best way to help the shelter right now is through financial donations.
Los Angeles' city and county shelters are seeking assistance, too.
The City of Los Angeles' Department of Animal Services has put out an urgent call for fosters — folks who can temporarily take in shelter pets until the crisis has passed, or until they are adopted.
The Los Angeles County Department of Animal Care and Control has also been caring for animals affected by the fires. Spokesperson Don Barre told TODAY the agency's greatest need at the moment is for folks to come in and adopt available animals.
"We would love to have all of our animals adopted, and helping every animal get into forever homes is our goal," she said.
Animals beyond cats and dogs have needed help, as well.
Staff and volunteers with The Gentle Barn's Emergency Animal Rescue Service program drove into areas aflame with the Creek Fire to evacuate 30 horses and two dogs. (Horses have been especially hard hit by the fires.)
Things were so hairy, said Gentle Barn co-founder Jay Weiner, that one of the horses was found tethered to a burning tree.
"We're rescuers," Weiner said. "It feels good to be able to serve our community."
Weiner said that the group would greatly appreciate financial donations, which would offset the cost of these evacuations and also help The Gentle Barn expand its rescue missions.
For those wanting to help wildlife affected by the fire, there's always the option of donating to the California Wildlife Center. This is the nonprofit treating the rabbit whose fate became a matter of great public concern, thanks to a moving viral video.
Thank goodness for happy endings in tough times: Officer Kim, the member of the LAPD who was photographed carrying a cat to safety, reunited the pet with its owner very quickly. It happened so quickly that Kim didn't even get the cat's — or owner's — name. He just went "back to the business of evacuating homes," said Guzman. "This is what our officers do."