After being separated from his dog, a 12-year-old cancer patient recently reunited with his beloved pet — not at home, but at St. Louis Children's Hospital.
Steven Conner was able to throw a ball and play with his dog, Roxie, for over an hour at the newly opened Purina Family Pet Center on June 20.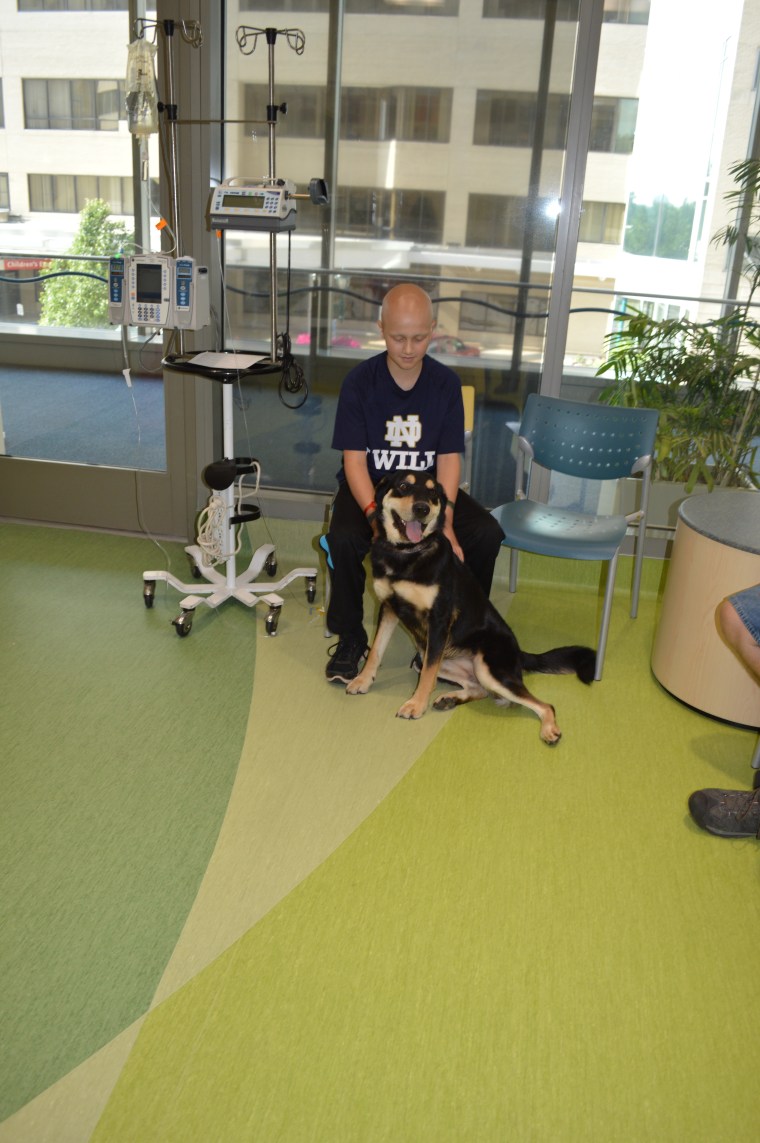 "It was a great thing," Steven's mother, Vicky Stratman, told TODAY. "It really lifted his spirits."
Because Steven can't attend regular school as a result of serious health issues and the number of hospitalizations, Roxie has been a close companion to the boy at home.
"When I have to go the hospital, I miss her," Steven told TODAY.
The new facility, which opened in May, validates a broader sentiment that blurs the line between family members and pets. Indeed, the move by St. Louis Children's Hospital was inspired by a similar effort at Cincinnati Children's Hospital Medical Center, which recently ranked third in U.S. News and World Report's list for best children's hospitals.
Although St. Louis Children's already had their own pet therapy program, PetSmart Paws for Hope, they believed that allowing children to interact with their own pets would be powerful.
"The design of the room allows for the patient and their pet to have the best experience possible," Dr. Zara Boland, veterinarian at Nestle Purina PetCare, told TODAY.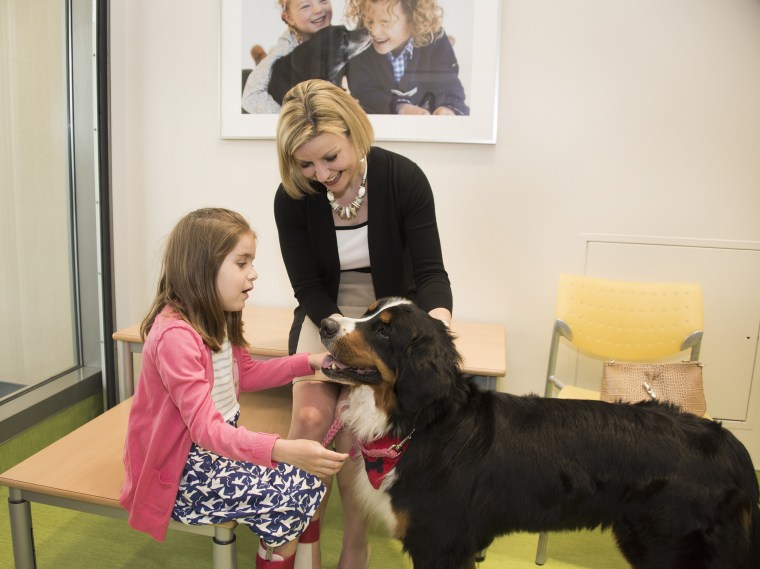 RELATED: Service dog sticks by boy with autism's side, even in hospital bed
The 300-square-foot room allows patients to remain in their beds or wheelchairs while they interact with their pets. It's furnished with tables high enough for children to reach, and also comes equipped with pheromone dispensers that spray a safe, odorless chemical that has a calming effect on the animals. The colors of the room are bright and cheery and the walls are donned with pictures of children and their pets in order to provide a happy and playful atmosphere.
And because the pet center is located between the parking garage and the foot bridge that connects to the hospital, animals never have to enter the hospital.
RELATED: Therapy dogs bring smiles to children's hospital patients
St. Louis' pet center is now only the fourth facility of its kind in the world. The other two are Wolfson Children's Hospital in Jacksonville, Florida, and Alberta Children's Hospital in Canada.
Cincinnati Children's Hospital Medical Center, which opened its pet center in 2013, aims to provide extra comfort and healing to children and their families during extended stays at their facility.
The facility not only allows children to visit with their own pets, but also provides a space for the hospital's two full-time therapy dogs.
RELATED: Why we bond with our dogs like our babies
Studies have shown that spending time with pets can reduce pain, anxiety, depression and fatigue in people with a wide range of health issues, and those staying in long-term care facilities.
Connecting pets with their child companions is also beneficial to the pet. Purina conducted a study involving volunteers visiting and petting dogs at a local animal shelter.
"The dogs' heart rates slowed and became more irregular, which indicated that the dogs were calmer and more content," said Boland. "Imagine what this kind of interaction does for animals that miss their human companion?"
Both the Cincinnati and St. Louis facilities are set up primarily for cats and dogs. They don't allow reptiles or birds because of the possible threat of spreading infectious diseases. Pets must be cleared by their veterinarians and given a bath before each visit. Doctors, too, must give their approval.
RELATED: Watch KLG and Hoda intern as dog groomers (and get messy)
Kate Shamszad, interim clinical director with the Division of Child Life & Integrative Care at Cincinnati's Children's Hospital, says that some of the more unusual pet requests have been a pot-bellied pig, a miniature goat and even a flying squirrel.
While Steven Conner was the first to use the Purina Family Pet Center in St. Louis, there are more patients expected to use the facility in coming weeks.
"We are so encouraged by the success of the center in St. Louis that we are currently building a family pet center in a hospital in Belgium," Bill Etling, director of marketing and public relations at Nestle Purina PetCare, told TODAY.
RELATED: Boy's service dog poses in yearbook: 'She's part of our school'
Steven, who has to return to the hospital this week for treatment, would likely approve. "He will be able to play with Roxie again while he is there," said Vicki Stratman, "so he is actually looking forward to it."