It's often the simplest and slightest acts of love that prove to have the greatest impact. In the case of a video that has now been shared hundreds of thousands of times on Facebook, that certainly rings true. The clip, uploaded in early 2014, shows a therapy dog, JJ, comforting a hospice patient who is close to the end of her life.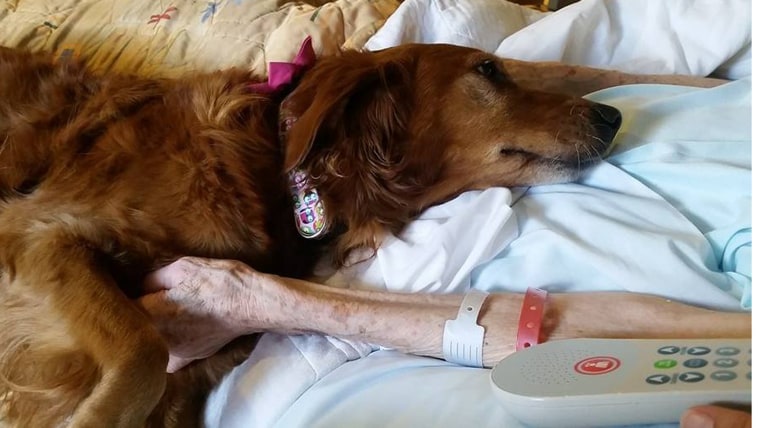 According to her Facebook page, JJ, a golden retriever, has been a certified therapy dog since she was a year old. She belongs to a group called Project Canine and is also a HOPE Animal-Assisted Crisis Response K9.
RELATED: At dog hospice, 'everybody that comes to stay with us thrives'
At the outset of the video, the mood in the room is far from celebratory. A peaceful, almost somber audiobook recording (or perhaps a voice in the room) recites the poetry of W.B. Yeats to an otherwise silent room, and the patient's elderly-looking hand rests on the dog's head.
In the caption, the nurse, Tracy Calhoun, writes in the voice of the dog, "This is a lady who has very few people to visit her. She cannot see and often does not wake up, but she did like having her hand on my fur. She was very calm during my visit."
RELATED: One dog gives back to the community that saved her life
And noting the dog's clear desire to get closer to this particular woman, she continues: "I was very insistent to have her touch me, more so than usual. We fell asleep later with her hand splayed on my head, both of us snoring (but no proof of that!)."
"What we do is absolutely touching, but the depth of the response to the video is amazing, as well as heartwarming," Calhoun told NBC affiliate King5 in her own voice.
The woman in the short clip reportedly passed away just one day after the video was filmed.