Less than three years ago, Valerie Parrott could barely leave her house because of a severe panic disorder.
On Jan. 9, Parrott faced a situation that would induce anxiety in any woman when she prepared to walk down the aisle at her wedding.
Despite being the center of attention in a church full of people, Parrott was able to enjoy the moment thanks to her service dog, Bella, being right there to calm her nerves.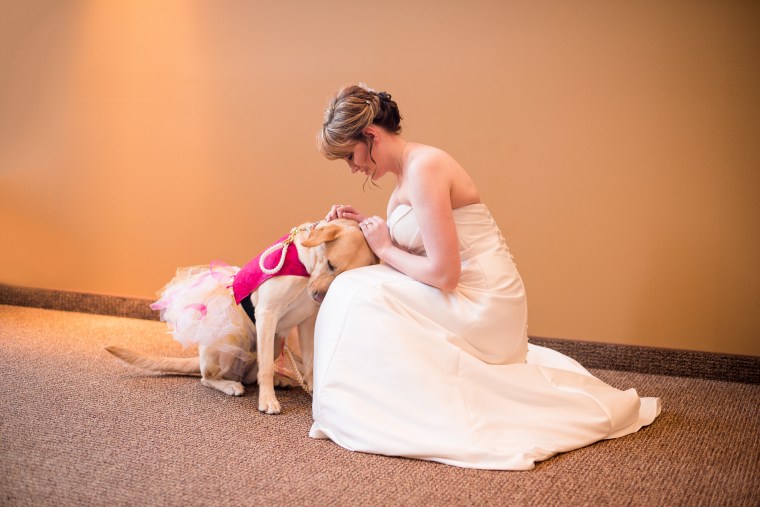 "It's so common for brides to experience their first panic attack in their lives right around their wedding, so when you have a disorder like panic disorder, your anxiety triples,'' Parrott told TODAY.com.
RELATED: This cat looks just like 'Star Wars' actor Adam Driver
"Bella really helped me focus on the joy of the day instead of focusing on when my next panic attack would be or whether I would pass out at the altar if my heart rate got too high."
Days after the wedding, a photo of Parrott and Bella sharing a moment before she walked down the aisle was posted to Imgur. It has been viewed more than two million times.
RELATED: Everything you need to know about Wrangler, TODAY's 'puppy with a purpose'
Wedding photographer Maddie Peschong captured the touching image at Rustic Hills Community Church in Sioux Falls, South Dakota, before Parrott's nuptials with her husband, Andrew.
Bella even accompanied Parrott to the altar with her father and was right there for the couple's first kiss as man and wife.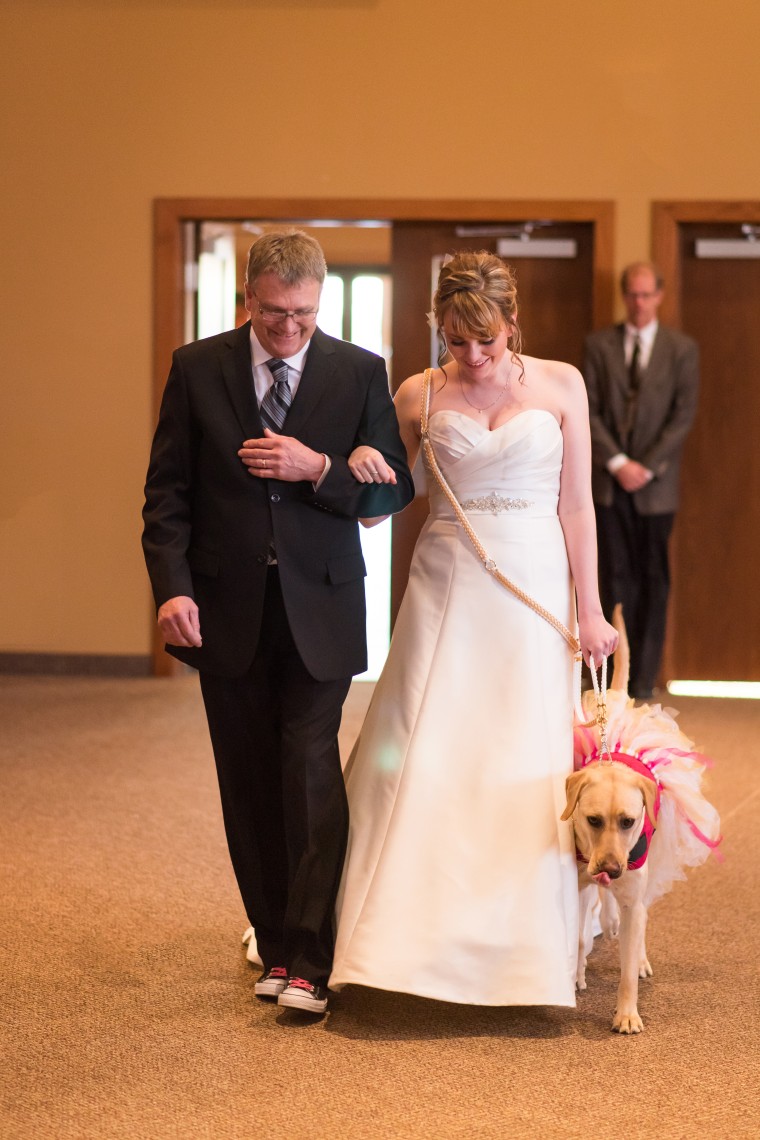 "Any time Bella is around Val, which is probably 99 percent of the time, Val seems a lot less anxious,'' Peschong told TODAY.com. "She's a lot more able to live in the moment with Bella there."
Parrott, 25, has had Bella, a 3-year-old yellow Labrador, for about 2 1/2 years.
RELATED: 'I missed you': 6-year-old boy has tear-jerking reunion with beloved dog
"When I was 22 I was getting to the point where I was turning into an agoraphobic with my panic disorder,'' she said. "My mom was suggesting I move back home, and the thought of losing your independence stirs you to take action. My mom mentioned service dogs, and at first I was so skeptical because I had never heard of it for psychiatric illnesses before.
"Now I'm a strong believer that if you're unable to live your life to the fullest because of your disorder, you should have an option like a service dog."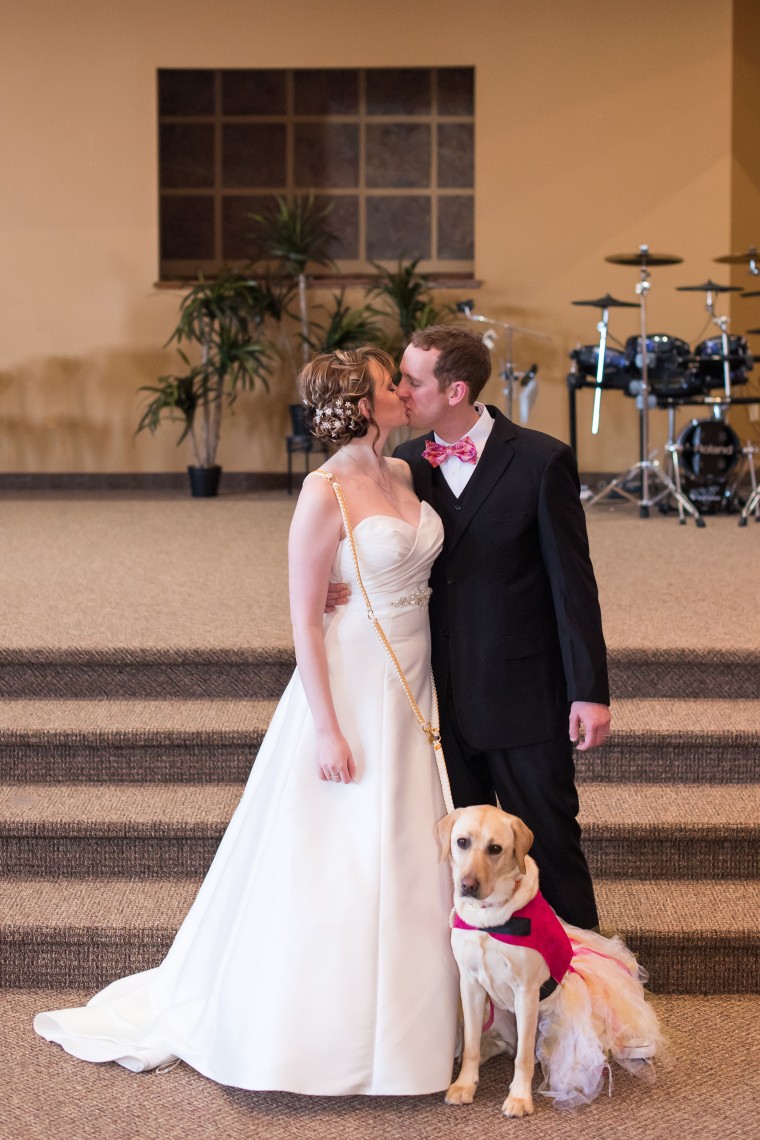 Even in the relatively short time that Parrott has had Bella, she feels the perception of service dogs as primarily being for the blind or someone with an outward disability is starting to change. She also regularly writes about life with a service dog on her blog in the hopes of spreading awareness.
"At first we were met with a lot of skepticism, and people would often give me the question, 'What's wrong with you?' more times than a person should have to count,'' she said. "Now I tell people, and they're interested in learning more, and they're more accepting of it."
"What makes me so excited about the photo going viral is because it's really giving Val the platform to talk and educate people about service dogs," Peschong said. "They're used for a lot of invisible illnesses, and they're a big part in these people's lives."
Parrott and Bella have become so close that not having the dog involved in the wedding would have been surprising.
"Once I got up there (to the altar) with Andrew and then with Bella, everything else kind of fell away,'' she said. "The two things that matter most to me were right there with me."
Follow TODAY.com writer Scott Stump on Twitter.