Remember Harper, the deformed puppy rescued from a garbage bag in Central Florida and given lots of specialized help by strangers? We decided to check in and see how she's been faring since her rescue a little more than six months ago, aaaaaaaaaaand ... good news! Harper the puppy is deformed no more.
In fact, Harper is a happy, 35-pound ball of energy who loves romping through fields, playing tug-of-war and instigating mischief with the older dogs in her home. Once afflicted with a rigor-mortis-like condition dubbed "swimmer puppy syndrome" and viewed as an animal that would need to be put down — or, at the very least, require extensive and costly medical care — Harper has received an all-clear by veterinarians at the University of Florida.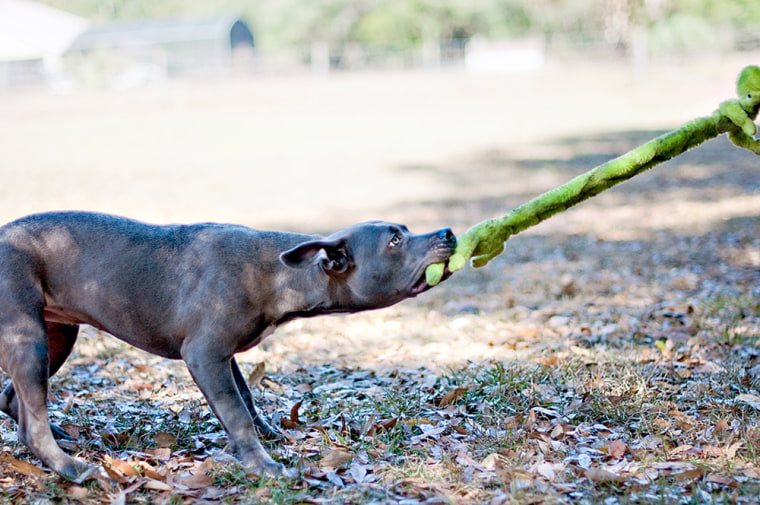 "There's literally nothing wrong with her now," said Erica Daniel, 27, the woman who provided Harper with a foster home last September and arranged for her to receive hydrotherapy, massage therapy and other care. "Her blood work's perfect. Everything's perfect. ...
"And she's a big goofball! She's a lunatic! She's a typical puppy, you know? She's eaten a couple of pairs of shoes. But she's awesome. We love her so much. I just look forward to waking up and seeing her face every day."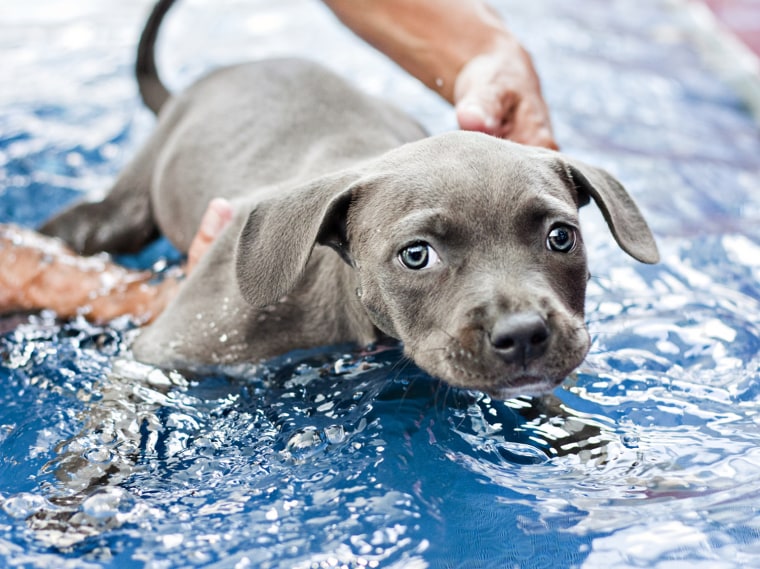 That's right: After everything they went through together, Daniel couldn't bear to give Harper up for adoption — so Harper's foster home became her permanent home, and Daniel and Harper are an inseparable team. These days, Daniel often finds herself chauffeuring Harper around to public appearances and volunteer events. Some examples:
Project Walk Orlando is a nonprofit organization that helps people with spinal-cord injuries improve their lives and, whenever possible, walk again. The group's founders were so inspired by Harper's story of tenacity and recovery that they invited the dog to meet with people who have been paralyzed. When Daniel brings Harper to Project Walk Orlando's events, she shows the video clip of Harper appearing on TODAY.
No more doggie wheelchairs? New drug offers hope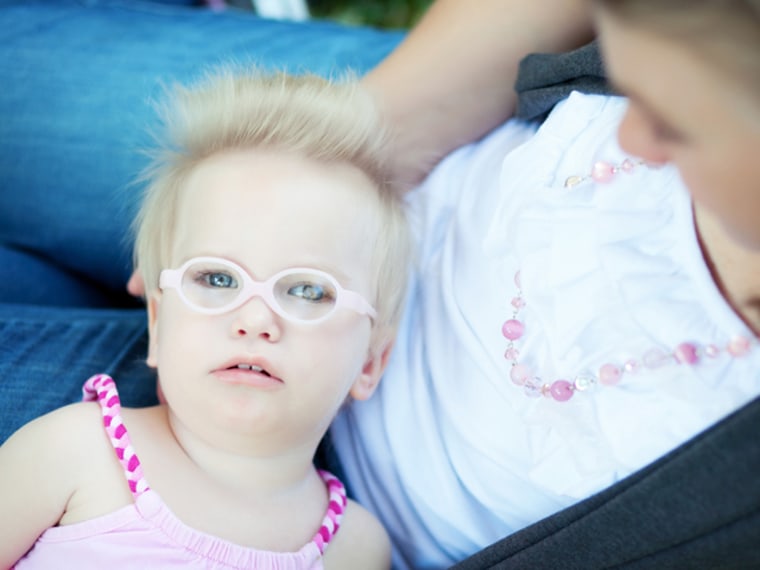 Harper also has been lending a helping paw to a namesake: A little girl in Texas named Harper Howard who has a rare genetic disorder known as CDKL5. The condition is so uncommon that fewer than 200 children are known to have it worldwide. Symptoms include intense seizures, vision problems and severely delayed developmental growth; 23-month-old Harper Howard needs constant care. Her parents are faced with towering medical bills, and they're also helping to raise money for a CDKL5 seizure research project at Children's Hospital Boston. For those reasons, Daniel decided to organize an online benefit auction for Hope4Harper. People will get to bid on paintings, handmade dog collars and leashes and other items in the auction, which kicks off on April 12, the little girl's 2-year birthday, and runs through April 15.
Harper Howard's mother, Penny Howard, said her family's connection with Daniel and Harper the puppy has helped and inspired them tremendously.
"Harper the dog had a rare disorder and was not expected to live, [and our] baby Harper has a rare disorder with an unknown life expectancy," she said. "Erica's Harper has progressed and is developing into a normal dog, which brings us great hope for our Harper's outcome."
Daniel said she continues to be astonished by the media attention her doggedly determined pup Harper receives. The publicity has resulted in generous donations for Daniel's year-old pit-bull-rescue organization, Dolly's Foundation. It's also landed her a deal for a future book.
"We've been so fortunate," Daniel said. "We want to kind of share the wealth and help other organizations if we can."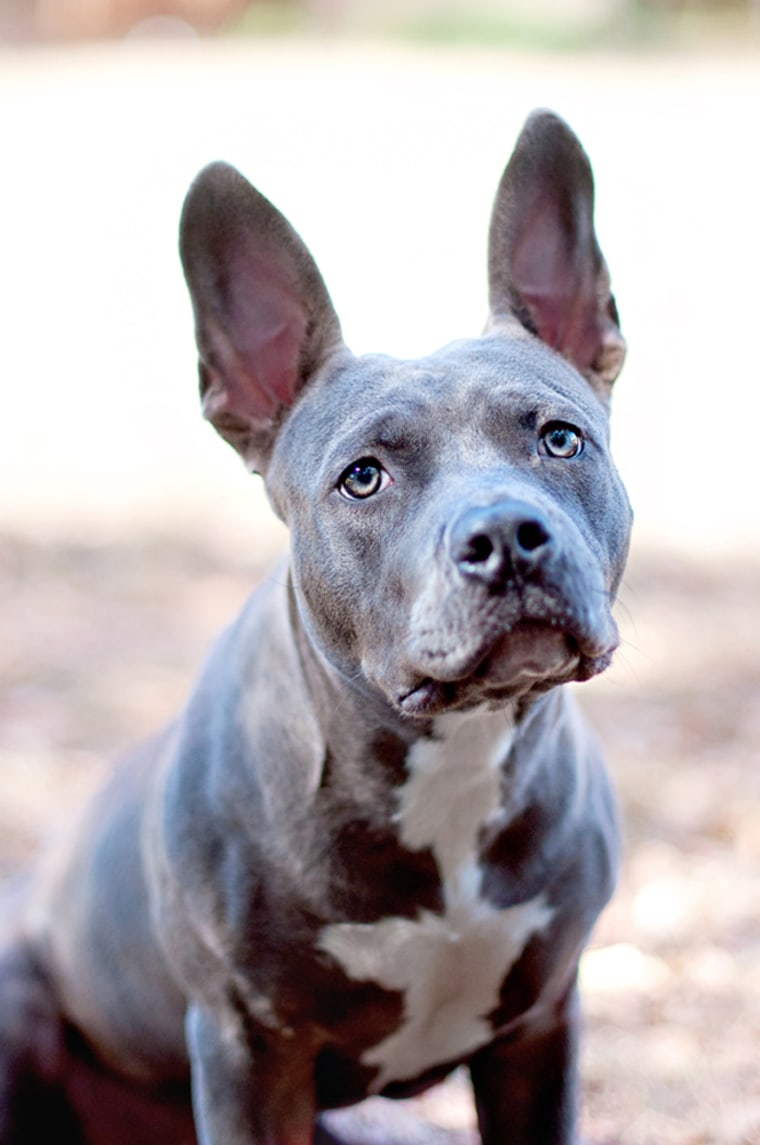 Daniel's dream is to transform Dolly's Foundation into a full-fledged facility north of Orlando that focuses on all things dog-related: spaying and neutering, education, training, boarding, agility events, trails, off-leash play, and, of course, adoptions.
"We'd love to have every room set up like living rooms with TVs and couches and stuff," Daniel said. "You could come on a weekend, hang out, watch a movie or watch Sunday football with the dog you're thinking about adopting. You know, try it out for a couple of hours and see how you guys get along."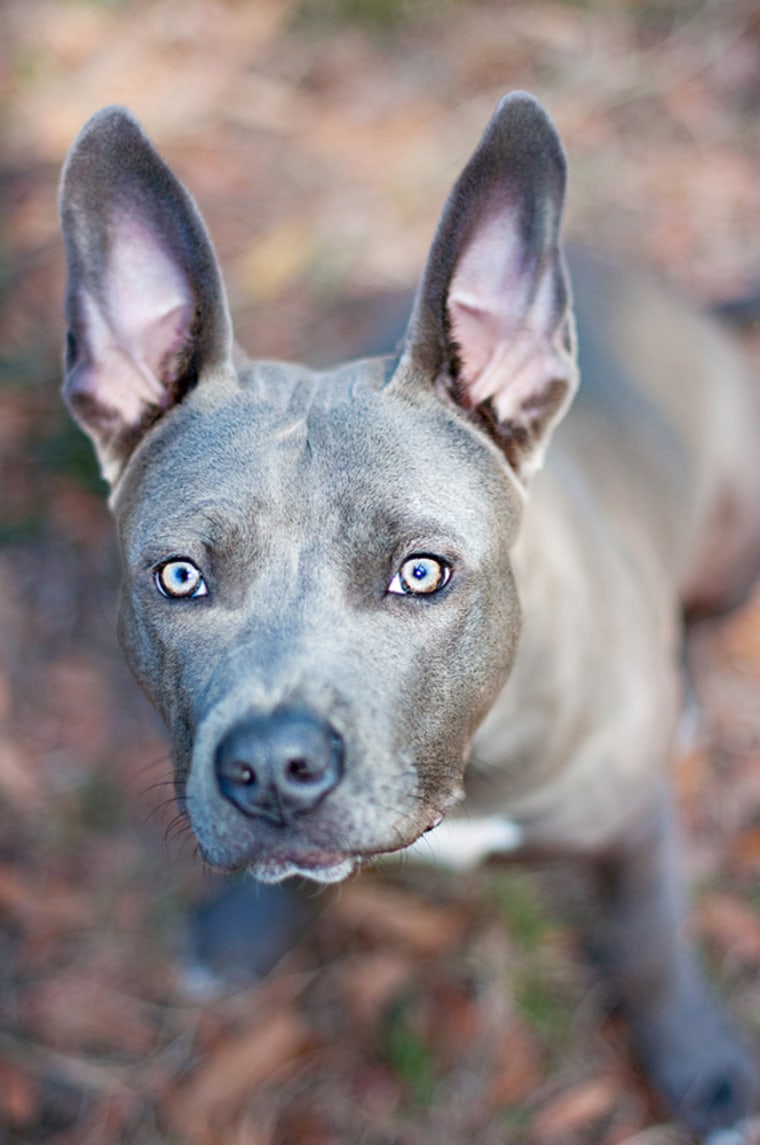 And can you guess who would always be allowed on the facility's couches? You know it: Harper.
"She's our baby!" Daniel said. "She still loves it when we hold her like a little baby. My husband holds her like that all the time on his recliner."
TODAY.com writer Laura T. Coffey wants to play tug-of-war with Harper RIGHT NOW. Come here, girl! Come here!
More about Harper the puppy:
Story: Deformed puppy, rescued from trash, learns to walk
Photos: How swimming, and lots of love, saved Harper the puppy's life
TODAY video: Meet Harper, the beloved handicapped puppy