Harley, a 6-pound Chihuahua who spent the first 10 years of his life living in a cage and who captivated thousands of adoring fans after his rescue, has died at age 15.
The little dog had been named American Humane Association's 2015 American Hero Dog because of the huge impact he had for other dogs like himself. In his golden years, Harley became an adorable and easily recognizable mascot who helped raise money to free more than 500 dogs from commercial dog-breeding operations.
"Harley was a little dog with a big mission," Dr. Robin Ganzert, president and CEO of American Humane Association, told TODAY. "His work and his mission will live on, and his legacy will be to inspire all of us to work together and make a better world for our best friends."
Over the past five years, Harley enjoyed a happy, comfortable life — complete with soft blankets, cute sweaters and plenty of media appearances, including one on TODAY — thanks to the couple who adopted him, Rudi and Dan Taylor of Colorado. When the Taylors first brought Harley home in 2011, they figured he might survive two to three months tops.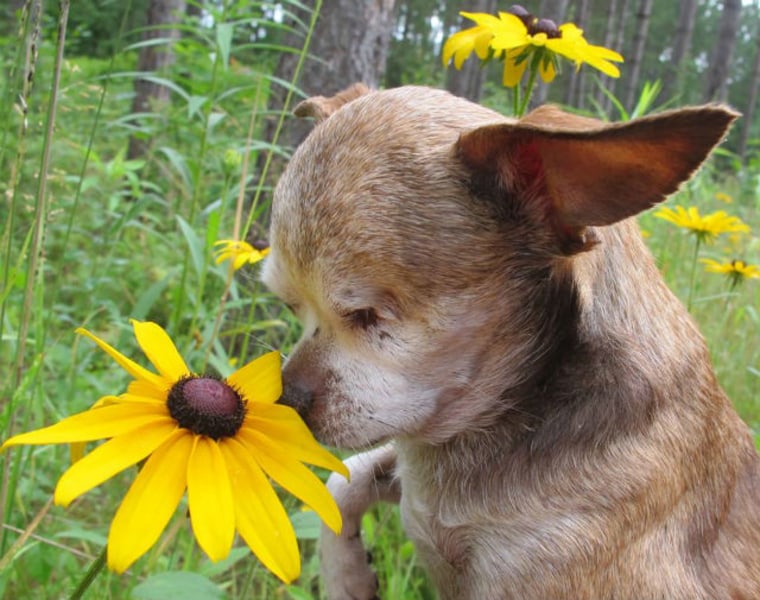 The decade he had spent in a cage had taken a toll on Harley. The volunteers who rescued him and his veterinarian said that, like many puppy mill dogs, Harley likely lost one of his eyes when his cage got power-washed with him inside it. The battered little dog had a many other ailments, including a broken tail, gnarled toes, infected teeth and heart disease.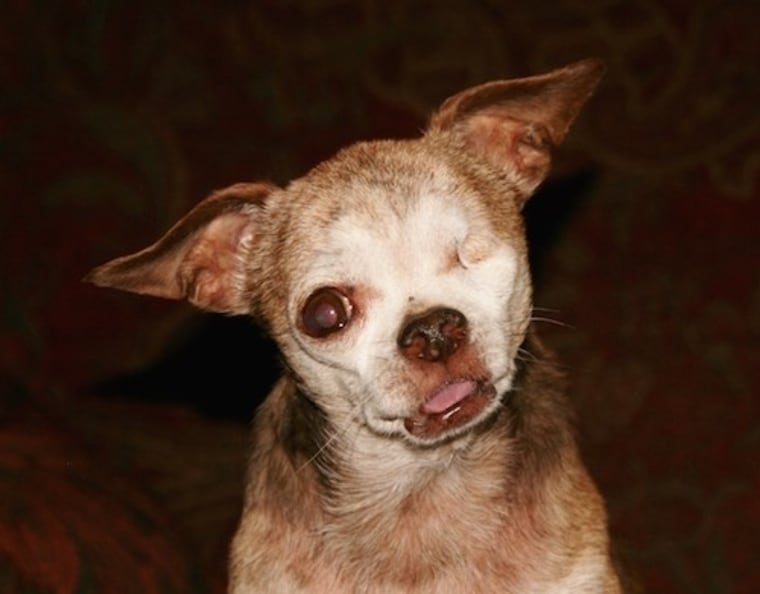 Despite all of that, Harley began to thrive after he moved in with the Taylors. The couple decided to launch a Facebook page for Harley "Freight Train" Taylor, and before long he began to grow a loyal fan base.
He became the mascot for a "Harley to the Rescue" campaign, which raised money to help National Mill Dog Rescue save and care for hundreds of puppy mill dogs.
"Harley survived in hell for 10 years and there's only one thing that allows the spirit to do that, and that's to be indomitable," Dan Taylor said onstage last September at the Hero Dog Awards gala in Beverly Hills. "That spirit is allowing him now to be the voice for dogs who cannot speak for themselves ... and give everybody hope that tomorrow's going to be a better day."
American Humane Association has dedicated the voting for the 2016 Hero Dog Awards to Harley.
TODAY writer and editor Laura T. Coffey is the author of the bestselling book "My Old Dog: Rescued Pets with Remarkable Second Acts," which features stories of transformation like Harley's. Connect with Coffey on Facebook, Twitter and Google+ and at MyOldDogBook.com.