An adorable four-legged creature is now an even cuter two-legged one, and healthier to boot. Three-month old boxer puppy Duncan Lou Who had to have his back legs removed, but the fierce little guy is still up and running.
Duncan was born with severely deformed, twisted back legs, and veterinarians said they threatened to damage his spine. He was sent to Panda Paws Rescue, a Vancouver, Wash.-based organization that helps special-needs dogs get medical treatment. The Panda Paws crew brought him to Vancouver's Animal Care Clinic, where the twisted legs were removed entirely. 
Just hours later, Duncan was able to bound about on just his front legs, which is even easier for him now post-surgery. "He's already learned to navigate uniquely since being born with severe defects to his rear legs" Amanda Giese, Panda Paws' founder, told TODAY.com in an email. "Those legs caused damage to his spine, and would continue to until he is in excruciating pain, unless we made the decision to remove them. He's happy, playful, pain-free, joyful and a normal puppy in every other way."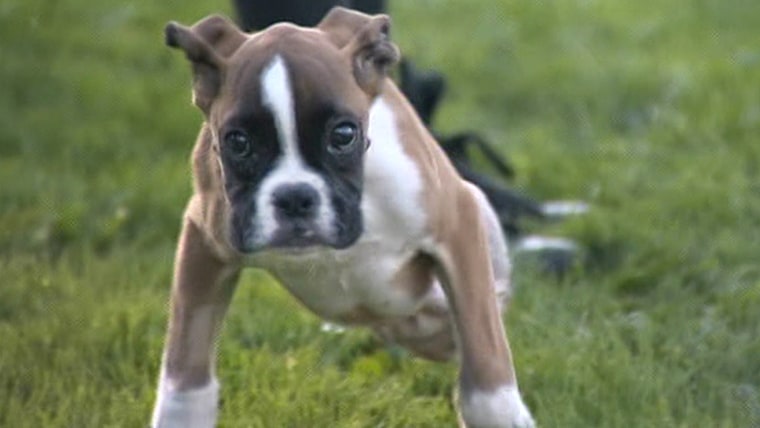 On Wednesday, Giese posted a heartwarming video of Duncan running outside on Panda Paws' Facebook page. "Prepare your mind to be BLOWN on this beautiful fall afternoon," the caption reads. "Duncan Lou Who could teach us all many priceless lessons!" By Thursday morning, the photo had 4,075 likes and 1,458 shares.
"Duncan is doing excellent!" Giese told TODAY.com Thursday. "This puppy is the definition of perseverance and he has so much to teach all of us. Duncan Lou Who is living a happy life regardless of his aesthetic differences."
Though Panda Paws usually puts the animals it treats up for adoption, Giese says she's decided to keep Duncan. "It was love at first sight for our whole family and we couldn't imagine the next 10-plus years without him bringing joy to our lives," Giese told TODAY.com. "We are very blessed and feel like we won the dog lottery with this amazing baby."
After spending a few weeks recovering, Duncan will have physical therapy and hydrotherapy to help fix his spine, which is already damaged from the effects of his deformed legs. Then he'll be fitted with a wheelchair. 
Until then, he'll continue to inspire would-be owners of disabled animals. 

"I would like to encourage those who are unsure to think outside the box," Geise said, "and give this baby a chance to show you a new way!"