The Willingham family's three-legged dog, Lucca, is more than just a pet. She's an inspiration, and a hero.

The German Shepherd mix is a retired military dog, trained to sniff out explosives and protect the Marine service men and women she served.
"Your lives are literally in each other's hands," said Staff Sgt. Chris Willingham, Lucca's owner, who originally trained and handled the German Shepherd mix as a military service dog. "It was amazing to see how resilient and how well she was able to push through. Whether it was through fire fights, mortar attacks, IEDs."
Those IEDs, or improvised explosive devices, were considered the top killers of coalition forces in Iraq and Afghanistan before U.S. troops began withdrawing from the regions. Through almost six years of military service, Lucca went on more than 400 missions in those two nations, and earned a Purple Heart for her bravery.
"If you take a well-trained dog team, that's one of the best counter measures you can have," Willingham said. "As long as that dog's properly trained, and the handler knows how to employ that dog, it's tough to beat."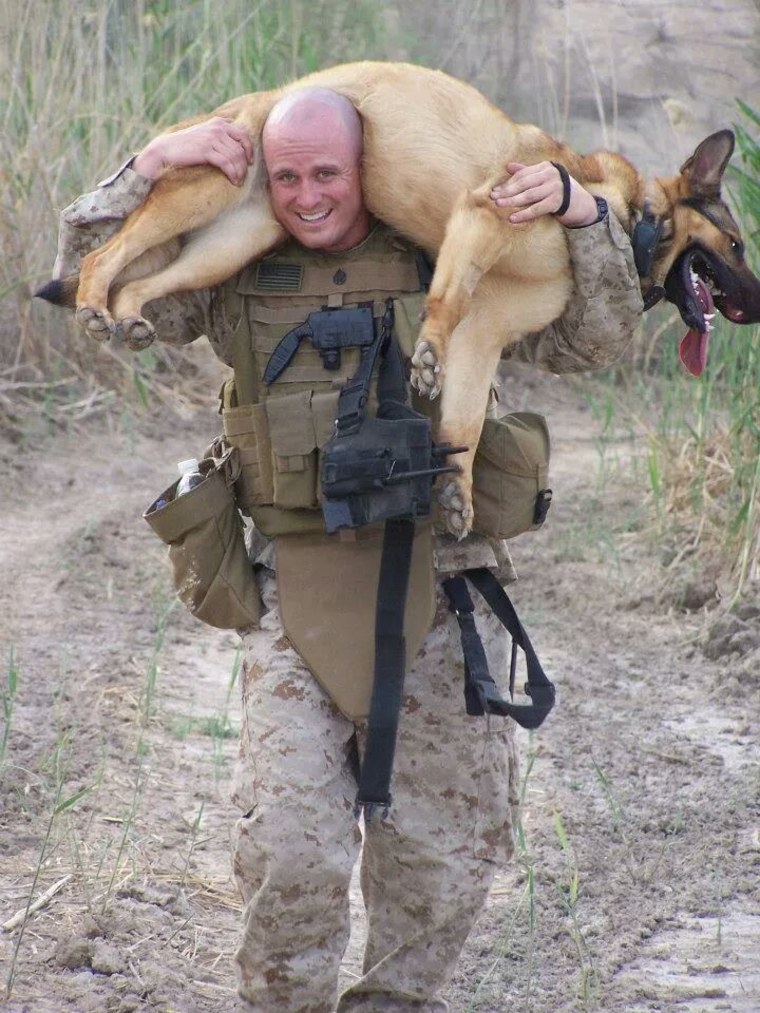 When Willingham was reassigned, he handed responsibility for Lucca over to Cpl. Juan Rodriguez, who immediately felt the heavy expectations that came with a military working dog. In March 2012, close to Luca's six-year anniversary as a marine, Rodriguez's responsibility was tested. During a walk in the Nahri Saraj District, in southern Afghanistan, Lucca traced the smell of one IED, and then another.
"I saw a cloud of dust, and there was an explosion," Rodriguez said. "It was surreal to me."
With Lucca's left leg badly injured, Rodriguez rushed in to treat her, just like any injured soldier.
"I ran in, put a tourniquet on to stop the bleeding," he said. "I picked her up and we ran to a nearby tree line to get some cover."
His actions saved the dog's life, but Rodriguez said, "she saved mine multiple times so it was only right."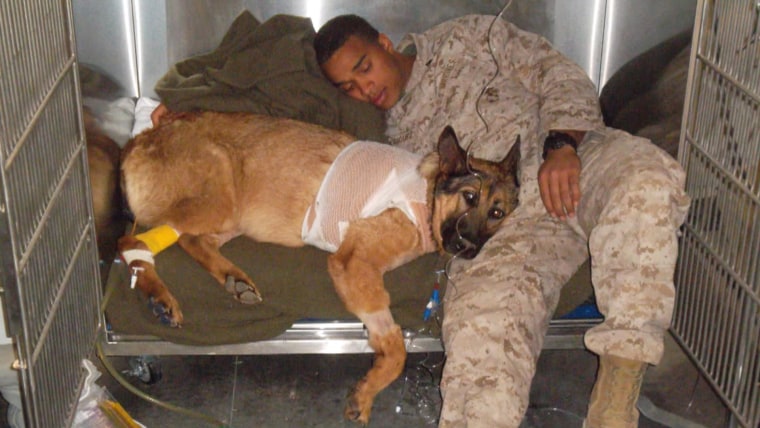 However, Lucca had to have a leg amputated, something Willingham knew Rodriguez felt guilty about.
"I could sense that he kind of felt like he had let me down with Lucca getting injured, and that was not the case at all," Willingham said. "His quick actions, the training that he had received kicked in and ... (with) disregard for his own life, saved Lucca's life."
Lucca, now the subject of the book, "Top Dog: The Story of Marine Hero Lucca" by Maria Goodavage, currently enjoys her retirement with the Willingham family in southern California, where she occasionally gets a visit by the man who once came to her rescue.
"She's a legend of a dog to me," Rodriguez said.
"Top Dog" book excerpt reprinted by arrangement with Dutton, a member of Penguin Group (USA) LLC, A Penguin Random House Company. Copyright © Maria Goodavage, 2014.