Melissa Harrington considers herself a purpose-driven person. So when she retired as a commander in the Navy after 20 years of service, she was intrigued to learn the nonprofit Guide Dog Foundation needs volunteers to raise puppies training to be service dogs for people who are blind.
In 2002 she gave birth to her third daughter and thought it would be "fun" to add a puppy with a purpose to the mix — despite never having had a dog of her own.
She was right.
"It's so good for the kids to learn about what giving really looks like," Harrington told TODAY. "You can write a check, but this is a very personal way of giving, where you're going to love something for a year or more and then you're going to give it away."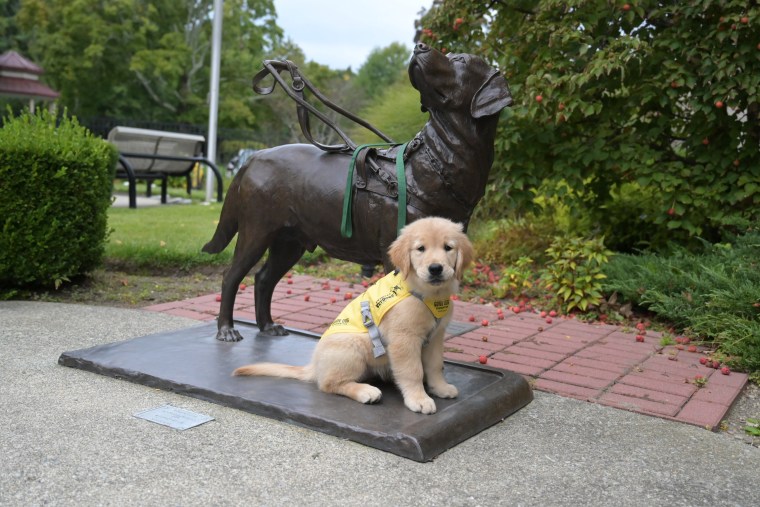 With the help of her daughters and husband, Harrington has since raised 20 dogs for Guide Dog Foundation from their home in Burke, Virginia. The 21st, a golden retriever named SWAP, honors former TODAY puppy with a purpose, Sunny; her name is an acronym for "Sunny With A Purpose."
Harrington sees strong potential in the 18-month-old "spicy golden," who brims with energy and personality but knows when she's wearing her vest, it's time to work.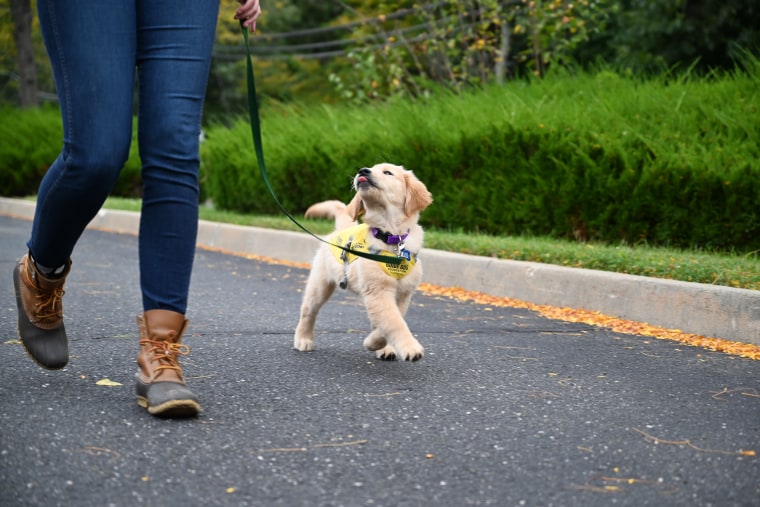 "SWAP gets into this other state, like, 'I'm here. I know what I'm doing. I know what I'm supposed to be doing,'" she said. "It lets me see the working side of her, and I really like it."
Because guide dog puppies in training need to be exposed to as many people, places and situations as possible, SWAP explores the Beltway with Harrington and her family. In addition to outings to grocery stores, she's visited landmarks like the Lincoln Memorial, Washington Monument and Vietnam Veterans Memorial.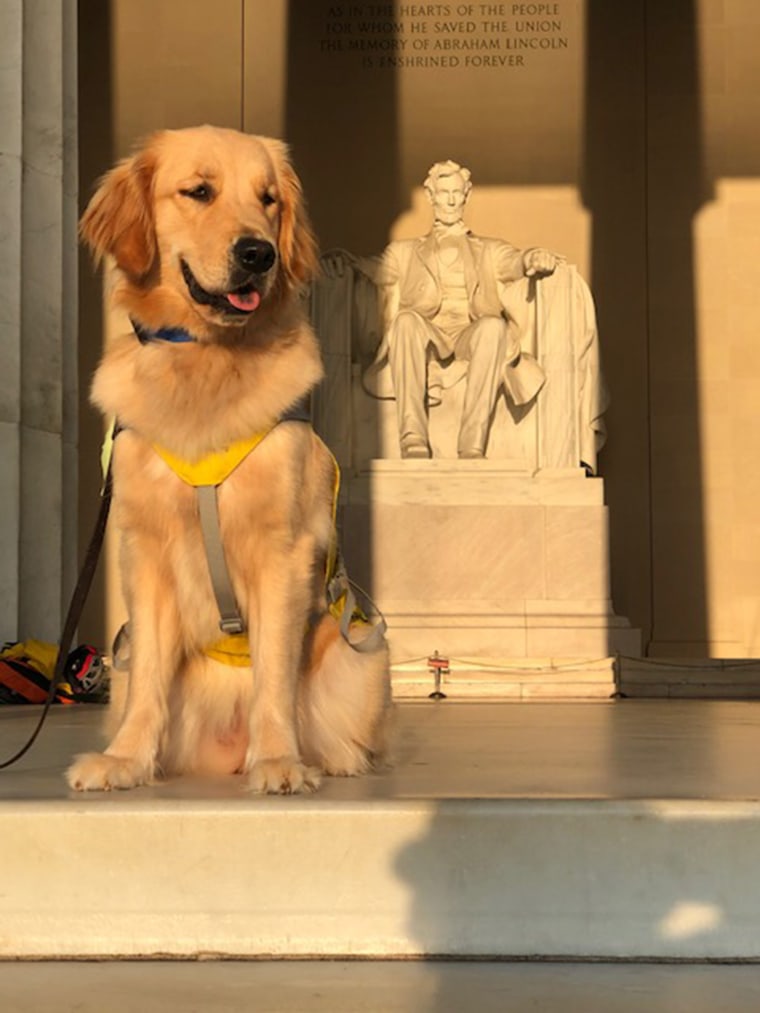 Harrington's husband, Bill Hoeft, is a retired Navy captain who now works for an organization based near the Pentagon, so SWAP accompanies him to meetings there, as have other guide dog puppies raised by the family.
"It's such a great experience because the Pentagon is immense," Harrington said. "The dogs can get into this giant building and walk around. Sometimes there will be military dogs at the entrances."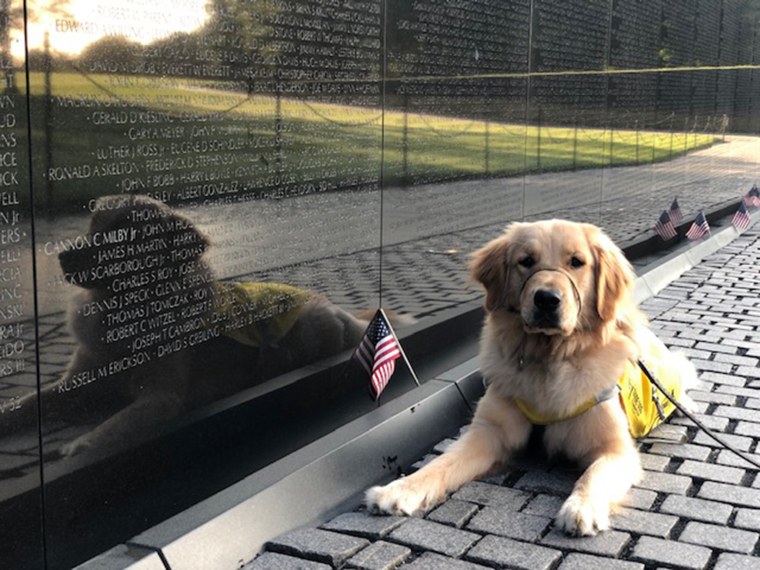 Harrington is so passionate about the work of Guide Dog Foundation — which spends around $50,000 to breed, train and raise each dog and then partners them free of charge with people who are blind or visually impaired — that she joined the staff in 2012 to lead classes for puppy raisers in the Washington metro area.
The puppies and their raisers visit places like malls, farms, Union Station and Reagan National Airport, walking over the jet bridge and even onto airplanes during preflight announcements.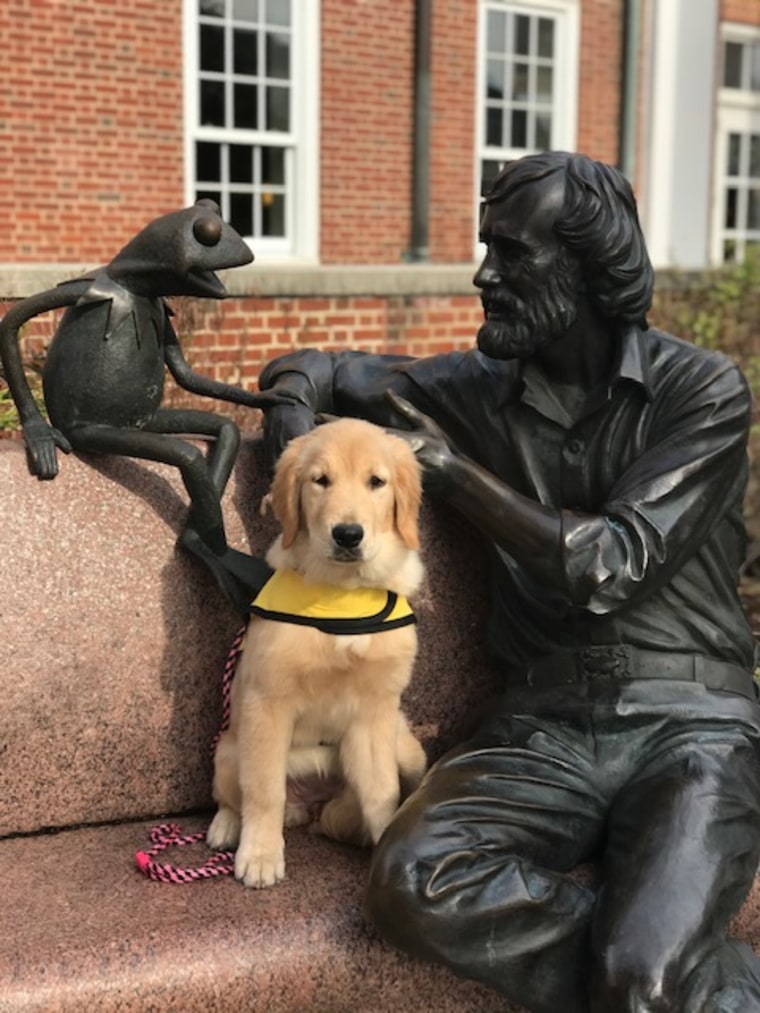 "That's always my goal: By the time I turn in a dog, this dog has been truly socialized and goes places," she said. "The more that these dogs have been exposed to — in a very relaxed way — as a puppy is going to serve them in great stead when they're actually out there supporting and making decisions and guiding."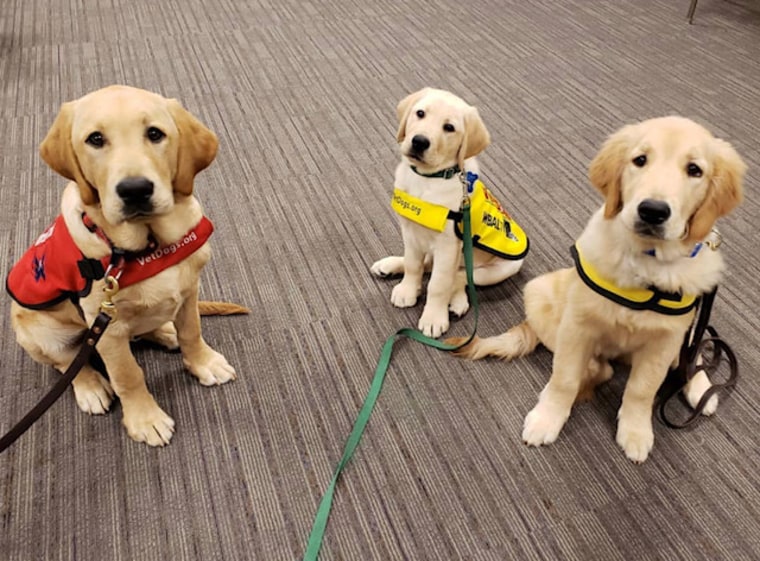 Today — Feb. 1, 2021 — marks the 75th anniversary of Guide Dog Foundation. Harrington feels proud to be part of the historic organization and marvels at some of the photos from the early days.
"It absolutely fascinates me how far this organization has come and how long they've been in existence," she said.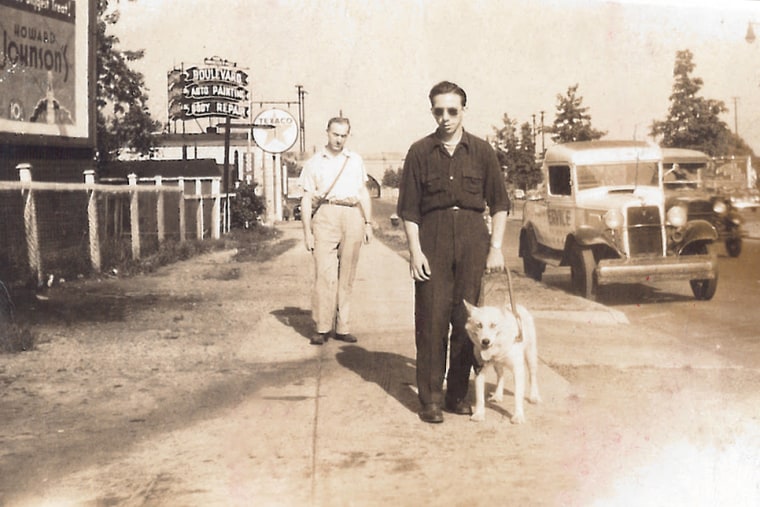 Harrington hopes others will consider volunteering as puppy raisers because it's such a rewarding way to give back. She loves the way puppy raising "can work for all ages," from college students to working parents to seniors. One 80-year-old woman raises puppies for both Guide Dog Foundation and its sister organization, America's VetDogs, which trains service dogs for military veterans.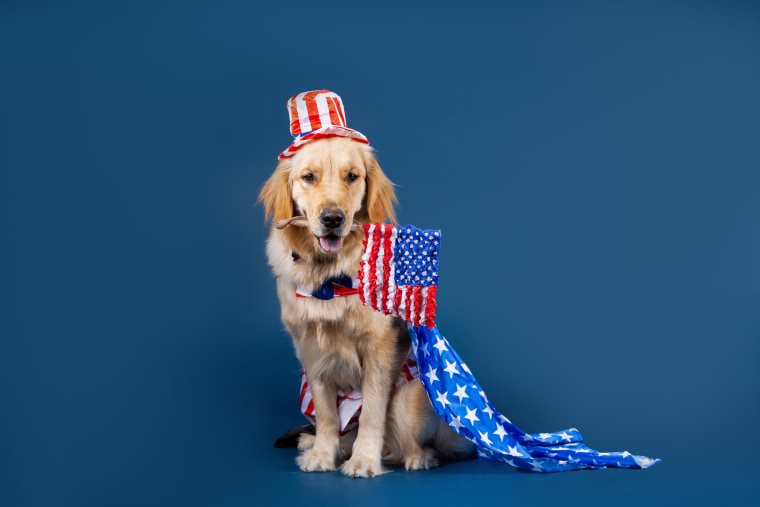 As for why Harrington herself has raised so many puppies? The answer is simple: meeting the people matched with her former charges at graduation ceremonies called "Celebration Saturdays."
"It is so special and absolutely motivates you to keep going," she said. "I think this is just one of the most fulfilling things that I've done."
CORRECTION (Feb. 1, 2021, 3:40 p.m.): An earlier version of this article misstated Bill Hoeft's former military branch and the location of where he currently works. He is a retired Navy captain, not a retired Air Force captain; and he currently works near the Pentagon, not in it.